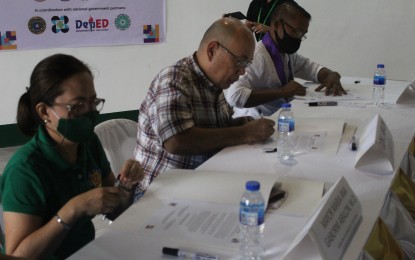 TACLOBAN CITY – Non-government organization Hellen Keller International (HKI) and the local government unit of San Roque in Northern Samar province have forged ties to study the vitamin A status of children in the 4th-class coastal town.
HKI Philippines Country Office Representative Maria Fatima Dolly Reario said in a statement on Friday the study seeks to come up with data-driven policies and interventions on health and nutrition in San Roque town.
"Through a screening study, we want to know if schoolchildren (from six to nine years old) in San Roque are sufficient in vitamin A to support good health. Vitamin A is found in supplements and foods like eggs, milk, liver, and some fruits and vegetables. It is important to help the body fight infections and maintain good eyesight," Reario said. The project is a partnership of HKI, San Roque local government, Department of Education, Department of Health, and the Northern Samar provincial government.
It aims to promote data-driven policies and interventions on health and nutrition at the local level, initially through a screening study on the vitamin A status of school children.
Reario visited the town of San Roque on Sept. 20 for the signing of the pledge of commitment for the nutrition research collaboration with senior Board Member Don Abalon representing the provincial government of Northern Samar, and San Roque Mayor Maria Ana Abalon.
The study is a systematic process of collecting and analyzing data from a sample population of children from Kindergarten to Grade 3, designed to see the scale of vitamin A deficiency and inform policy interventions at the local level.
Northern Samar provincial information officer John Allen Berbon said in a text message that San Roque town has been picked as priority due to high incidence of vitamin A deficiency and the commitment of the local government to participate in the study.
The provincial government has no available data on the vitamin A status of children in the province.
Northern Samar along with Antique are among the provinces with the highest vitamin A deficiency prevalence among school-age children in the Philippines based on proxy indicators, such as the prevalence of stunting, wasting, poverty, and food insecurity, according to HKI.