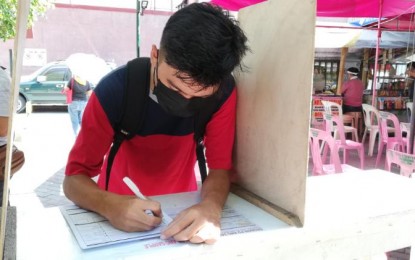 MANILA – The Commission on Elections (Comelec) on Friday announced that voter registration is still suspended in areas declared as modified enhanced community quarantine (MECQ) for the rest of the month.
In separate advisories on its Facebook account, the Comelec said there will be no voter registration in the National Capital Region (NCR), Bataan, and Laguna from August 21 to 31.
NCR and Laguna will shift to the less strict MECQ starting Saturday while Bataan will be under MECQ starting August 23.
Also suspended are satellite registration in barangays, malls, other venues.
During this period, the issuance of voter's certification by poll offices in these areas will also remain suspended.
On the other hand, the Comelec said the registration, which includes satellite registration in malls, barangays, schools or universities, and other public places, continues in areas that are under general community quarantine (GCQ) or modified GCQ (MGCQ).
"As per current guidelines, Saturdays are dedicated to satellite registration so that our field personnel can accommodate a higher number of registrants in more accessible and convenient places. However, the Offices of the Election Officer may conduct Saturday registration in their respective offices if going to malls, barangays and other satellite sites is not feasible under the guidelines," Comelec spokesperson James Jimenez said in a statement.
Aside from the Comelec's official social media channels, the schedules of satellite registration will also be posted on the website, bulletin boards of the Offices of Election Officer (OEOs), and city or municipal halls, with notices to local representatives of political parties and citizens arms.
Earlier, the Comelec has extended the voter registration hours and even on Saturdays and holidays.
Starting August 23, the new registration schedule will be from 8 a.m. to 7 p.m., Mondays to Fridays, and 8 a.m. to 5 p.m. on Saturdays and holidays.
Meanwhile, in areas that are under ECQ or MECQ where voter registration is suspended, the new registration schedule will automatically take effect once said quarantine classification is downgraded to GCQ or MGCQ.
The deadline for the nationwide voter registration is on September 30. (PNA)