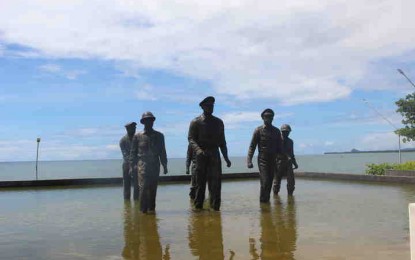 TACLOBAN CITY – Leyte province will hold its first face-to-face Leyte Gulf Landings commemoration on October 20, the first of its kind since the pandemic broke out.
Former Palo town mayor and Leyte provincial government tourism consultant, Frances Ann Petilla, said the province decided to hold a full face-to-face event this year after two years of hybrid activities to honor the gallantry and bravery of veterans who sacrificed their lives to liberate Filipinos during World War II.
"The commemoration will be simple, will be attended by dignitaries from Australia, Japan, United States of America, and United Kingdom," Petilla said during a meeting on Friday.
The 78th Leyte Gulf Landings is also expected to be graced by President Ferdinand Marcos Jr. who was invited by the executive committee as the guest speaker during the commemoration program at the McArthur Park National Shrine in Palo town.
Living World War II veterans in the region are not expected to be present in commemorative events as most of them are already bedridden, according to the Philippine Veterans Affairs Office (PVAO).
The PVAO disclosed that there remain only 33 living World War II veterans in Eastern Visayas with 17 of them from Leyte province.
The number of living veterans this year is lower than the 48 in 2021.
The PVAO and the representative of the US Embassy will be conferring to the living veterans on October 20 the US Congressional Gold Medal award.
"This is the first time that we will be giving this award to our veterans. This is conferred to our veterans to honor their sacrifices and services to the country during Second World War," said Nenita Brazil of the PVAO office here.
The Leyte Gulf Landings commemoration is an annual historical event to remember the arrival of Allied Forces led by Gen. Douglas MacArthur to liberate the country from the hands of the Japanese Imperial Forces that occupied the country from 1942 to 1945.
The arrival of the Allied Forces led to the Battle of Leyte Gulf, dubbed the biggest Naval battle in history with more than 200,000 participants and hundreds of battleships that paved the way to the defeat of the Japanese Forces in the country.
Major activities for the Leyte Gulf Landings commemoration will start on October 17 with the Sentimental Journey in Guiuan to observe the Battle of Suluan.
It will be followed by the Tolosa Signal Day on October 18, which honors the heroic acts of scouts Valeriano Abello, Antero Junia Sr., and Vicente Tiston who signals the Allied Forces from the hilltops of Telegrafo village using the semaphore signs not to bomb the shorelines because thousands of residents inhabited the area.
On October 19, the province will celebrate the Hill 120 Commemorative Event in Dulag town, which remembers the first hoisting of the American Flag on Philippine soil after it was lowered in Bataan in 1942. (PNA)