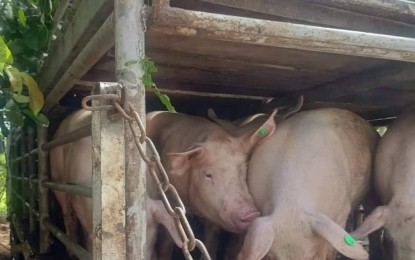 SAN JOSE DE BUENAVISTA, Antique – An association of hog raisers in the municipality of Sibalom is the recipient of a PHP2 million financial grant from the Department of Agriculture (DA) under its Enhanced Kadiwa ni Ani at Kita inclusive food supply chain program.
Of the total fund, PHP500,000 has been released to the Sibalom Livestock and Poultry Raisers Association (SILPRA) in 2020, while the remaining PHP1.5 million, which was turned over during a program held in a hotel in Iloilo City on Wednesday, would be for the purchase of a hauling vehicle.
"The amount was intended as capital build-up and then for the hauling vehicle of SILPRA," Marites Solis, DA chief of Agribusiness and Marketing Assistance Division (AMAD), said in an interview on Thursday.
SILPRA president Elma Peña said they were glad to be chosen as the recipient of the financial grant.
"The financial grant of PHP500,000 was used to purchase hogs that we were breeding and transporting to Semirara Island in Caluya during the height of Covid-19 (coronavirus disease 2019)," she said in a separate interview.
Liveweight hogs are being supplied to Semirara Island because of the high demand for consumption by workers of the Semirara Coal Mining Corp.
"With our hauling vehicle, we no longer have to rent a vehicle because we will already have our own to use," she said.
Peña said they transport hogs twice a month to Semirara island for a fee of PHP15,000 for every 50 heads.
SILPRA, which has 500 members, consolidates or buys the hogs from their hog raiser members and transports these to Semirara or even to areas in Luzon whenever they get orders from the traders there.
Formed in 2018, SILPRA has a meat shop at the Sibalom livestock in the town proper, providing its members with a sure market and an income share.(PNA)