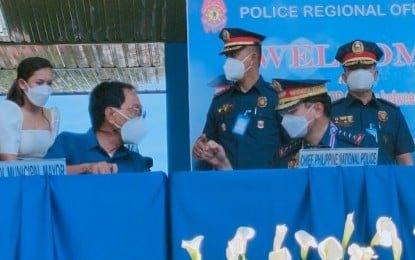 CAGAYAN DE ORO CITY - Less than a month before he retires from service, Philippine National Police (PNP) chief Gen. Guillermo Elazar reminded regional and city police officials here to abide by the principles and guidelines to avoid criticisms.
Eleazar, in his first visit to the city on Thursday, said in his speech that he could not blame some sectors that criticize the 222,000-strong uniformed and non-uniformed police personnel in the country due to the mistakes of a few in their ranks who have violated the law or erred in the conduct of their profession.
"Even though we continue doing our job, it is best that we are properly guided by these guidelines and principles. In my service for more than 38 years in the police and military, (I have seen that) we have all the programs and policies; we have a roadmap for PNP and we must follow, and strictly implement these guidelines," he said.
Eleazar said amid the existence of the coronavirus disease 2019 pandemic, the public's expectation of the police force is high, as a complementary unit with medical front-liners in the response.
Having received a benefit and salary hike under the administration of President Rodrigo Roa Duterte, police officers should exert extra effort in performing their duties and serving the public, he said.
While here, Eleazar visited the headquarters of the Police Regional Office (PRO) 10 (Northern Mindanao) in the morning, and the Cagayan de Oro City Police Office (COCPO) in the afternoon, as part of the 120th Police Service Anniversary.
In both events, Eleazar led the conferring of awards and recognition to uniformed and non-uniformed police personnel in the region.
Col. Aaron Mandia, acting COCPO director, said in response to Eleazar's speech that the city police will exert all efforts in maintaining public order and to perform their best in delivering police service to the people.
"We support the implementation of intensified cleanliness policy in the police, (by) strengthening PNP service and relationship in the community whom we owed to serve and protect," he said.
Mandia was also awarded Best Senior Police Commissioned Officer for Administration, during the ceremony at the PRO-10 headquarters.
Meanwhile, Gen. Rolando B Anduyan, PRO-10 director, led the ceremonies with this year's theme: "Hangad na Kalinisan sa Kapulisan at Komunidad: Ibayong Gampanan para sa Pangkapulisang Integridad," at Camp 1Lt. Vicente G. Alagar, the regional police in this city.
Part of the celebration was the signing of the memorandum of agreement, and deed of donation between the PNP and the local government of Gingoog City for the establishment of a police-community precinct with provision for a forward operating base of 1st Provincial Mobile Force Company (PMFC).
Also, in line with the PNP's Kaligkasan Project, Eleazar. joined by other PNP officials, planted a tree at Camp Alagar as a symbol of advocating environmental protection and preservation.
Moreover, Eleazar witnessed the PRO-10's launching of the regionwide Repeater Multi-site via Internet Protocol (IP) Radio connectivity in which multiple repeater sites can be linked together over a standard IP network, allowing users in different locations to talk over wide areas with ease. (PNA)