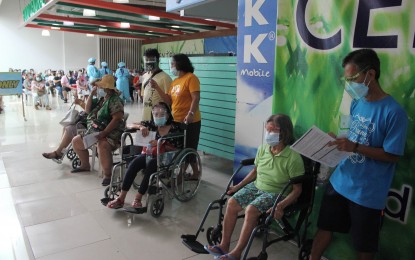 MANILA – A bill providing monthly subsidy to persons with disabilities (PWDs) has been filed at the House of Representatives.
ACT-CIS Representatives Edvic Yap, Jocelyn Tulfo, and Jeffrey Soriano jointly filed House Bill No. 1754, which mandates the Department Social Welfare and Development (DSWD) to give eligible indigent PWDs a monthly subsidy amounting to PHP1,000 to augment his or her daily subsistence.
The bill was filed on Monday and was released to the media on Tuesday.
Yap stressed the need for a more comprehensive, inclusive, and adequate support for PWDs to enable them to overcome the social barriers deterring them from having better life conditions.
"PWDs are still at a disadvantage in several facets of the society. Many PWDs find themselves burdened with expensive medical bills and other costs they constantly strive to afford. They experience disproportionately high poverty rates as they have additional expenditures related to their disability which depend on their functional difficulties, health conditions, and support needs and other expenses related to the lack of accessibility and inclusiveness in their communities," Yap said in the bill's explanatory note.
The bill mandates the National Council on Disability Affairs (NCDA) to verify and certify all indigent PWDs eligible to receive a monthly subsidy amounting to PHP1,000.
The issuance of an authentic PWD identification card is a pre-requisite to qualify as a beneficiary.
The said legislation also enumerates the sanctions that one my face in the expense of abusing the proposed program on their advantage, despite not meeting the minimum requisites of eligibility.
Any PWD, or his or her family member, or any third person found to be deliberately committing any fraudulent act of enrolling a PWD to the program when said person is not indigent shall suffer a fine of not less than PHP50,000 but not exceeding PHP100,000. (PNA)