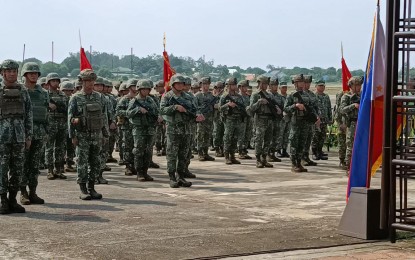 LAOAG CITY – Members of the Philippine Marines from Sulu have arrived in Ilocos Norte on Thursday to augment ground forces battling the remaining units of local communists in Northern and Central Luzon.
Ilocos Norte Governor Matthew Joseph Manotoc said Friday the province of Ilocos Norte is happy to welcome the 4th Marine Brigade and Marine Battalion Landing Team 8 on their first deployment in norther Luzon under the Marcos administration.
"This is a monumental day in the history of Ilocos Norte for the first time we will have a marine brigade. Thanks to you!," Manotoc said as he expressed gratitude to the Armed Forces of the Philippines for deploying additional troops for counter-insurgency operations in Luzon.
With more than six years of service in combatting terrorism in Sulu, the Marine units, previously under the Western Mindanao Command's joint area of operations, were responsible for the recovery of 572 high-powered firearms, surrender of 222 ASG bandits, recovery of smuggled goods worth more than 21 million, and the settlement of 23 "rido" or clan feuds."
Aside from combatting terrorism, the newly-deployed Marines in Northern Luzon will also help ensure the safety and continuous development of the communities here, as well as provide support to stakeholders and government agencies in performing humanitarian assistance and disaster response operations, including joint law enforcement support operations.
Manotoc said the Marcos administration will always be in full support of the men and women in uniform who are the "true public servants" for always responding to the call of the people and prioritizing the well-being and peace and order in local communities. (PNA)