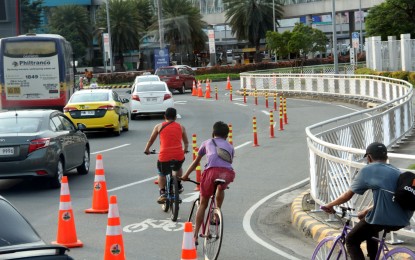 MANILA – The Quezon City government will expand its network of bike lanes to further promote sustainable mobility and reduce air pollution in its area of jurisdiction.
Mayor Joy Belmonte said such a network covers some 93 kilometers of interconnected and protected bike lanes along major roads in the city.
"We're going to do another 81 kilometers next year," Belmonte said Thursday during the "Stories for a Better Normal" online discussion on urban mobility.
The target lanes will still be integrated and protected so bikers using these can be safe and encounter fewer navigational difficulties there, she noted.
Four-wheeled vehicles cannot encroach on Quezon City's bike lanes, she added.
The proposed additional bike lanes next year comprise Phase 2 of Quezon City local government unit's (LGU) bike lane network project.
Belmonte said bike lanes established earlier are under the project's Phase 1.
"We did those during the ECQ (enhanced community quarantine) period when we saw the need for people to have alternative modes of transport, given the lack of public transportation available," she said.
The government first placed Metro Manila under ECQ last year due to the coronavirus disease (Covid-19) pandemic.
Covid-related restrictions on the deployment of public transport prompted people to increasingly use bikes as alternative means of getting to their target destinations.
Aside from establishing bike lanes, Belmonte said they set other initiatives to promote sustainable and safe mobility.
She said Quezon City invested in about 5,000 helmets and distributed these to bikers using the city's bike lanes but who do not have the protective equipment.
Data she presented during the discussion also showed city managed to put up eight integrated bus routes where 108 buses run following scheduled trips.
Those routes connect various Quezon City areas to major transport lines such as the ones under Light Rail Transit Authority, she said.
Private bus operators are the city's partners in such undertaking. (PNA)