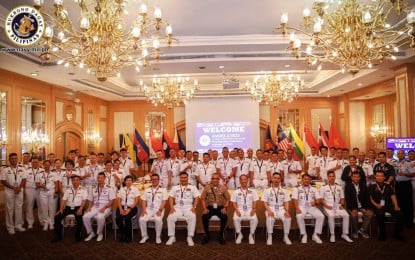 MANILA – The Philippine Navy (PN) will host the 2nd ASEAN Multilateral Naval Exercise (AMNEX), which aims to promote interoperability among the region's various naval forces.
PN spokesperson Commander Benjo Negranza said in a news release on Wednesday that the 2nd AMNEX is slated in the second quarter this year, based on the final planning conference for the event held at The Heritage Hotel in Pasay City on Tuesday.
"A basic training plan that will direct the staging of this naval exercise aimed at advancing interoperability and seamless execution among ASEAN naval forces was developed at the conference by Navy representatives from ASEAN member countries Brunei, Cambodia, Indonesia, Laos, Malaysia, Singapore, Thailand, and Vietnam," Negranza said.
The idea for the AMNEX was submitted by the Royal Thai Navy during the 8th ASEAN Naval Chiefs Meeting (ANCM) in 2014.
The AMNEX, first held in 2017 in Thailand, is anchored on three main pillars – interoperability, responsiveness, and readiness – to address common regional maritime concerns.
"This endeavor represents the PN's resolve to forge closer ties, deepen understanding, and foster cooperation in the direction of a peaceful and stable ASEAN region," Negranza added.
Meanwhile, PN Fleet Marine Ready Force (FMRF) commander, Brig. Gen. Edwin Amadar, acting as the officer conducting the exercise, praised the strong attendance and dedication of international delegations, which demonstrated their ongoing support and cooperation toward a productive collaboration.
"It is a great privilege to the PN to be given the opportunity to host the 2nd AMNEX. I assure you that (the) Philippines will never run out of things to do, from culture, traditions, and scenery. Also, my sincerest gratitude to the people who have worked so hard for these activities to be possible. I am also grateful for the support and participation of our ASEAN counterparts towards our mutual efforts in securing our seas and maritime domain," he added.