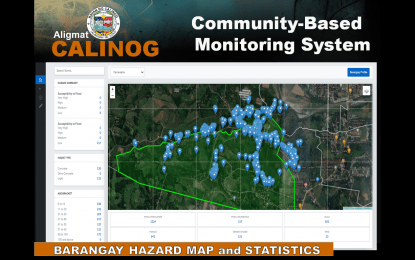 ILOILO CITY – Various technologies adopted by the municipality of Calinog are directed towards making this central town of Iloilo disaster-resilient.
Rodolfo Valencia, Calinog municipal disaster risk reduction and management (MDRRM) officer, said on Wednesday that currently, they have a Central Communication System (CCS) and Community Based Monitoring System (CBMS) and they are waiting for their vehicle tracker to get connected online.
Next year the target is to install closed–circuit television (CCTV) cameras in all 59 barangays.
The CCS connects 59 barangays of the municipality through radio communication equipment. The system comes with a stable signal due to a repeater that was installed in the town's highest point in Barangay Supanga.
"The communication system is important because any information that the mayor (Francisco Calvo) would like to relay will be coursed through it. Each barangay has three radio communication equipment that they can use anytime," he said in an interview.
A lot of lives have been saved due to the communication system, he added, as a call for help during emergencies is done through the CCS.
Amid this pandemic when movement is restricted, Calvo was able to easily reach out even to far-flung barangays.
Meanwhile, the CBMS that was launched last March allowed the municipality to make a proper accounting of all its households, establishments, and infrastructure and identify their potential hazards.
"We geo-tag every household," he said, adding that over 10,000 households have been geo-tagged.
He recalled that the distribution of claims by victims of Super Typhoon Yolanda back in 2013 was difficult because they need to provide evidence.
With the CBMS, they can come up with a truthful report. All they need is the result of their rapid damage assessment and just by clicking the computer, they would know the extent of damage that was incurred.
"Our communication system and CBMS are both very effective. If there are calamities, we are ready on how to fast-track the provision of assistance to the people because of the system, he added.
The MDRRMO, he said, is now in the process of updating the CBMS because as per feedback from barangay service point officers (BSPOs), residents are coming from adjacent barangays of Aklan who transferred to Calinog.
Meanwhile, funds are being allocated for the vehicle tracker that will be embedded with the CCS and the CBMS to be able to go online.
He said among the most important feature of the tracker is the easy monitoring of their vehicle responders that will be deployed in case of emergencies.
By tracking the location of the vehicle, they could also advise on the other end on what actions to take.
Next year, he said that the target is to have CCTV cameras with Wi-Fi that can be manipulated 360 degrees.
Calvo, in a separate interview, said that the CCTV will support the CCS, and while talking to barangays through the radio equipment, he would be able to see them through the cameras.
He added that they will also be purchasing ambulances for the upland barangays.
All the technologies adopted by the LGU are also complemented with the opening of roads to provide access to far-flung barangays. (PNA)