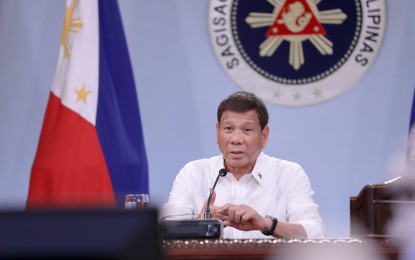 MANILA – President Rodrigo Duterte has advised the public not to reelect lawmakers who are taking advantage of their position as the 2022 elections draw near.
"Ang hinihingi ko sa taumbayan, 'yung lahat na senador -- ito kung pagbigyan lang ninyo ako -- 'yung lahat ng senador tumatakbo talunin ninyo. Huwag ninyong ibalik sa Senado kasi magdaldal nang magdaldal na rin 'yan at mag-show off, parang magyabang (My advice to the public, if they want to heed my advice, is don't let the reelectionist senators win. Don't reelect them to the Senate because they would just keep talking and showing off. It's like boasting)," he said in his taped Talk to the People delivered Monday night but aired Tuesday morning.
Duterte gave the advice, as he chided Senator Richard Gordon, who chairs the Senate Blue Ribbon Committee, over the lengthy conduct of an inquiry into the Department of Health's utilization of the coronavirus disease 2019 (Covid-19) pandemic response funds.
He chided Gordon for being "talkative" and for throwing "leading questions" during the seven-hour hearing into the government's spending of Covid-19 funds.
Duterte also branded Gordon as a "talkathon champion."
"I'm sure Gordon realizes or [has] realized it a very long time ago that he has that nasty practice of depriving others of asking questions. But, you know, the guy simply wants to talk and show off to the world that he is a bright boy," he said.
Duterte's verbal tirades against Gordon came, as he once again defended embattled Health Secretary Francisco Duque III, maintaining that the Health chief does not deserve the criticisms because he is merely doing his job amid the prevailing Covid-19 pandemic.
Duterte slammed Gordon and his fellow lawmaker, Senator Panfilo "Ping" Lacson, for trying to win the public ahead of the 2022 national elections by demanding for Duque's resignation.
He said it is obvious that Gordon and Lacson are merely grandstanding to gain publicity.
"Si Ping naman silang dalawa ni Gordon nag-usap, sabi ni Gordon about Duque resigning, may ganoon na demand to resign (Ping and Gordon were talking about Duque resigning. They even demanded [Duque] to resign)," he said. "Puro daldal lang 'yan ang sinabi ko. Wala… Para lang makaporma, para lang makaporma kasi eleksyon na (That's a mere blabbering, I said. That's nothing. They just want to gain publicity because elections are drawing near)."
'Don't run' Duque's department
Duterte said Gordon and Lacson were merely trying to distract Duque who he said is merely doing his job to defeat Covid-19.
He also vouched anew for Duque's integrity, saying he believes that the Health chief is not involved in irregularities.
"Kasi kagaya nitong ni Secretary Duque, ginugulo ninyo ang tao, nagtatrabaho. Tapos ang reklamo lang ninyo hindi nagastos (Secretary Duque is doing his job but you are distracting him. Your only complaint is he failed to spend the money)," he said.
He then told the senators to stop trying to "run" the Department of Health (DOH) just because it is currently being considered "high-profile" due to the Covid-19 pandemic.
He also advised them to just monitor the DOH's handling of the pandemic funds.
"I'm telling these senators now: Do not run the departments. Huwag kayong mag-imbestiga na kayo-kayo lang magsabi ng ganoon, ganito, ganito (You would investigate and would just say this or that). You would like to run government, the departments the way you want it? Or is it because you want the publicity?" Duterte said.
Duterte also told Gordon and Lacson not to focus on DOH, saying there are other government agencies that have also been flagged by the Commission on Audit.
"Ngayon ang gusto kong tanong nito sa mga ano, mga senador, bakit hindi ninyo imbestigahan lahat? Lahat na na na-flag. Marami ang na-flag, hindi lang ang DOH (Now, I want to ask the senators, why don't they investigate all of the flagged agencies? Many agencies have been flagged, not just the DOH)," he said.
CabSecs' report 'very clear'
Duterte, nevertheless, defended his Cabinet members, saying they are also fulfilling their mandate to serve the public, especially amid the health crisis.
He said the Cabinet secretaries are there to help him address the pressing issues in the country, including the Covid-19 pandemic.
"Sa batas kasi shadow lang 'yan mga Cabinet members ng presidente kasi hindi ko kaya lahat ang trabaho ko (The law states that the Cabinet members are the President's shadow because I could not do all the job)," Duterte said.
Duterte also reassured the public that his Cabinet is spending the funds properly.
"So they work and they show me the result and 'yung mga pera na binibigay ng Congress 'yung sa budget paano nila nigasto at paano nagawa na -- magawa 'yung report na (and the money given by Congress, how they spent that and make a report) that would make things very clear for everybody, especially the Filipino people," he said. (PNA)