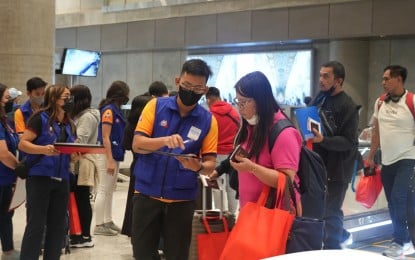 MANILA – More than 6.1 million arrivals were recorded in 2022, with returning Filipinos topping the list, according to the Bureau of Immigration (BI) on Saturday.
Immigration officers processed 6,125,841 arrivals this year.
"This is already a major leap from the last two years, wherein our airports were quiet due to the decrease in travelers following travel restrictions imposed at the height of the pandemic," BI Commissioner Norman Tansingco said in a statement.
There were 3.6 million Filipinos who came home, followed by passengers from the United States with 687,135 arrivals and 448,491 from South Korea.
There were also 152,476 visitors from Australia, 141,578 from Canada and 123,011 from Japan.
The BI reported 17 million arrivals for 2019 but the pandemic broke out in March 2020.
Passenger arrivals from January to September 2021 dropped by 72 percent compared to the same period in 2020, or 893,886 international travelers as against 3.2 million the previous year.
"While we are not yet seeing pre-pandemic figures, the increase is already evident," Tansingco said. "We share the optimism of the Tourism department that travel is on the rebound and we will expect more tourists in the following months." (PNA)