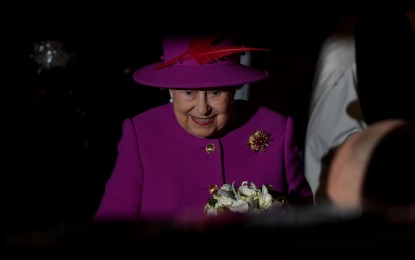 MANILA – Speaker of the House of Representatives Martin Romualdez and former president and senior deputy speaker Gloria Macapagal Arroyo mourned on Friday the death of Britain's longest-reigning monarch, Queen Elizabeth II.
In a statement, Romualdez described Queen Elizabeth as a "gentle, yet solid rock of stability who exhibited grace and decency in performing her duty in times of crisis."
He expressed his heartfelt and deep sympathies to the Royal Family, the British government, and its people over the queen's death.
"We mourn the loss of a great world leader who served as an inspiration to many generations of public servants in all parts of the globe," Romualdez said. "Her name will never be forgotten, and her memories as a great monarch will remain etched in our hearts forever."
Arroyo, meanwhile, said the world would always remember Queen Elizabeth's "long and glorious reign" after seven decades on the throne.
"I will forever cherish Her Majesty's advice and encouragement when we visited her during my presidency," she said. "My sincerest condolences to the entire Royal family, and the peoples over whom she reigned."
Queen Elizabeth II passed away on September 8 at the age of 96 after a seven-decade rule as the sovereign of the United Kingdom and the Commonwealth. She was the longest-reigning British monarch and had celebrated on February 6 her platinum jubilee. (PNA)