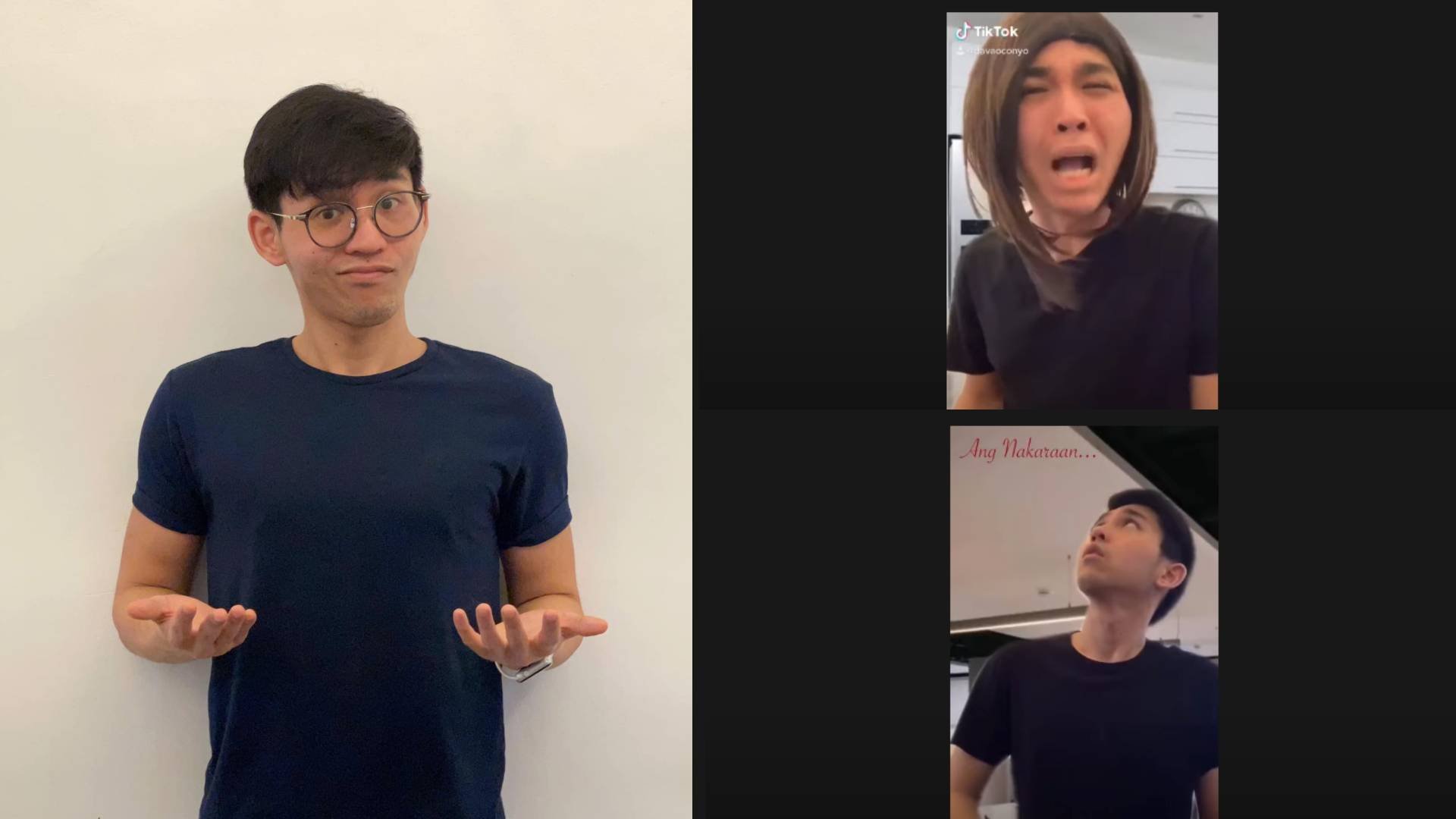 Photo credit: Davao Conyo/Facebook and YouTube
By Karen Mae de Vera
The best kind of comedy doesn't require an elaborate set-up to be truly effective. In fact, a one-man show of teleserye-themed skits involving characters in messy wigs, who are caught in an even messier situation, can totally slap (insert kontrabida laugh) on social media.
Phillip Hernandez A.K.A. Davao Conyo and his parody series, Isang Platitong Hustisya, proves that you don't need bells and whistles to blow up on TikTok and other platforms.
The series touches on tried (and sometimes tired) and tested teleserye cliches such as the mahirap na bida, the disapproving rich familia, and asawa-stealing "friend" among others.
It would be much easier to just go for it without any prior planning but Phillip made the effort to write a dedicated script for the skits. It's quite the love letter to Pinoy teleseryes in general with quotable quotes that live rent-free in our head like, "Siya pa rin ang sinisigaw ng puso kong ligaw," "Masarap ba ang asawa ko?" and the ever-present "Manahimik ka, witch!"
Note: Paminsan, "witch" is replaced with a "b" depending on the timeslot. (Alam mo na yan!)
To find out more about his comedic content, we reached out to the content creator for a chiakahan sesh and here's what we've learned:
"Ang nakaraan…" Creator origin story
"When I was younger, I used to admire people. [I would think,] 'I want to be like them. I want to have the same career path as them.' But as I mature, I realized that it's better for me to be inspired by their craft and stories instead of [becoming] them as people and [pursuing] their lifestyle. Knowing what I know now, I inspire myself with the stories I see and hear around me. I love to work in coffee shops [so I can] 'people-watch' and just observe them while I write my scripts."
Phillip is a creative writer at heart!
"My goal is to write scripts and stories for ads. BIGGEST DREAM. When working on my skits, I always make sure that I am happy with the script [and that it has] the right element of surprise and cohesiveness. Filipinos deserve better storytelling through smarter content and scripts."
"When ad agencies reach out to me to tell me they like my content, that means so much to me! It makes me happy when people appreciate my content [especially] when the creatives themselves give me a pat on the back. It's so satisfying and makes me want to push even more."
When we asked Phillip what made him focus on soap operas, he answered, "Why not? It's super relatable! We get tired of clichés but we watch it nonetheless. As Filipinos, we are really glued to stories of revenge and redemption."
He breaks down his noontime/primetime drama choices in life below.
He is a Claudine Barretto teleserye stan
"[The inspiration for my skits is] really the collective memories from my favorite teleseryes. Mainly from Claudine Barretto [because] she's my favorite!"
"[My favorite actresses include] Claudine Barretto, Judy Ann Santos, Maja Salvador and the great Angelica Panganiban! Hehe."
He lives for the bida's journey-to-success arc!
"The protagonist becomes successful and takes back everything she deserves with matching sampal, sabunot and spicy words!"
As Davao Conyo, he prefers playing the kontrabida
"Kontrabida all the way! It's easier to make them funny because of the contrast in emotions from really scary to saying something funny."
"[Kung may makaka-tandem ako sa sabunutan, I would choose] CHERRY PIE PICACHE!"
We also asked Phillip if he had any advice to share for up-and-comers in the industry and here's what he had to say.
Content Creator Tips:
Don't compare yourself to others and just compete with yourself
"Outdoing your own work is really tough but it's a good brain and self-confidence exercise as well. To be honest, I do not follow a lot of [comedy] content creators [to avoid] comparing myself [to] them. In terms of building your following, definitely being consistent with your uploads! It's tough, especially when you are a one-man team."
Create evergreen content
"Think of it as a business. While it's okay to be 'in the now' It's also important to think about the longevity of your brand, your relevance and your influence."
If you want to catch his attention (Yihee!) Here's what Phillip looks for when browsing other content:
"Content that celebrates life, stories and people. I am more drawn to this type of content compared to funny videos. Weird, I know!"
Pero take note: Phillip isn't limited to the Davao Conyo persona
"I am very different in person compared to the many crazy characters I play in my videos. Content creators are entrepreneurs, too! That said, we plan what we put out, what we think the audience would want to consume and what content we think is digestible for our target market."
Phillip believes in the next generation of content creators
"My recent pride month shoot [was] led by a local studio here in Davao City. As someone who surrounds myself with people who are into digital marketing and content creation, seeing young people whose craft focuses on photography, styling and art was definitely a breath of fresh air. They're like my kids! These are the moments that I root for the younger generation. They're hungry for success and individuality!"
Even if Phillip wasn't creating social media content, we're sure that he'll be involved in the creative industry in some type of way. He confirmed this by saying, "Writing for commercials and ads TALAGA!"
If you want to see more of Phillip Hernandez and Davao Conyo, you can check out the Bai Social page for more.
So, what kind of parody series would you make?