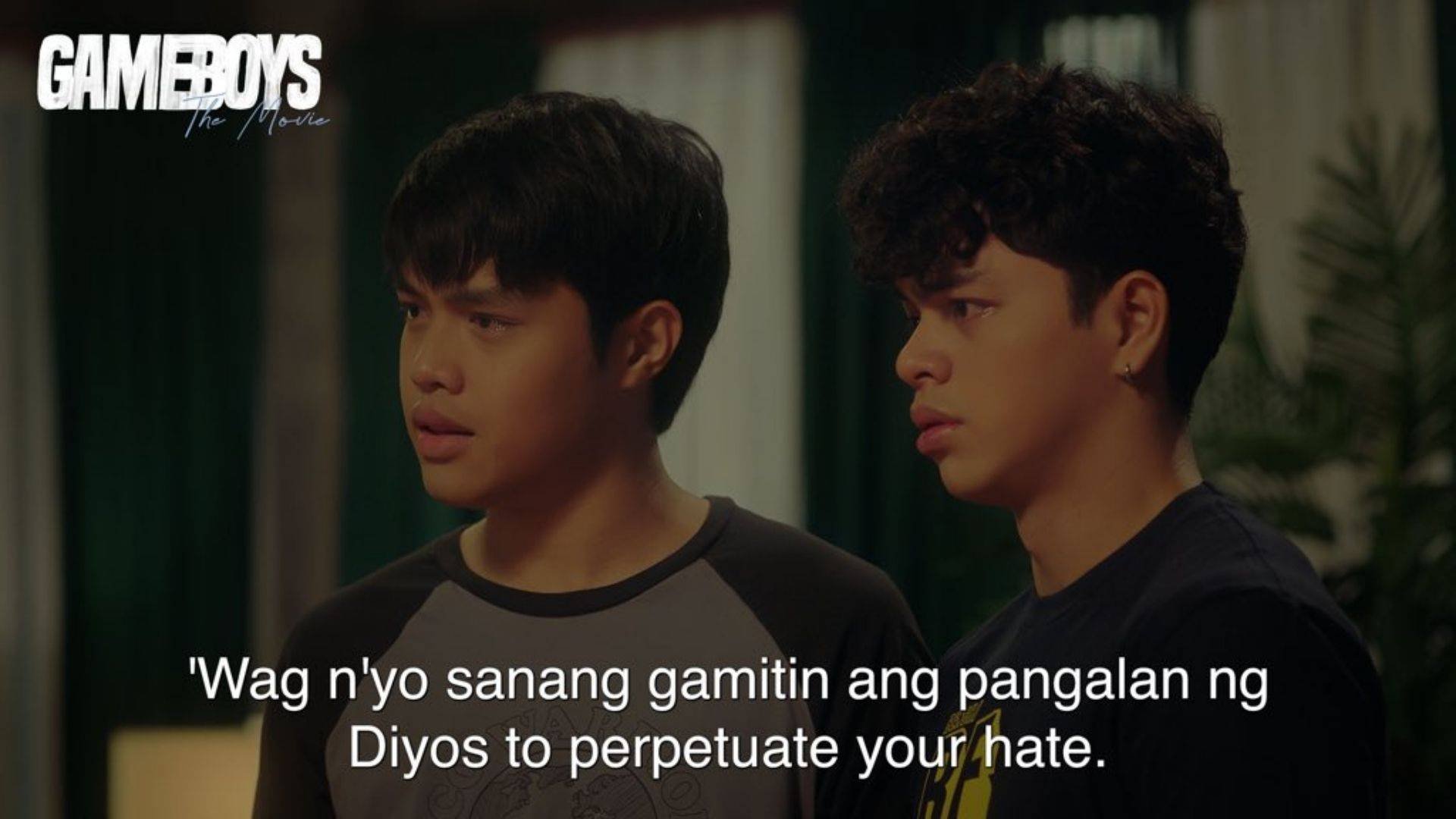 Photo credit: The Idea First Company/Twitter
By Jerald Uy
In a country where same-sex union is still not legally recognized and the SOGIE Equality Bill languishing at the Congress for two decades now, it is a pleasant surprise that there's a renaissance of sorts for queer content online. Top of mind is Gameboys The Movie, a film that continues the boys' love web series about a popular game streamer Cairo (Elijah Canlas) and his avid fan-turned-lover Gavreel (Kokoy de Santos).
READ: Pinoy BL: A first-timer's guide
Whereas the original series normalized the struggles of a young gay/bi couple separated during the lockdown, the movie finds the gamer couple facing a close-minded, ultra-conservative tita (Angie Castrence)—an enemy they could not punch into submission. Castrence's performance is a standout in the series, giving the younger cast a crash course on Acting 101.
Unresolved subplots from the web series were also seamlessly brought to the movie. Perpetual sad boi Terrence (Kyle Velino) and Cairo's ex finally meets his match—genius "alter" account user Wesley (Miggy Jimenez). But just when we thought Terrence's pity party is understandable, salad-loving twink Achilles (Kych Minemoto) calls him out for leading him on. Minemoto's screen time is relatively brief but his acting as an effeminate gay is flawless. ICYDK: He's straight in real life.
READ: 5 Pinoy brands supporting the LGBTQIA+ even beyond Pride Month
Photo credit: The Idea First Company/Twitter
Fan-favorite Pearl (Adrianna So), Gavreel's other ex, also returns. But her role is limited to being a sounding board. This is Gavreel and Cairo's movie anyway and she did get her own show in spinoff series Pearl Next Door.
A takeaway from Gameboys The Movie is how queer people can form a clique of exes and flings. Case in point: Terrence has been romantically linked to at least three characters in the movie. This situation happens in real life among LGBTQ+ people probably because not everyone visibly and vocally understands what it means to be queer.
The last arc is tear-jerking, so make sure you have tissues on hand. Canlas and De Santos show they have the acting chops for heavy drama. At this point, writer Ash Malanum seems to be already saying goodbye to the characters he created. Director Ivan Andrew Payawal takes charge of the waterworks.
So, is Gameboys done? For me, the book of Gavreel and Cairo needs to be closed for now. But who knows? Maybe when we revisit the characters again, they would finally be in a world where a certain tita would be missing out on a beautiful legally recognized wedding of the decade.
ALSO READ: Elijah Canlas wins Best Actor at Harlem International Film Festival