Filipinos mourned the passing of the former Commander-in-Chief of the Philippines, Benigno 'Noynoy' Aquino III, at 61. Apart from ordinary Filipino citizens, the former President also touched the hearts of local celebrities as they mourn for his passing.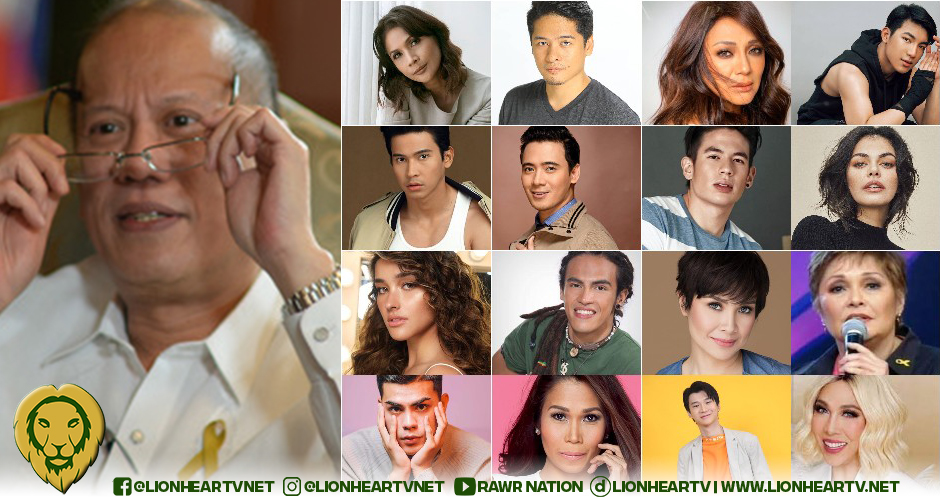 After he got rushed to the Capitol Medical Center, Aquino was declared dead on Thursday morning, June 24.
Mourning the Loss.
Celebrities expressed their condolences to the Aquino family after hearing the sad news.
On their respective social media accounts, artists sent their condolences to Aquino's family.
Rest in peace PNoy 🙏🏼🤍

— Liza Soberano (@lizasoberano) June 24, 2021
My deepest condolences to Aquino Family #RIPPresPNoy 🙏🏼 #respect

— marietta subong (@pokwang27) June 24, 2021
One in prayers for PNoy. And yes, masses for his eternal repose. 🙏🏽🙏🏽🙏🏽 You've done well. Thank you very much. 🙌🏽🙌🏽🙌🏽 You will be remembered despite efforts to cancel you out. 💙💙💙 #RIPPNoy

— Jboy Gonzales SJ (@jboygonzalessj) June 24, 2021
Sad day. My heartfelt condolences and prayers to the whole family🙏🙏🙏

— Cherry Pie Picache (@Yescppicache)
Rest in Peace President Benigno Aquino III… https://t.co/4hOGiWCwKz

— kiko rustia (@kikorustia) June 24, 2021
Janine Gutierrez, Jake Ejercito, and Enchong Dee thanked Pnoy for serving the country.
Rest in Peace, President Noynoy. Thank you for your service 🙏🏼

— JANINE ✨ (@janinegutierrez) June 24, 2021
Thank you for your service to the nation, Mr. President. May history judge you kindly and may you revel in the presence of your heroic parents. RIP, PNoy 🇵🇭

— Jake Ejercito (@unoemilio) June 24, 2021
Salamat sa lahat ng serbisyo sa bayan, respito sa constitusyon ng Pilipinas, at respito sa kapwa Pilipino. Rest in Peace President Noy 💛🇵🇭

— Enchong Dee (@enchongdee777) June 24, 2021
Upon hearing the news, Agot Isidro and Jaime Fábregas were saddened by PNoy's passing.
Sad, sad morning 😔

— Agot Isidro (@agot_isidro) June 24, 2021
Very sad, indeed!!

— Jaime Fábregas (@fabre_jaime) June 24, 2021
Comedian and It's Showtime host Vice Ganda mourned the death of the former President. He was shocked by this untimely passing, and he expressed his heartfelt condolences to the Aquino family.
Today is a sad day as we are all shocked by the untimely death of former President Noynoy Aquino. I am one with every Filipino as we grieve and mourn his unexpected death.
My heartfelt condolences to the Aquino Family. Godspeed PNoy and Rest In Peace. 🙏🙏🙏

— jose marie viceral (@vicegandako) June 24, 2021
Actor Alex Medina had time to throw some shades at the current Philippine President by comparing him to the late PNoy. According to Medina, Duterte made Aquino a saint despite not being a good leader.
PNoy wasn't a good President but Duterte made him a Saint.

— Alex (@alexvincentm) June 24, 2021
While he expressed his sympathy, Richard Juan emphasized that PNoy may be flawed, but the former President was a god and honest man.
"He was flawed, but at least he was a good, honest man."

RIP PNoy.

— 范鴻志 RICHARD JUAN 홍지 (@richardjuan) June 24, 2021
TV personality Justin Dizon was deeply affected by PNoy's passing.
In his tweet, Dizon stressed that the former President was not perfect, but he is someone that Filipinos can take pride in.
Dizon even recalled how the Aquino administration stood up against China and filed an arbitration case in The Hague to fight for the country's sovereignty. He also noted PNoy's leadership made the Philippines a progressive nation.
Ang sakit ng pagkamatay ni PNoy.

He was not perfect but he is a President that you can be proud of. I cannot forget how he fought for our sovereignty. During his time, alam mong umaabante ang Pilipinas.

Disente, professional, at nagmamalasakit sa bansa.

— Justin Dizon #TeamLeniRobredo (@iamjustindizon) June 24, 2021
Singers Leah Navarro, Lea Salonga, Darren Espanto, and Erik Santos also extended their sympathies.
You insisted on calling us your Bosses. Walang Corrupt, Walang Mahirap – you accomplished most of that dream. You paved our Daang Matuwid and kept to it. You made us proud to be Filipino. It was an honor to serve you. So much more to say, but always, #SalamatPNoy pic.twitter.com/i9NFSbAp13

— Leah Navarro (@leahnavarro) June 24, 2021
Rest in Peace, President Noynoy. 🙏🏻 Maraming salamat po. https://t.co/xGPWO68rBR

— Darren (@Espanto2001) June 24, 2021
Isang napakalungkot na araw. 💔 Maraming salamat sa iyo PNoy! 💛🙏🏻 https://t.co/443eAwcYup

— erik santos (@realeriksantos) June 24, 2021
Rest In Peace, Sir, and thank you for your service.

— Lea Salonga (@MsLeaSalonga) June 24, 2021
His Legacy as President.
During PNoy's term, he got riddled with issues such as the SAF44 incident, the Laglag Bala, and many more.
Despite some controversies–his brand of leadership has brought the economy of the Philippines to its prominence. It even made international news outlets talked about its feat.
The Philippines, under Aquino, was lauded for turning the 'sick man of Asia' into one of the Asian countries with the highest growth rates.
Not only that, PNoy was the one who initiated the K to 12 education program to ensure that Filipinos will have the highest quality education possible.
Under PNoy's Department of Education (DepEd) appointee, Armin Luistro, they have also constructed over 89,720 classrooms.
PNoy also spearheaded the program known as the Pantawid Pamilyang Pilipino Program ( PPPP). Its purpose seeks to provide for families living in extreme poverty with cash assistance in exchange for commitments in education and health care.
The former Philippine President also improved the weather forecasting, hazard mapping, and information dissemination of the country through the Philippine Atmospheric, Geophysical, and Astronomical Services Administration's (PAGASA) modernization so as the Nationwide Operational Assessment Hazards or Project NOAH by the Department of Science.
As a result, it saved countless lives via effective communication of early warnings during emergencies.
These are some of the things he improved during his time as President.
"I would like to think I was part of that movement that changed people's attitude from one of cynicism and defeat to one of perhaps, unbounded optimism – that the Filipino is really capable and special and we can achieve all our dreams."
News reports said that he suffered from various illnesses since 2019.
His passing was confirmed by the bereaved family yesterday afternoon through a statement, read Pinky Aquino-Abellada, one of the late President's sisters.
"It is with profound grief that on behalf of our family, I am confirming that our brother Benigno 'Noynoy' S. Aquino III died peacefully in his sleep.
"His death certificate pronounced his death at 6:30 a.m. due to renal disease secondary to diabetes. No words can express how broken our hearts are and how long it would take for us to accept the reality that he's gone. Mission accomplished ka Noy. Be happy now with dad and mom.
"We love you and we are so blessed to have had the privilege to have had you as our brother. We will miss you forever, Noy."