On October 22, the Oxford Philippines Society released a statement reiterating that Senator Marcos didn't have a 'degree' in Bachelor of Arts in Philosophy, Politics, and Economics at Oxford University, but a 'special diploma' in Social Studies.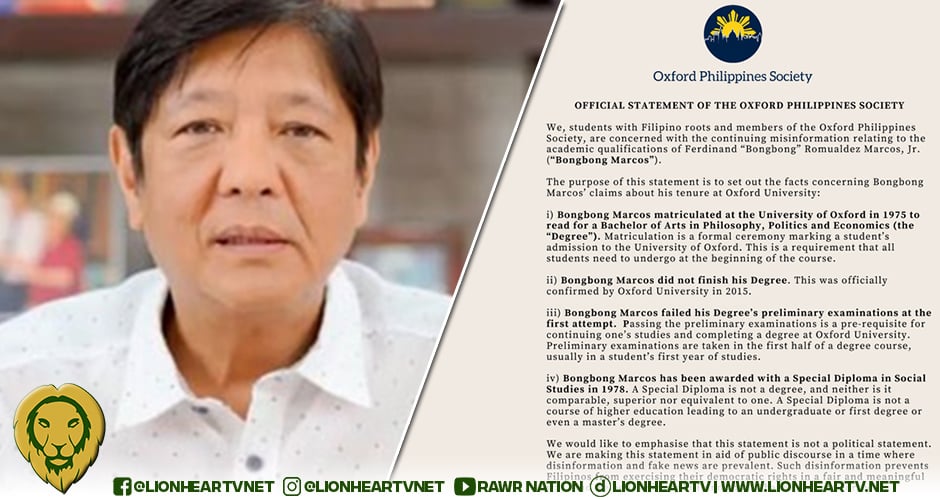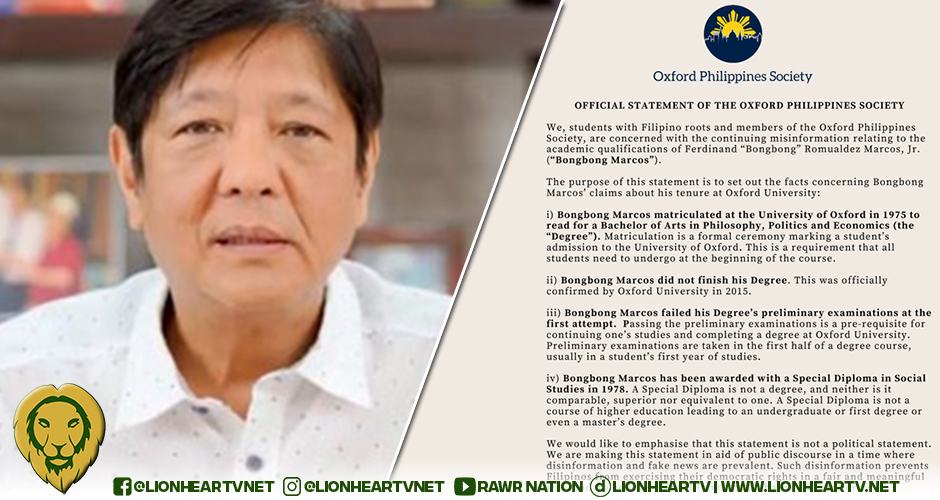 As a result, netizens started reacting to the news shared on social media.
Kapamilya network reporter Mike Navallo reposted the official statement coming from the Oxford University accredited group.
Oxford Philippines Society, composed of Filipino students and alumni of Oxford University in England, sets the record straight about Ferdinand "Bongbong" Marcos, Jr.: He did not finish his degree and failed the preliminary examinations. But he has a special diploma. pic.twitter.com/azI4Nu38ZS

— Mike Navallo (@mikenavallo) October 22, 2021
The business editor of the Philippine Daily Inquirer, Tina Dumlao Arceo, reiterated the statement of the Oxford Philippines Society.
Again, Bongbong Marcos did not finish his degree at Oxford University. What he has is a Special Diploma, which is not a degree. pic.twitter.com/Xm2HupaTal

— Tina Arceo-Dumlao (@tinaarceodumlao) October 22, 2021
Other netizens criticized the Senator's camp for claiming that he graduated with a degree in Philosophy, Politics, and Economics.
Why is it difficult for @bongbongmarcos to admit that he did not obtain a bachelor degree from Oxford University? Anyway, a degree is not one of the qualifications for any elected positions in the Philippines. https://t.co/QRzzEP9Iq9

— Ferdz (@ferdz_santos) October 24, 2021
GHorL, @bongbongmarcos, ano, mas marunong ka pa kaysa sa Oxford? Gusto talaga panindigan na nakatapos kahit hindi? #LeniforPresident2022

— Zhea (@zhetrina) October 24, 2021
"Bongbong Marcos has been awarded with a special diploma in Social Studies in 1978. A special diploma is not a degree, and neither is it comparable, superior nor equivalent to one."

📷: Oxford Philippines Society pic.twitter.com/OAAYTe9e9h

— PinoyAkoBlog (@PinoyAkoBlog) October 22, 2021
Other netizens defended Marcos by presenting documents claiming that the Senator studied at Oxford University from 1975-1978.
They also attempted to disprove the Oxford Philippines Society in the process.
So itong galing sa Oxford University mismo hindi legitimate. Then, help me challenge @OPS_OxPinoys to question this and this. Taga-Oxford sila. They can verify it. Bakit 3 years si BBM diyan, pero sabi nila first year lang? pic.twitter.com/nkERC98K4c

— Scherazade Wits (@ScherazadeWits) October 24, 2021
kung d mo alam na graduate c BBM sa Oxford University (Special Diploma in Social Studies), d na problema yan ng BBM supporters. may Recto University ka pang sinasabi, mas kapanipaniwala na ang isang katulad mo ang siyang bagay don.

— BlackRAVEN (@o_BlackRAVEN_o) October 24, 2021
Eto pa…and sa oxford 3 years lang ang term to get a degree. Bbm finished trinity term. The 3rd and final term. Thats why, he was qualified to enroll in Wharton for an MBA pic.twitter.com/0veGntCUcr

— vianangbantaye (@valdevegarde)
One netizen answered the claims of BBM supporters, noting that they weren't criticizing his qualifications to hold a position.
They were criticizing his camp's attempts of disinformation by publishing on the Senator's resume that he had a degree in BA in Philosophy, Politics, and Economics from Oxford University.
HINDI MO NAIINTINDIHAN ANG ISYU.
Hindi ang qualification ng isang gustong maging pangulo ng Pilipinas ang isyu at ang gustong punahin, kundi ang PAULIT-ULIT na pagsisinungaling ni Bongbong Marcos na sya ay nagtapos ng BA in Philosophy, Politics and Economics sa Oxford University.

— Gising💪 Pilipino🇵🇭 (@GisingPilipino) October 24, 2021
Another netizen pointed out that the Oxford University itself hosted the Oxford Philippines Society's page.
It's an organization of Filipinos studying in Oxford. I'm not sure what you mean by this image. Are you saying they're a fake org? But they're website is hosted by Oxford University itself.https://t.co/zfUp88dC0D

— lalalalaaaaayf~ (@lalalayf) October 24, 2021
Earlier, Marcos's spokesperson Vic Rodriguez claimed that the Senator has always been forthright about his 'special diploma' in social studies from Oxford.
However, according to reports from 2015 to 2016, Senator Marcos claimed that he held a Bachelor's Degree in Philosophy, Politics, and Economics through his Senatorial profile and one of his interviews.
However, a Tiktok Video surfaced showing an interview with George Harrison, The Beatles lead Guitarist, recounting their band's experience in 1986 during his father's regime.