Returning TV Patrol anchor, Karen Davila became a trending topic on Twitter after Noli de Castro withdrew his candidacy for senator on October 13.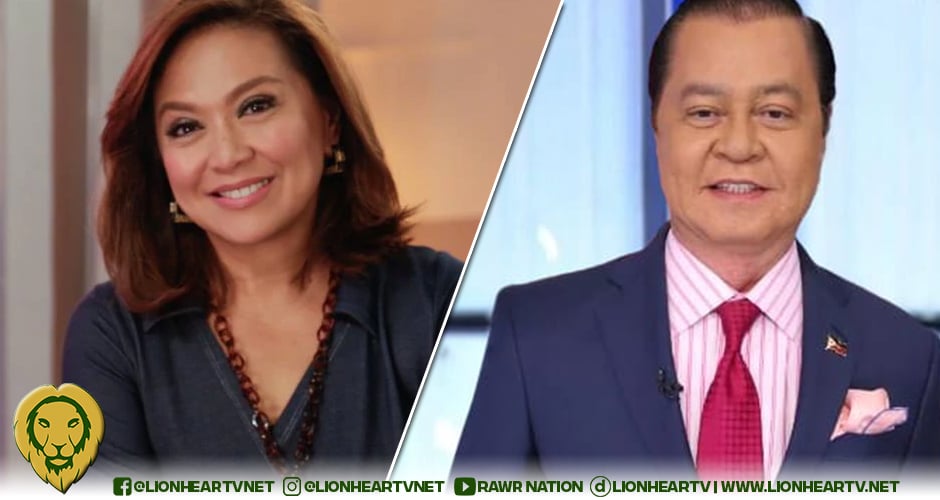 After 11 years, Karen Davila returned to TV Patrol, replacing seasoned anchor Noli de Castro, who filed for senatorial candidacy on October 8.
Davila was welcomed to TV Patrol on October 11. Her return trended because of a 'leaf blooper' during her outro on the show, caused by strong winds outside the ABS-CBN building.
However, few days after her return to the news show, de Castro announced his withdrawal from his senatorial bid. He believes that he will be able to help more people as a broadcaster rather than a politician.
With this, netizens were concerned about what will happen to Davila since de Castro may return to the TV Patrol.
Noli de castro Karen Davila who
backing out of senate just moved to ABS
race to focus on to anchor for TV
broadcasting patrol pic.twitter.com/eMj5gS4hbe

— Joaquin Closet (@andy_crush) October 13, 2021
Karen Davila made a comeback at TV Patrol

Noli De Castro withdraws Senatorial race

Kabayan to return to TV Patrol?

Karen Davila on the other hand: pic.twitter.com/6WFF1VWZKj

— WALTER CES (@waltzjces) October 13, 2021
Some prefer Davila on the news show than de Castro. So, they advised de Castro not to return to TV Patrol.
We need Karen Davila there. No need for Noli.

— Raold Rodrqez #LeniKiko2022 (@roncerod) October 13, 2021
For me, it's time for Kabayan Noli to rest as a newscaster in TV Patrol. Davila is such a great addition to the roster. Okay na ako sa HOD – Ate B – Miss Karen trio.

— sunray🏳️‍🌈📚✨ | FINAL EXAMS ERA 📚✨ (@shiningMGBWEM) October 13, 2021
No, back out from the race but don't go back to TV Patrol. I like Karen there https://t.co/sMQpVwKKtN

— Here for the drama (@VMariners) October 13, 2021
As much as see Noli de Castro as the icon of TV Patrol, happy na ako sa lineup ni Karen Davila, Bernadette Sembrano ad Henry Omaga Diaz.

— Jonard Don Jardenil (@jonardus) October 13, 2021
I still prefer Karen Davila over Noli De Castro kahit na minsan masyadong eager magtanung.

Bagay naman sina Karen-Henry-Ate B eh.

At least yung TV Patrol Sabado, nandun pa rin sina Ate Zen at Sir Alvin. Solid pa rin ang Weekend edition.#TVPATROL#KarenDavila

— James Pangan (@JamesPangan7) October 13, 2021
Happy na kami kay Karen Davila. Huwag ng bumalik si Noli sa TV Patrol

— MaiMS122731 (@MMs122731) October 14, 2021
However, some also pitched to let de Castro come back so, and the TV Patrol will have four newscasters.
Para mas maganda ang TV Patrol, Gawin na nilang apat na news broadcaster para sa mas maluwag, mas mabilis, mas siksik, at mas mahabang pagbabalita.

Kabayan Noli de Castro, Karen Davila, Henry Omaga Diaz, and Bernadette Sembrano. @ABSCBNNews

— Forever Kathniel Destiny Love ❤️💚💙💜 (@Kathniel2021) October 13, 2021
TV Patrol: 4 is Better than just 3 news broadcaster.

Kabayan Noli de Castro, Karen Davila, Henry Omaga Diaz, and Bernadette Sembrano are 4 most trendy news broadcaster in the Philippines 🇵🇭

So please Let's stop because there are only 3, that's not enough! Four Can Get Four

— Forever Kathniel Destiny Love ❤️💚💙💜 (@Kathniel2021) October 13, 2021
Sana bumalik si Noli De Castro sa TV Patrol, but wag naman alisin si Karen Davila. 🙏 Pwede and bagay naman po siguro na may apat na anchors ang TVP, para sila ang Fantastic Four ng Pinas. 😅 #TVPatrol @ABSCBNNews @gingreyes

— Coco Martin (@idolcocomartin) October 13, 2021
Netizens also suggest keeping Davila in TV Patrol and reviving 'Magandang Gabi Bayan' for de Castro.
Just give Noli de Castro the same format like his old days "Magandang Gabi Bayan" weekly program. There he cn discuss or features any topic that hounding our country & the ppl.

Karen Davila deserves to be in TV Patrol. Young and with fresh mind.

From – Mrs. Hassan (my mother)

— James Cedric Lim Hassan (@JamesCedricLim)
Karen Davila is best for TV Patrol. I'd say a reboot of Magandang Gabi Bayan would be the perfect comeback for Kabayan Noli De Castro. Perfect timing ang Halloween for the launch.Gosh nostalgia I'm ready for you☺️

— Junich Vi. (@JunedeVera4) October 13, 2021
Noli de Castro has been one of the original hosts of TV Patrol since the show was established in 1987.
Davila was still part of the show on the October 15 episode of TV Patrol, and de Castro did not yet return.