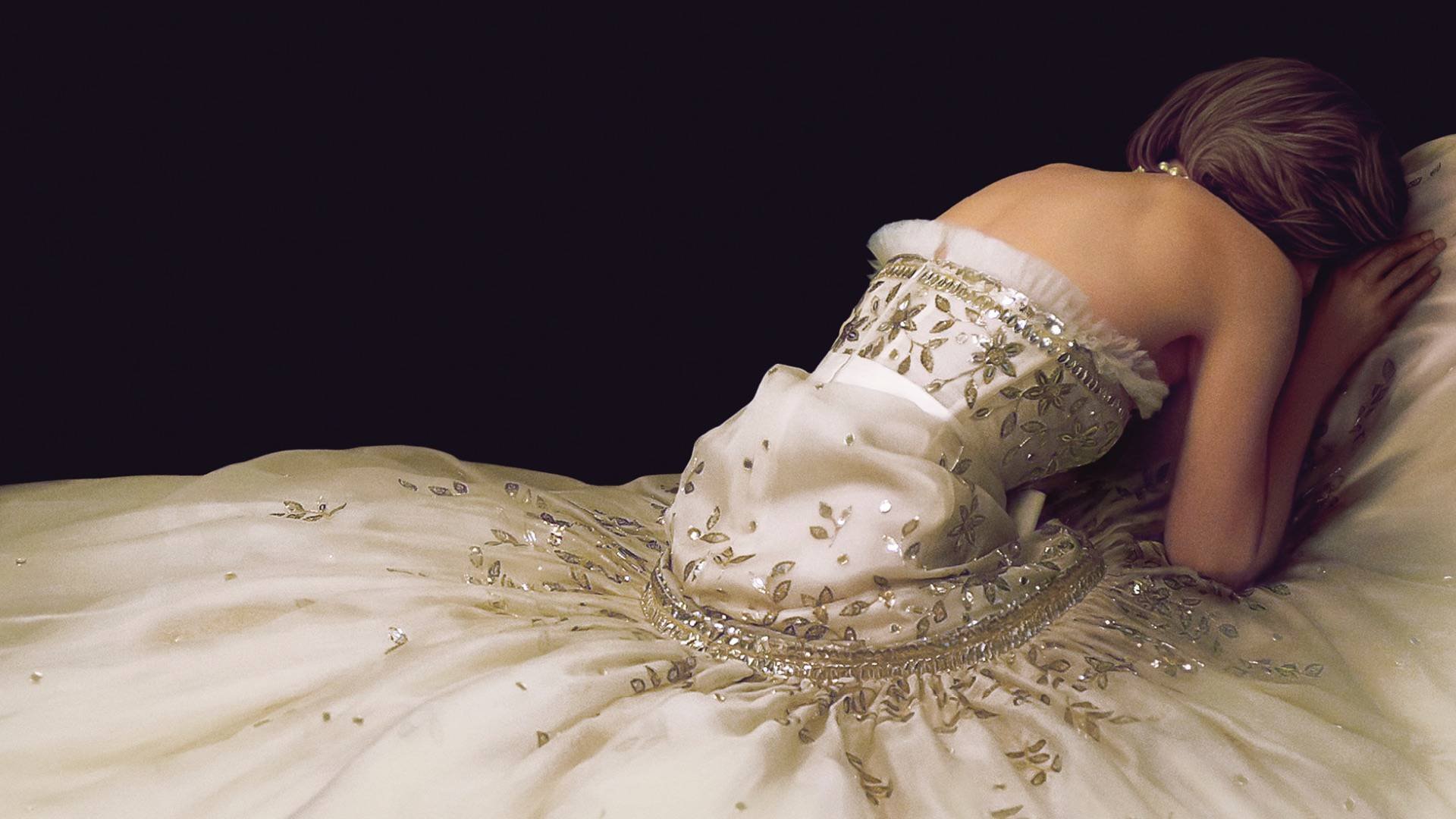 Photo credit: Neon/Twitter
By Ica Hontiveros-Cheng
Teasers of the highly anticipated Princess of Wales biopic Spencer have been released, showing Kristen Stewart as Di in distress.
The first trailer opens with details of what a lavish lifestyle the British royal family supposedly breathes in and out: The finest food, the most gorgeous dresses, the best people taking care of halls and walls built across the monarchy's storied expanse. It then escalates to a rapid mix of sneak peeks showing the Princess in motion—and under a lot of emotions. It's a cinematic royal transformation that abruptly climaxes to swelling music, before fading into a scene where Sally Hawkins' character tells Stewart's Diana, "They know everything." The latter answers almost with a snide, "They don't."
The first official poster of Spencer released earlier shows the titular character slumped and seemingly crying while in a white ball gown. The film's distributor Neon fittingly captioned the poster's release on Twitter with "Every fairy tale ends."
READ: On what would be her 60th birthday, Princess Diana statue unveiled by feuding sons
At the helm of Spencer is Chilean director Pablo Larraìn, whose work includes Academy-Award nominated films No (2012) and Jackie (2016). Peaky Blinders creator Steven Knight serves as the screenwriter.
Spencer spotlights the latter years of Diana's marriage with Charles, Prince of Wales—a supposedly fairytale-like story that captivated the whole world in the 80s only to end in a divorce in 1996. The movie aims to capture Diana in her most unorthodox ways and beliefs, as a royal turned People's Princess who had gone out of her way to break away from the family she had married into.
From frequently showing in public to mingling with HIV patients as part of her advocacies, Princess Diana became sort of a threat to The Crown's centuries-old mystique. She died in a car crash while fleeing paparazzi in the Pont de l'Alma tunnel in Paris.
"Spencer is a dive inside an emotional imagining of who Diana was at a pivotal turning point in her life," Stewart said in an interview.
"It is a harrowing effort for her to return to herself, as Diana strives to hold onto what the name Spencer means to her," added the actress, who now joins Naomi Watts and Emma Corrin who then played the role previously (Diana in 2013, Netflix series The Crown in 2020, respectively).
READ: Kristen Stewart predicted to win Oscars Best Actress for playing Princess Diana in 'Spencer'
The film also stars Jack Farthing as Prince Charles; Thomas Douglas as John Spencer; Olga Hellsing as Sarah, Duchess of York; and Amy Manson as Anne Boleyn (yes, as in Henry VIII's wife). Award-winning thespian Timothy Spall has also been cast in an undisclosed role.
Spencer will debut at the 78th Venice International Film Festival on September 3rd on the island of the Lido in the Venice Lagoon, Northern Italy. It will then be released theatrically in the US on November 5th.
The film is already getting early buzz with critics having been given early access to the teaser trailer plus a five-minute footage.
Entertainment journalist and film critic Scott Menzel, for one, has shared his excitement in a tweet: "…it looks like Kristen Stewart will be getting an early Oscar nomination for her performance as Diana. I'm feeling very confident that this is going to be #KristenStewart's big moment."
In anticipation, you might want to check out Diana: The Night She Died, a 47-minute documentary retelling Lady Di's death. The documentary is available to stream for free on TrueID.
ALSO READ: 4 thought-provoking docus to watch on TrueID