In case you didn't know, you can fulfill both your horror movie craving and 'balik-alindog' dreams, at the same time.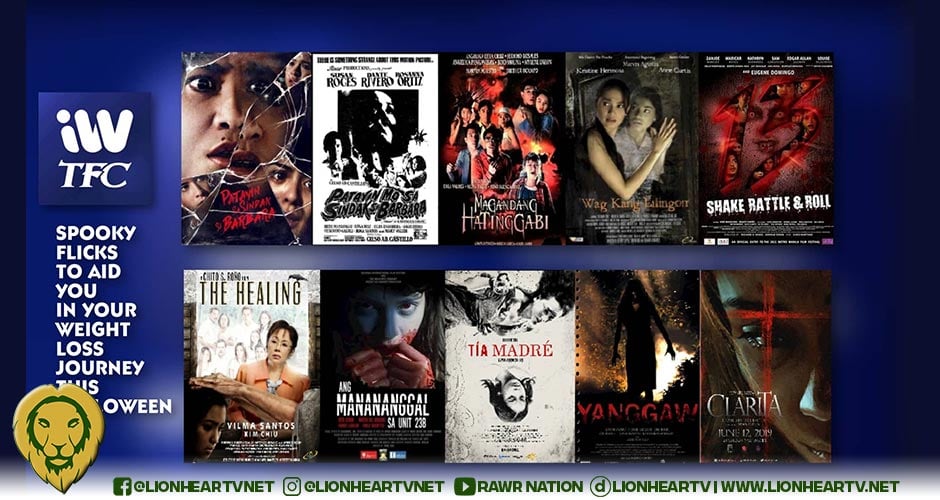 Halloween is upon us. You can either embark on a trip to spend at least two-day worth of break in a resort not too far away or reunite with your beloved bed and pillows and go on a sleeping spree. It's the kind of break you desire. I get it, but would it be nicer if you get something in return—let's say, weight loss?
You probably have not heard iit, the University of Westminster in the United Kingdom conducted a study and revealed that simply watching a horror film can burn calories and subsequently aid in your slimming routine.
Since Halloween allows one to enjoy a well-deserved break from work, many would choose to stay within the four corners of their homes; and avoid the hassle of traveling and expenses. A short vacation with binge- watching horror flicks may not sound a bad idea at all.
Lucily, iWantTFC offers an extensive library of beloved local horror movies that you can definitely binge all day, not just on Halloween, but on any day (I mean, who can stop you?). From classics, Patayin Mo Sa Sindak si Barbara (1974), Magandang Hating Gabi (1995),to recent creepers, Block Z  (2020), and Huwag Kang Lalabas (2021)–there is one or two titles to scare the calories out of you.
Take note–one can shed an average of 113 extra calories just by watching a purely horrific film.
For your convenience and pleasure, we prepared a viewing guide which you can follow from October 25 to November 1. The lists feature IMDB's 30 highest-rated Filipino horror flicks that you can watch on iWantTFC. :
October 30 – November 1. These days are likely the least busy of the seven days leading to Halloween (as many of you have opted to take their well-deserved work break during this period), so what better way to spend them is through watching the 10 best-rated horror flicks on iWantTFC?
Catch bloodsucking young girl in Yanggaw and the terrifying vengeful spirit in Patayin Sa Sindak Si Barbara. There is no shortage of creepy monsters to scare the-hell-out-of-you enough to raise your epinephrine level, which can help you burn hundreds of calories.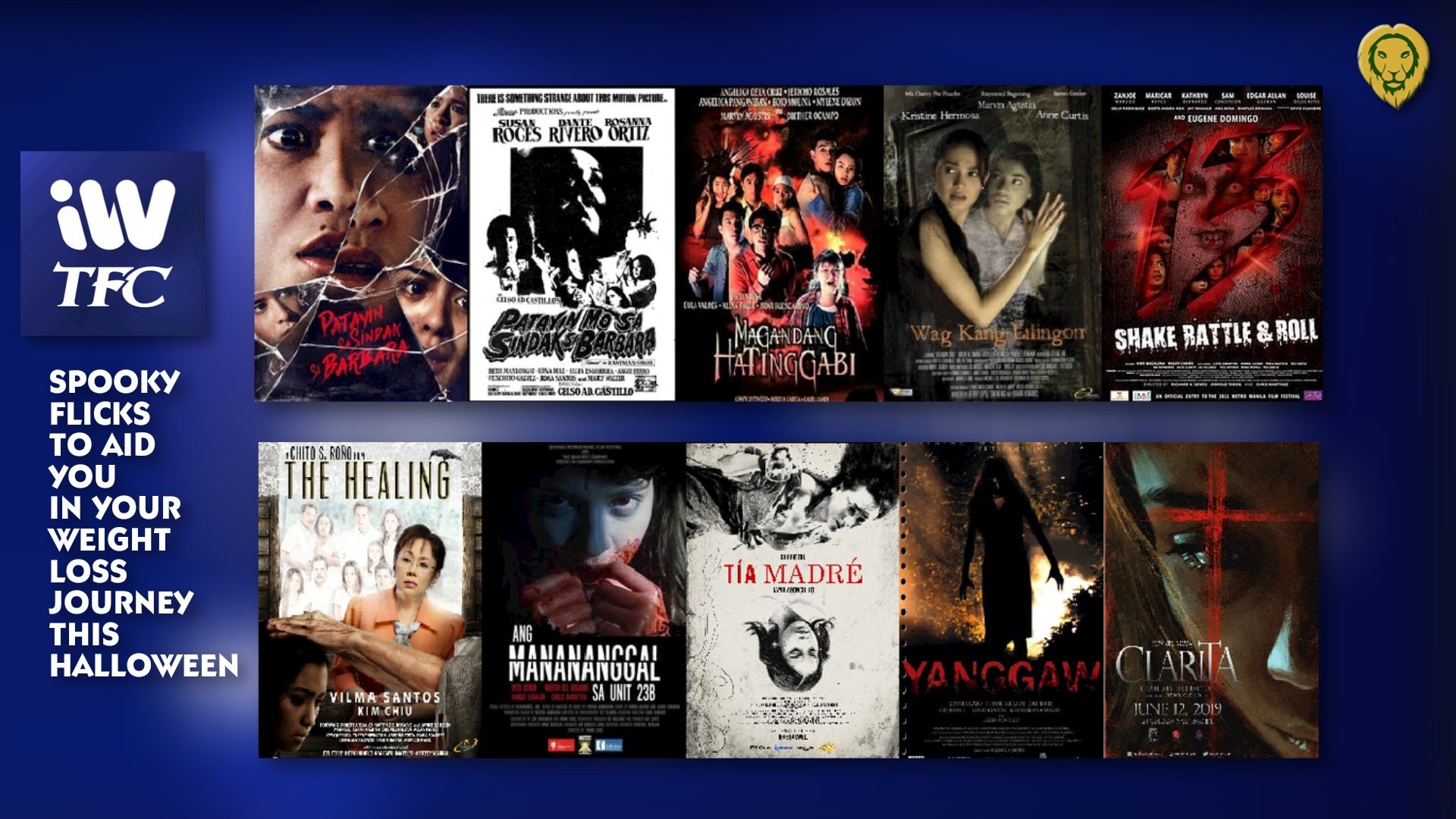 Patayin sa Sindak si Barbara (1998), 94 minutes, IMDB Rating: 8.0
Cast : Dawn Zulueta, Tonton Gutierrez, and Lorna Tolentino
Director : Chito S. Roño
The news of her sister Ruth's mysterious suicide forces Barbara to return home. However, as she gets closer to the truth surrounding her sister's death, horrifying events transpire (iWantTFC)
Patayin Mo sa Sindak si Barbara (1974), 113 minutes,  IMDB Rating: 7.3
Cast : Susan Roces, Dante Rivero, and Rosanna Ortiz
Director : Celso Ad. Castillo
A woman starts anew abroad after giving up her man to her younger sister. She returns years later upon learning of her sister's death and discovers the haunting curse she put on everyone who wronged her (iWantTFC).
Magandang Hating Gabi (1998), 103 minutes,  IMDB Rating: 7.2
Cast: Angelika Dela Cruz, Jericho Rosales, Angelica Panganiban, Marvin Agustin, and Diether Ocampo
Director: Laurenti Dyogi
A group of fun-loving and adventure-seeking youngsters finds themselves trapped in a cursed inn. Together they must figure a way out before the clock strikes midnight (iWantTFC).
Wag Kang Lilingon (2006), 96 minutes,  IMDB Rating: 6.8
Cast: Kristine Hermosa and Anne Curtis
Director: Quark Henares,Jerry Lopez Sineneng
After the tragic fate of her mother and her sister, a girl named Nina is taken into custody and given a new identity as Melissa who grows up to be a nurse. At the hospital where Melissa works, a series of mysterious deaths of male patients occurs.
Shake, Rattle & Roll 13 (2011), 145 minutes,  IMDB Rating: 6.7
The Healing (2012), 107 minutes,  IMDB Rating: 6.6
Ang Manananggal sa Unit 23B (2016), 95 minutes,  IMDB Rating: 6.5
Cast: Ryza Cenon and Martin Del Rosario
Director: Prime Cruz
A mysterious woman living alone in the city gets into a dilemma when she meets a man who shares the same sentiment as her. She becomes torn between wanting to love him and wanting to save him from herself (iWantTFC)
Tia Madre (2019), 81 minutes,  IMDB Rating: 6.4
Cast: Jana Agoncillo, Cherie Gil, Iana Bernardez
Director: Eve Baswel
Tia Madre is a horror story told through the eyes of a child: a clingy, hyper-imaginative and slightly twisted 10-year-old girl named Camille whose mother Emilia inexplicably changes into something else, something more sinister, something more violent, something more distant, something that isn't her mother anymore and quite possibly isn't human (iWantTFC).
Yanggaw (2008), 93 minutes,  IMDB Rating: 6.3
Cast: Ronnie Lazaro,Tetchie Agbayani,Joel Torre
Director: Richard Somes
A young woman afflicted with a mysterious illness discovers that she is turning into an "aswang." How does her family deal with this bizarre, seriously unnerving development? (iWantTFC)
Clarita (2019), 85 minutes, IMDB Rating: 6.2
Cast: Jodi Sta. Maria,Ricky Davao,Arron Villaflor,Alyssa Muhlach
Director: Derick Cabrido
A young woman is possessed by the demon and kills a group of doctors. Two priests tasked to perform an exorcism on her have their faith tested as they encounter insurmountable obstacles along the way (iWantTFC).
October 28 – 30.
You may have to make sure a friend or a family member is with you, when you watch these flicks from October 28 to 30. A superstition became all too real in Sukob, where two sisters fight for their life to survive a terrifying curse, while in Maria, Leonora, Teresa, resurrected dead girls come to life as dolls, inspired by Chukie and Anabelle—movie plots that sound like invitations to a nightmare. But knowing how badly in need you are to shred even the smallest of extra pound in your body, watching these flicks alone, seems to be a good idea.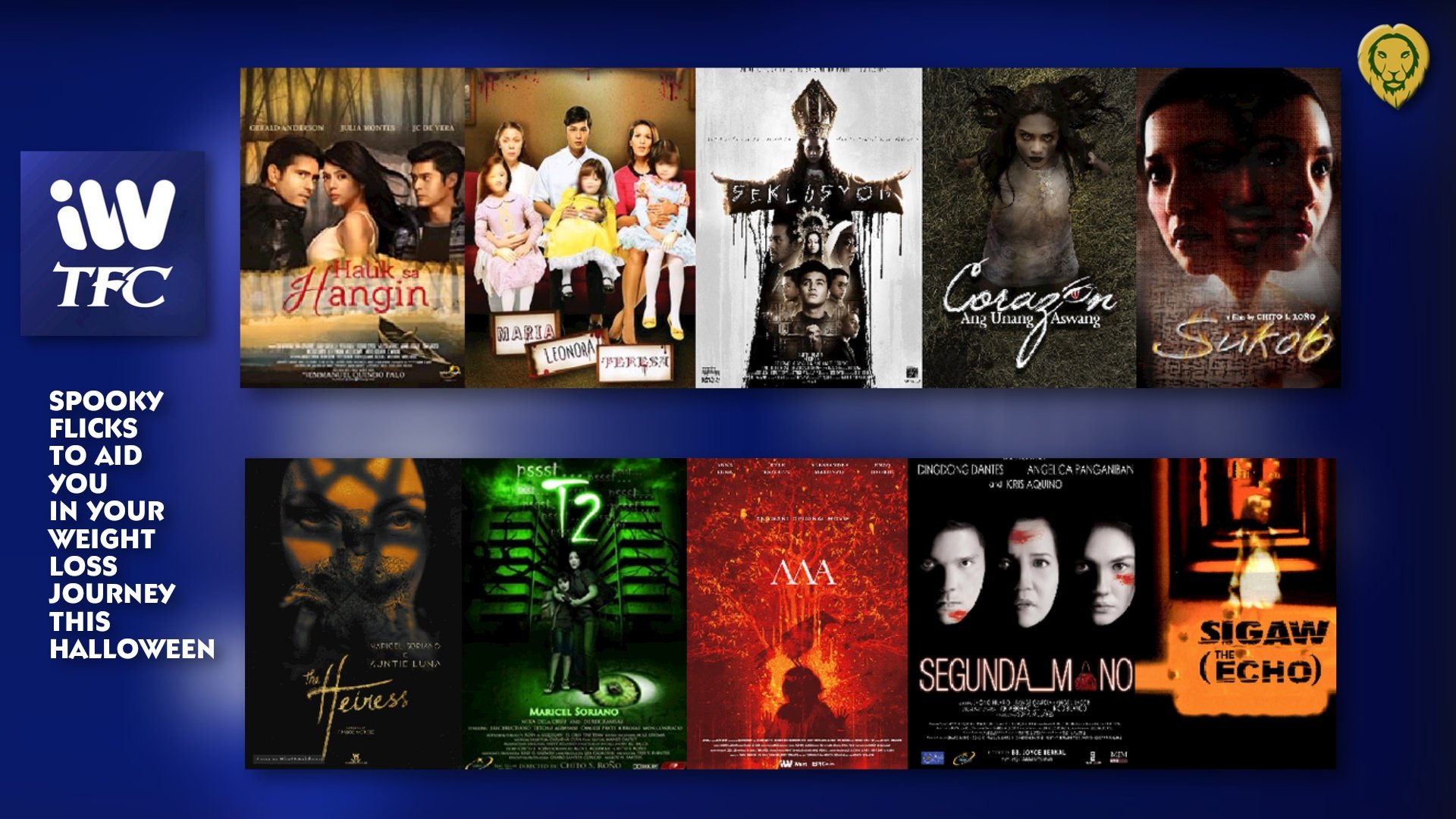 Halik Sa Hangin (2015), 110 minutes, IMDB Rating: 6.2
Director: Emmanuel Quindo Palo
A tragic incident forces Mia to live with her estranged mother. As she struggles with her new life, she will meet two young men who bring passion into her life (iWantTFC).
Maria, Leonora, Teresa (2014), 104 minutes, IMDB Rating: 6.2
Cast: Iza Calzado, Zanjoe Marudo, and Jodi Sta. Maria
Director: Wenn V. Deramas
Three girls get killed in a bus crash, putting their parents in grief. The parents receive dolls looking exactly like their daughters as part of therapy, leading to a series of mysterious attacks and deaths around them (iWantTFC).
Seklusyon (2016), 90 minutes, IMDB Rating: 6.2
Cast: Rhed Bustamante, Neil Ryan Sese, and Ronnie Alonte
Director: Erick Matti
Padre Ricardo investigates the miraculous healing power of a child named Anghela. She soon enters a monastery where aspiring priests spend time in seclusion, putting their faith to the test (iWantTFC).
Corazon: Ang Unang Aswang (2012), 101 minutes, IMDB Rating: 6.1
Cast: Erich Gonzales, Derek Ramsay
Director: Richard V. Somes
In desperation to have a child, Corazon and Daniel resort to mystic rituals. They are gifted with a baby, but their young born meets an untimely end. This leaves Corazon ruined and hungry for revenge against her faith and the people who mock her (iWantTFC).
Sukob (2006), 100 minutes, IMDB Rating: 6.1
Cast: Kris Aquino and Claudine Barretto
Director: Chito S. Roño
A superstition says that family members who marry in the same year will face a life of misfortunes. Two women who do not know how their lives are connected encounter a series of tragic events after they get married (iWantTFC).
The Heiress (2019), 106 minutes, IMDB Rating: 6.1
Cast: Maricel Soriano, Sunshine Cruz, and Janella Salvador
Director: Frasco Mortiz
Despite growing up with her old-fashioned aunt, Guia meets the people who change her limited worldview. Meanwhile, Luna stops at nothing to keep her grip on her niece (iWantTFC).
T2 (2009), 102 minutes, IMDB Rating: 5.9
Cast: Maricel Soriano and Mika Dela Cruz
Director: Chito S. Roño
A woman suffering from marriage issues is asked to bring an orphan to her relatives in Manila. She decides to fight for the orphan's custody as a series of mysterious events ensue (iWantTFC).
Ma (2018), 72 minutes, IMDB Rating: 5.8
Cast: Glydel Mercado, Kyle Espiritu, and Anna Luna
Director: Kenneth Lim Dagatan
After the sudden death of his mother, Samuel goes into a mysterious cave that claims to grant wishes and asks for his mother's life back (iWantTFC).
Segunda Mano (2011), IMDB Rating: 5.8
Director: Joyce Bernal
A woman digs into the past to protect herself and her family as strange events begin to haunt her after buying a secondhand bag (iWantTFC).
Sigaw (2004), 102 minutes, IMDB Rating: 5.7
Cast: Jomari Yllana, Richard Gutierrez, Iza Calzado, and Angel Locsin
Director: Yam Laranas
Marvin delves into the case of his neighbor Anna who is constantly being beaten up by her husband. He discovers the terrifying truth about the poor woman and becomes her only hope to finally move on to the next life (iWantTFC).
October 25 – 27
Battling with demons is surely best carried out with friends. Such is the case for the group of teenagers, who are leading the pack in confronting evil, in the films below. From the haunted villa to haunted mansions, to haunted rooms…there is no shortage of everything haunted on this list.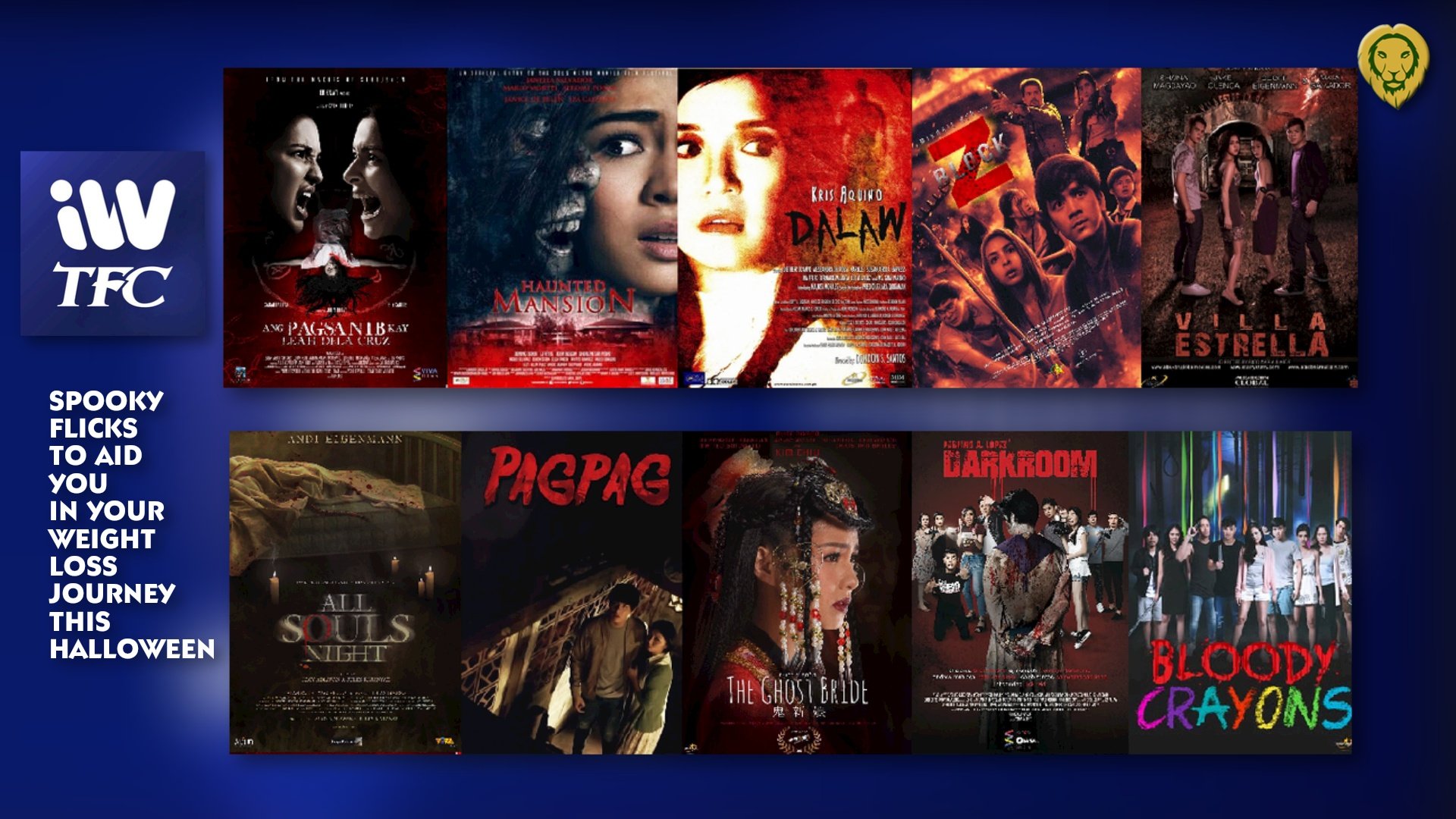 Ang Pagsanib Kay Lea de la Cruz (2017), 97 minutes, IMDB Rating: 5.6
Cast: Sarah Lahbati, Shy Carlos, and Julian Trono
Director: Katski Flores
When a lady cop moves into a small town, she gets drawn into the case of Leah, a teenager who seemingly got possessed by an evil spirit (iWantTFC).
Haunted Mansion (2015), 110 minutes, IMDB Rating: 5.6
Cast: Janella Salvador, Marlo Mortel, Jerome Ponce, Janice de Belen, and Iza Calzado
Director: Jun Robles Lana
A group of high school students on-retreat spends a night in this remote house. When they learned about the place as haunted, they began to look for ghosts just for fun (iWantTFC).
Dalaw (2010), 100 minutes, 110 minutes, IMDB Rating: 5.5
Cast: Kris Aquino, Diether Ocampo, Karylle, and Gina Pareño
Director: Dondon S. Santos
Stella fears that her vengeful spirit of her dead husbandof is haunting, she experiences disturbing occurrences–it endangers her life and the people around her (iWantTFC).
Villa Estrella (2009), 96 minutes, IMDB Rating: 5.5
Director: Rico Maria Ilarde
Hoping for a reconciliation, a boy brings his ex-girlfriend to an old family resort up for renovation. Unknown to them, the resort's bloody past and the restless spirits are out for vengeance and threaten their lives (iWantTFC).
Block Z (2020), 101 minutes, IMDB Rating: 5.5
Director: Mikhail Red
A band of pre-med students race against time to escape from their quarantined university following a viral infection outbreak (iWantTFC).
All Souls Night (2018), 95 minutes, IMDB Rating: 5.5
Cast: Andi Eigenmann, Allan Paule, Yayo Aguila, Lhian Gimeno, and Julie Anne San Jose
Director: Aloy Adlawan and Jules Katanyag
A college student works as an all-around helper for a strange family (iWantTFC).
Pagag: Siyam Na Buhay (2013), 105 minutes, IMDB Rating: 5.4
Cast: Kathryn Bernardo, Daniel Padilla, Shaina Magdayao,and Paulo Avelino
Director: Frasco Santos Mortiz
After violating a series of superstitious beliefs, a group of friends become the victims of a vengeful ghost (iWantTFC).
The Ghost Bride (2017), 111 minutes, IMDB Rating: 5.4
Cast: Kim Chiu, Alice Dixson, Matteo Guidicelli, and Christian Bables
Director: Chito S. Roño
Mayen's desperate attempt to save her family from financial problems makes an unexpected turn for the worse when the spirit of her deceased groom becomes possessive of her (iWantTFC).
Darkroom (2017), 95 minutes, IMDB Rating: 5.4
Cast: Ella Cruz, Bret Jackson, and AJ Muhlach
Director: Pedring Lopez
A group of friends unknowingly unleashed a demon after discovering an old camera while going on a ghost-hunting activity. Soon, a chain of horrific events ensues after one of them gets possessed by the dark entity (iWantTFC).
Bloody Crayons (2017), 107 minutes, IMDB Rating: 5.0
Cast: Jane Oineza, Maris Racal, Sofia Andres, and Diego Loyzaga
Director: Topel Lee
A seemingly tight-knit college clique goes to an island to shoot a horror short film. Their world turns upside down when one of them gets killed after playing the Bloody Crayons game (iWantTFC).
Get in the spooky mood this Halloween by binge-watching all the best local horror flicks iWantTFC has to offer. Don't forget the app's entire media library does not solely contain horror, as there is a wide array of romance, drama, suspense, thriller, and classic action movies, as well. But since we are talking about raising your epinephrine levels here, make sure you strictly follow what is on this list. Otherwise, it is entirely your game, really.