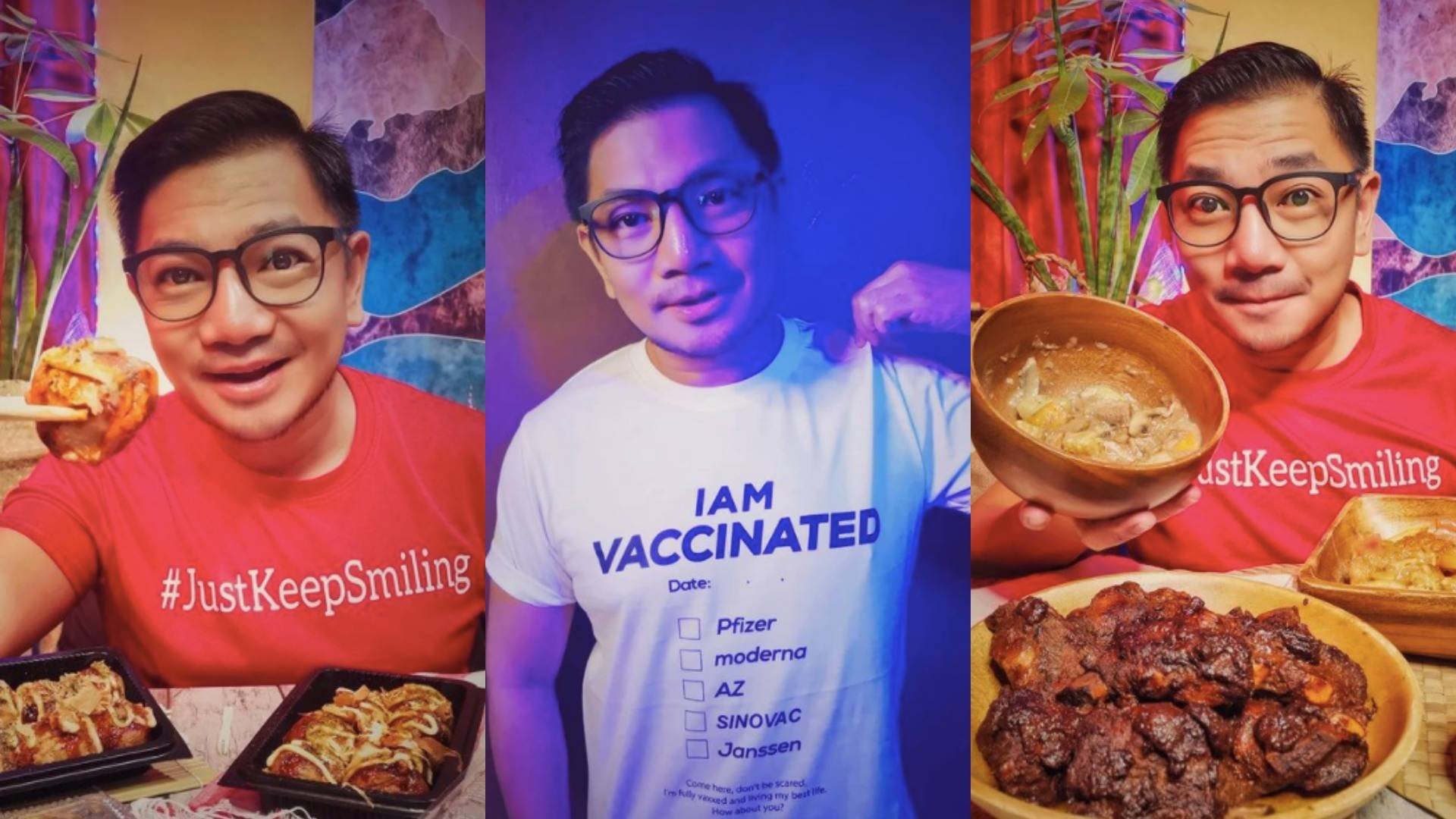 Photo credit: DookieXave/Instagram
By Karen Mae de Vera
Mukhang masayang ka-bonding si Dr. Xavier Solis, A.K.A. Dookie Xave, kasi when you check out his YouTube channel, The Dentist Is Out, laging may handa! Basta nakakatakam ng pagkain, si doc ang bahala! From nationwide eats to Cebuano delicacies, name it, he's probably featured it. (Warning na lang sa viewers kasi mapapa-goodbye diet talaga kayo!)
Malakas din maka-good vibes ang commentary niya kasi he can easily break the tension and put anyone at ease mapa-viewer ka man na ngarag sa trabaho o pasyente ka na hihimatayin sa takot mabunutan ng ngipin.
When we asked the dentist-turned-foodie-influencer for trivia his followers may not know about, he joked, "I'm single!" (Ang totoo, joke lang ba talaga, doc?) Then quickly followed it up with a more serious answer and shared, "People might see me as a happy-go-lucky and cheerful person but viewers must know that I am actually deep and would like to touch souls [through] my creations."
If you want to learn more about Dr. Xavier Solis' content creator philosophy (Floss-ophy? Hehe!) from food to even dental care (his specialization happens to be orthodontics and jaw management), keep scrolling to see what else we found out about him.
How dentistry experience connects to food
"Dentistry is into details, we are treating one of the most complex cavities in the human body. [Being detail-oriented is also] important in food-related content, from how it looks and presented and its taste. Being in my field where we always ask why, it's always nice to know how the food is cooked and the story behind it. [Finally, both food and dentistry involve the] mouth and can definitely make you smile."
What makes The Dentist Is Out, well, stand out
"Consistency, [authenticity] and just being me!"
Content creator inspirations
"Mikey Bustos, Erwan Heussaff, Lost LeBlanc, NAS Daily and Feed Phil."
Most memorable shoot
"[An all-expenses paid trip to] Japan for Cebu Pacific. [It was a] five-day shoot around Japan [that included] Mt. Fuji, Disney Sea, Shibuya Crossing, a robot show and [a lot of] Japanese food. [It was my] first time [traveling there] and [it was] all for free!"


Dream project
"[I want to work on a project that involves all three:] food, travel and history. [I want to] travel around the Philippines, experience town fiestas, and share the story about the town and its specialty dish."
Favorite weird food combination
"Spam or Chinese luncheon meat with Mango Float. Yes, I even [add an extra layer of] luncheon meat [when I make] mango float. Give it a try and thank me later!"
Dishes to cross off the food bucket list
"Authentic samgyupsal in South Korea, Pad Thai in Thailand and local linubak in Albay."
The one meal he can eat over and over again without getting sick of it
"Cebuano humba! As days go by, the more you reheat [the humba, the better it tastes.] On the serious side of [avoiding] "sickness," I'll consider samgyupsal now. A thin layer of fatty meat, vegetables and perfect sauce or dip? I think I wouldn't get sick of it literally and figuratively!"
Balancing both dentistry and vlogging
"I usually [practice at my clinic] from 10:00AM-6:00PM, Mondays to Saturdays. All the patients are [by appointment], so I can usually go out at night to create content [or with the help of my very dependable secretary, rearrange my schedule so I can leave early.]
Compensation is also key. I normally tend to 3-5 patients per day but if [I'm out for longer than usual, I make up for it by treating 10 patients the next clinic day.]
Pro tip for maintaining dental hygiene as a hardcore foodie
"Eat in proportion and drink lots of water after eating sweets. [Don't forget] proper tooth brushing and flossing [plus,] regular dental check-up and cleaning. It's that simple and yet many fail.
The future of content creation
"[I want to see more] wellness, positivity, and fitness. [In five years' time, I think we will see] more real-time, engaging and hyper localized content.
Advice for up-and-coming creatives
Know Your Why -

"[You should] know the main reason why you are doing it. Once you know your 'why,' everything will be easy, everything will flow."

Learn How to Overcome Yourself

- "The biggest challenge is yourself, when you lose motivation or are feeling burned out and lazy."

Manage Your Time Wisely

- "

Proper time management, [which is] easier said than done. [It's] still a struggle for me until now, but if you arrange your schedule well, everything can be accommodated."
If you want to see more of Dookie Xave's foodventures, check out his guest appearances on episodes 6 and 7 of Ika'y Bright.
You can also watch Doc Xave's livestream event on TrueID below.
Also read: What kind of foodie are you based on these TrueID shows?