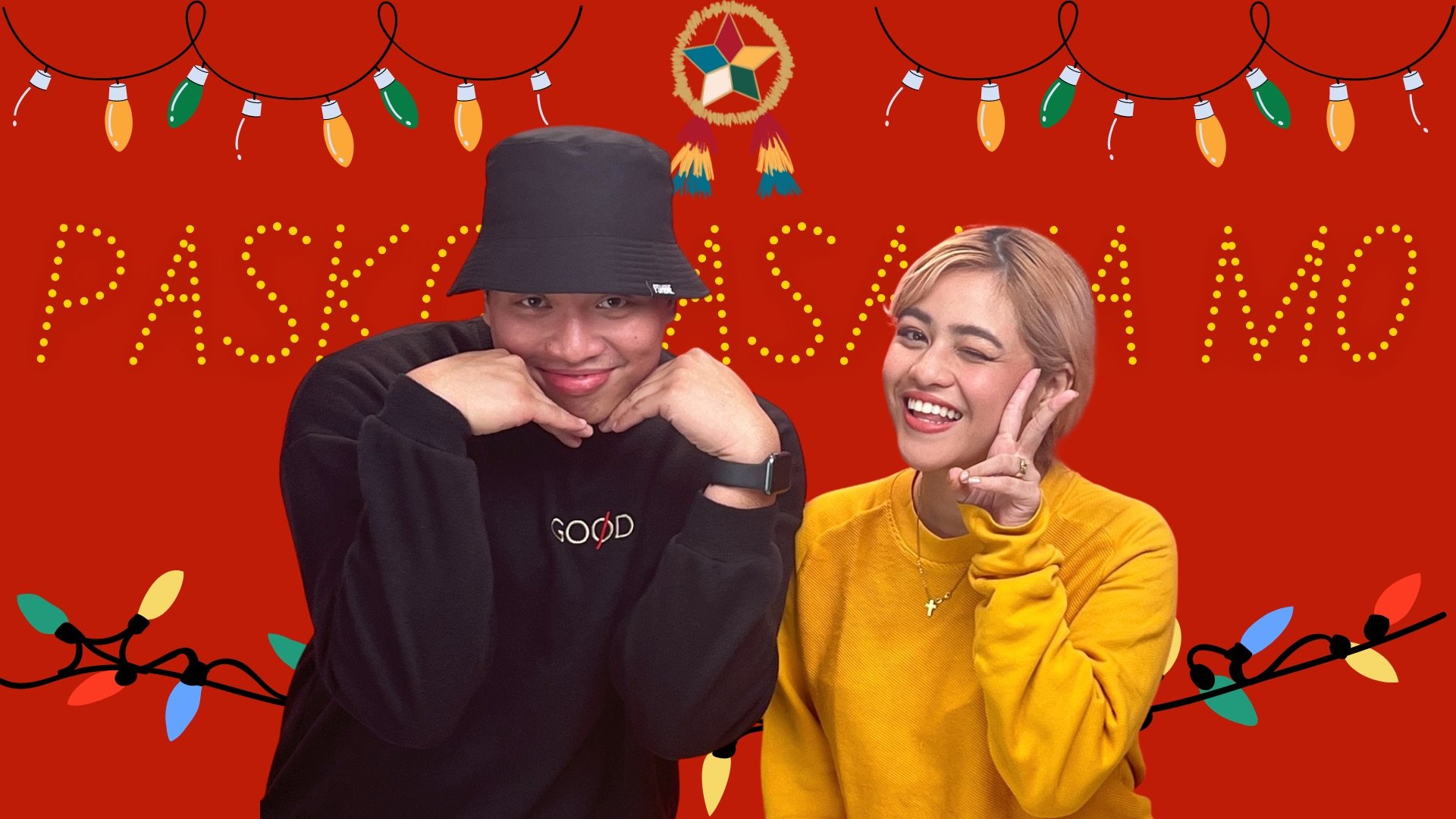 Hazel Faith and Jericho Arceo just dropped your new favorite Christmas bop, "Pasko Kasama Mo" (via Waterwalk Records and Sony Music Entertainment), a colorful and upbeat tune that wouldn't be out of place if it was blasted during the endless parties and reunions. The song talks about what makes the Pinoy Christmas experience so darn awesome (hello, bibingka!) and even highlights the true meaning of the holiday season in a more religious sense. (Yes, it's a legit party song about putting Christ back in Christmas!) To amp up the vibes of the holiday track, rapper Jericho Arceo was brought on to add some epic bars. We sat down with both of them to learn more about their holiday track.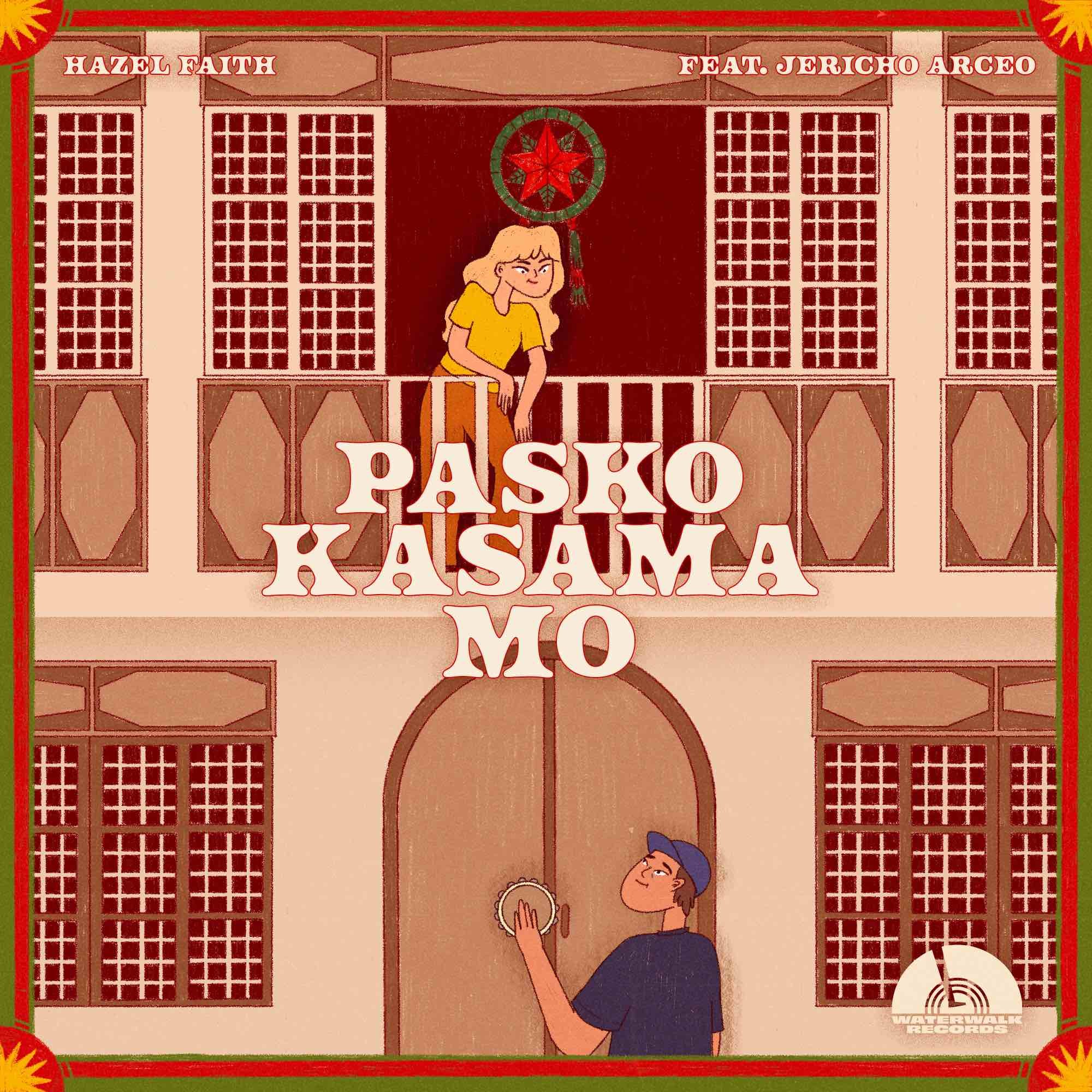 On the creative process behind the song, "Pasko Kasama Mo"
Hazel: Writing "Pasko Kasama Mo" took bursts here and there. When inspiration hit me, it was a burst and then [before I realized it], half the song was already done. [I was having dinner with] my Bible study friend and we were just talking about some random thing she was going through. And then suddenly, may kumakanta sa utak ko, (sings a few bars), so I was like, "Wait laaang…timeout! Lalabas ako at kakanta." My friends know that I just randomly write songs! So I recorded it on my phone and then when I had the time, I sat down and wrote it [the lyrics] all down. [After drafting,] recording, mixing, and mastering, I submitted it to [Sony Music] and Waterwalk [Records]. Sir Jungee Marcelo, award-winning songwriter, had some notes. He felt that the song could be pushed even further so we spent like a busy two weeks just drafting—so many drafts! I had my family and my husband's family [fellow singer, Caleb Santos] and noong happy silang lahat and knew where I was coming from with this song and understood it, I was like, "That's what I was looking for!" And then we added Jericho [Arceo] who—okay, you tell your part!
Jericho: I wasn't around during the big chunk of the song tapos one day I woke up and there was a [group chat with] Tito Jungee [Marcelo] and Ate Hazel Faith. I didn't know na si Ate Hazel pala ang makaka-work ko and excited ako kasi Christmas song sinend na kanta and [they asked me,] "Can you rap this written part? You can add some flavor mo." Tiningnan ko and gawa na so that was very easy for me since gawa na and 8 bars lang. Nag-consult ako with Ate Hazel and Sir Jungee. Sobrang saya dahil Ate Hazel was very hands-on and really checks the lyrics. That was my process and after that, ang bilis na biglang buong song na nandiyan so lagi kong pinaplay sa car.
Hazel: I am not a rapper talaga by profession.
Jericho: Ang lupit, ha? Oh, oh!
(Both mime rapping and laugh together)
Hazel: When I was recording at home, nabubulol talaga ako sa mga gusto kong gawin. Dahil natural rapper [si Jericho,] andami niyang nadagdag na ang sarap pakinggan kasi nabuo niya at nabusog ang 8 bars. Hindi siya nabubulol at buo 'yung kwento, buo 'yung idea.
Tuwang-tuwa ako noong narinig ko! Plus, [he mentioned] Sir Jose Mari Chan [in his rap] and alam n'yo naman guys how much I love him.
Jericho: It's so much easier [to add when there's a story already] kasi it's so hard kapag ikaw pa mag-iisip ng kwento, diba? Connected na siya sa message ni Ate Hazel sa buong song. Of course, [it also helped that we worked with] Tito Jungee kasi kautak ko 'yan sa rap, malikot rin isip niya sa mga eme-eme.
On describing the song's overall vibe
Hazel: I let other people describe my songs because sabi nga nila, "If you don't try to control it, your natural sound will come out." I think "Pasko Kasama Mo'' is a little bit like my first song, "Everything Takes Time," in a sense that there's a nostalgia in it but it's still updated lalo na noong dumagdag 'yung rap ni Jericho. It's a mixture of nostalgia and at the same time technicolor synth style. It's about looking back but at the same time looking forward with hope. I think na-encompass 'yun ni Sir Albert [Tamayo, our arranger and producer]. He's always been at the forefront of music and I feel like more people need to know the genius of Albert Tamayo.
Jericho: Unang rinig mo, parang mainstream bop na pwede mo play sa club, sa mall, 'yung club na mga pang tita cocktail, you know what I'm saying?
On comparing the song to a holiday handaan staple
Jericho: It's a little bit of warm and familial vibes pero kapag pinakinggan mo, meaty siya. So ano 'yung magaan sa labas at malaman sa loob?
Hazel: I'm choosing between hamon or bibingka. Ham because it's definitely a staple at Filipino Christmas parties. [And then] bibingka has this egg in the middle and I love the idea that Christ is the center of this fluffy snack.
Jericho: She's right! The bibingka is fluffy pero kapag kinagat mo, oh, may salted egg. It makes you salty but it's good for you, eyyy! (Laughs)
Hazel: You know what I'm saying? (Laughs)
On collaborating with each other
Jericho: The first time na-meet ko si Ate Hazel, hindi pa music related! Sabay kami [nag-attend ng online] talk. Dahil siya lang kilala ko, nag-chat ako, "Ate Hazel, tapos ka na ba [mag-speak?]" Tapos [pareho kaming] nasa Waterwalk [Records] then little did I know that God will give me [a chance] to work with her.
It's really an honor to work [on this project] kahit 8 bars lang ako, feeling ko, 9 na! (Laughs)
Hazel: Nakakatawa nga kasi he kept messaging me, "8 bars lang talaga?" He wanted to write more pa! (Laughs)
Jericho: Kasi 'yung pressure doon sa GC, hala, talagang rineady ko na 'yung puso ko. Nagsusulat pa lang ako, patapos na 'yung beat ko tapos kumanta na si Ate Hazel. (Laughs)
Eh 'di sige! It was really fun and natuto akong imaximize 'yung maliit na space para masabi ko 'yung gusto kong sabihin. Less is more! (Thumbs up)
Hazel: Sobrang legit happy ako kasi I was already a fan of his work! May sense of humor, there's wittiness, but at the same time, there's that braveness to talk about Christ. I like his impromptu [rapping] so talagang conditioned na ako. I know what to expect from Jericho and got exactly that! Siguro ang hinanap ko na lang 'yung ibang lines that really meant something personal to me [tapos noong nagawa niya,] happy ako. No problems.
On Christmas family traditions
Hazel: Honestly, wala masyado. We just eat and sleep! (Laughs)
Jericho: Beautiful! (Laughs)
Hazel: Sometimes we spend our Christmases with our pinsans pero we would play board games and that's always fun.
Jericho: Bless ako nang bless kasi alam mo na 'yung goal ko: Kulay blue na papel tapos malutong. 'Yun lang! (Laughs)
On their Christmas wish list
Hazel: Simpleng tao lang ako. Notebook lang, happy na ako. Kasi lagi ako nakakaubos ng notebook. I need to write down my ideas kasi hindi ko kayang type lang hindi natatransfer 'yung heart ko (Makes gesture) kailangan papel.
Jericho: Uy! Type ako 'teh dahil baguhan ako.
Hazel: That's okay because your generation, sanay na kayo sa mga ganyan. Gen Z!
Jericho: Tablet regalo sa akin!
On their responsibilities during family reunions
Jericho: Ako 'yung kakain. That has been my favorite since forever tapos nagagalit mommy ko. "Wala kang tinulong!" Ganyan-ganyan! (Laughs) Kasalanan ba na lumaki akong ganito?
Sino ba naglabas sa akin? I'm just kidding! (Laughs)
Hazel: Ako definitely 'yung pinapakanta. "Nandito na 'yung tita mo! Kanta ka!"
Jericho: Ako 'yung pinsan niya na nasa likod tapos [may plato ng] rice, ganyan. (Gestures a whole mound of rice) Kita naman! Kita naman 'yung gifts!
On their favorite Christmas memory
Jericho: Ako, every Christmas [is a great memory] because I look forward to the food. For the food ako, eh! (Laughs) Mag-iiyakan kami konti, "Mahal ko kayo!" tapos kainan na. May masarap na prawns and that's when I actually cry. (Laughs) I love every Christmas moment!
Pero dahil may Pasko, kasama mo si Jesus!
Hazel: This last Christmas was one of my favorite Christmases kasi na-achieve ko ang dream ko na pinagpapray ko kay Lord: Going to church with my husband. I mean we go to church every Sunday but this one was especially close to my heart kasi it's Christmas with your family so that was super special for me.
On what they're hyped about for the holidays
Jericho: Of course, aginaldo pero wala na masyado [when you're an adult] but the food, man, I love it!
Hazel: I'm excited to hear people singing "Pasko Kasama Mo" My elders in our church have already said na baka iperform nila sa Christmas party namin.
Jericho: Elders?
Hazel: Elders! Kung sino pa 'yung elders sila pa 'yung, "Tara, kaya natin 'yan, sasayawin natin 'yan." Sabi ko good luck po sa mga mag-rarap! (Laughs)
You can now add "Pasko Kasama Mo" to your Christmas playlist here and check out the animated music video below.
If you want to follow more of Hazel Faith's projects and learn about other content creators, you can check out www.truecreators.studio
For more news, you can download the TrueID mobile app via Apple Store and Google PlayStore.