On October 26, ABS-CBN News reporter Karen Davila reacted to her interview with presidential candidate Manila Mayor Francisco Isko Moreno with the phrase, "Kalma Lang."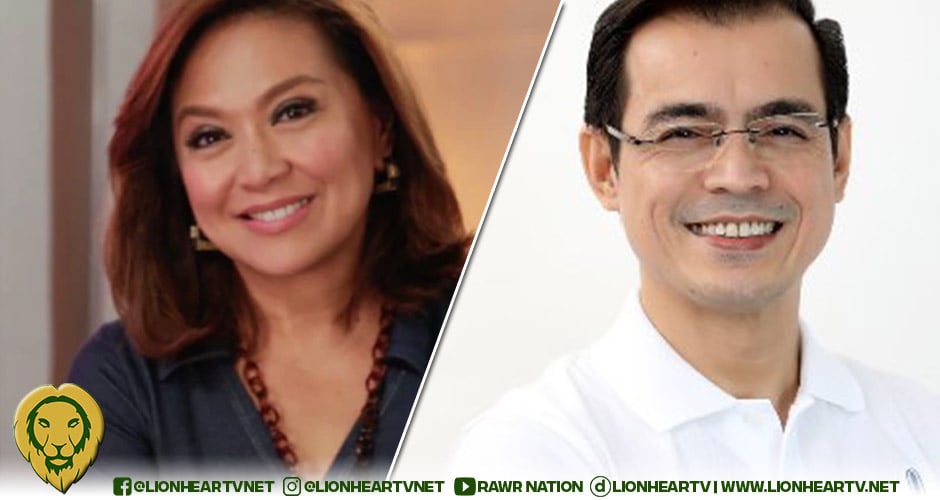 On Davila's Twitter account, she reacted to a netizen's observation of Moreno's "rude" behavior during his interview with the ABS-CBN News reporter.
Davila wrote her pointers in handling presidential candidates, noting that she doesn't take it personally and chooses to remain calm in similar situations.
Rule of thumb. Don't take things personally. How a presidential candidate behaves reflects on them.

What I can control is my own reaction. Kalma lang 🙏🏻 https://t.co/YGzm1FBNqb

— Karen Davila (@iamkarendavila) October 26, 2021
During her interview with Moreno, Davila asked the presidential aspirant about his reaction to the critics, who said he was imploding in light of his recent comments against fellow candidate, VP Leni Robredo.
Moreno answered that he doesn't sugarcoat things.
"Well, I-I'm sorry, I'm no angel, but definitely, I'm not a devil, and I don't like sugarcoating in a challenging time. This isn't about Ms. Congeniality or Mr. Universe. This is the lives of our people. Things must be said. Direction and decisiveness must be done. 
"That's modesty aside, that's me. Ganon ako eh. That's how we do it sa Manila eh. Straightforward. Walang Sugar coating, walang Cutex, walang–wala talaga eh."
He then cited Lee Kuan Yew, Singapore's first Prime Minister, for not sugarcoating. However, their conversation went off-rails as Moreno continued to address his critics.
Davila tried to bring back their conversation to her question earlier about his critics, but Moreno proceeded with his litany.
Davila then attempted to reestablish their conversation by reiterating Moreno's "Yellowtards" remark, noting if the Mayor had regrets about his statement.
Moreno said he had none.
"I'm no angel but definitely I'm not a devil."

On his controversial outburst against VP Leni Robredo, Manila mayor and presidential aspirant Isko Moreno Domagoso says he doesn't "regret anything" and was "just being honest." #Halalan2022 #ANCHeadstart pic.twitter.com/R5IbSzxGgq

— ABS-CBN News Channel (@ANCALERTS) October 26, 2021
Netizens noted that Moreno would frequently veer off-topic with his statements and often cut off Davila whenever she tried to reestablish the questions asked.
I watched the interview. Sobrang uncomfortable si @iamkarendavila kasi kahit sya binanatan nitong isko. Kesyo 3wk old na daw ung issue. Bastos sya. He may have pleased his followers but will not gain a new one. Hambog, bastos, mayabang.

— deen (@ddn9747) October 26, 2021
Bastos na kausap, anlayo pa sumagot.

No SugarCoating doesn't mean Pwede kang bastos kausap, Mister Iskoterte. This era of politics must end with Rodrigo Duterte.

— Marlon España (@MisterCrab888) October 26, 2021
how disappointing. tbh, if VP Leni did not push through w/ her presidency i was seriously considering Mayor Isko but now it's a no-no. you can be honest without being being bastos/offending/rude. this just shows your real character.

— janhannahday (@janday_israel) October 26, 2021
Never na yan magbago ang nasaisip nya parin ang power, money never syang naging God fearing campaign strategy lang ang god first sa kanya. Idol nga nya si marcos sr at pduts so same feather fluck together.

— Hilario Baldovino (@HilarioBaldovi1) October 26, 2021
He clearly is imploding. Sayang ka dapat tinapos mo term mo sa maynila.

— Jossssh (@Jossssh10) October 26, 2021
Ang pananalita ng makatotohanan o pagiging prangka ay maaaring magawa habang nagiging magalang din.

Ang magalang na pananalita ay hindi katumbas ng "sugarcoating."

May kakulangan ang kahusayan o abilidad niya sa epektibong pakikipagkomunika.

— Nadine Mari's Truths (@AligningTruth) October 26, 2021
Real talk is different from trash talk yorme. Nagyon pinaninindigan mo yang sinabi mo kesyo "no regrets". Lalong nakikita anong klaseng public servant ka. Yang ganyang argumento pang Barangay levels.

— 𝖦𝖾𝗇𝖤𝗑𝗉𝖾𝖼𝗍𝖺𝗍𝗂𝗈𝚗 🎀 (@GenXpectation) October 26, 2021
Bastos naman talaga ang remarks niya towards VP. Masyado pang ambisyoso. Never really cared for him before the elections, I thought somehow he was doing an okay job as a Manila mayor pero he revealed his true colors early on. Masyadong ambisyoso, mayabang pa.

— 🎀 (@pinkbluesskies) October 26, 2021
"That's how we do it in Manila eh, no sugarcoating, straightforward. . . ." Straight out of Duterte's playbook, idol nya nga kaso bumenta na yan! 😂Can't stand this guy, whenever I hear him talk, parang palaging signal #5 sa hangin! Manila is not the Philippines, Isko!😬

— laarnie888 (@laarnie888) October 26, 2021
Hindi ka bastos? Yellowtard and fake leader sinabi mo tas di ka bastos. You are not a leader, you should show na karesperespeto ka in order to be a good leader, ika nga lead by example. Tignan mo kng gaano na kabastos ang mga pilipino kasi bastos ang bunganga ni duterte.

— Mark (@cramnot) October 26, 2021