The former member and one of the lead vocalists of the musical trio The APO Hiking Society, Danny Javier died on Monday, October 31.
 In real life, he's Daniel "Danny" Morales Javier and is 75 years of age.
His daughter Justine Javier Long confirmed the news on Facebook, Monday, saying he died from "complications due to his prolonged illnesses."
He's a Filipino singer-songwriter, musician, actor, television host, and a businessman. He sang along with his singing buddies Boboy Garrovillo and Jim Paredes.
Javier's daughter, Justine wrote: "In life, as in his death, our Pop never stopped fighting for what he loved, what he believed in and what he was passionate about. He left this world with his passion and his strength of will intact and we know he would not have it any other way."
The Javier family is asking for respect and privacy as they arrange details of his wake. They expressed their gratutude to everyone who gave their "outpouring love, prayers, and condolences at this difficult time."
In 2020, Danny revealed in a Facebook post that he has "underlying health concerns with my heart, lungs, and kidneys."
Garrovillo took to Facebook to mourn the loss of his friend.
"Just feeling the loss of an old faithful friend who knew what love is although sometimes it just doesn't show. My friend lives on in his music." 
Paredes, on the other hand, also posted a clip of the final show of APO on May 29, 12 years ago at the Music Museum.
He also wrote on Facebook, "Shattered! River of tears."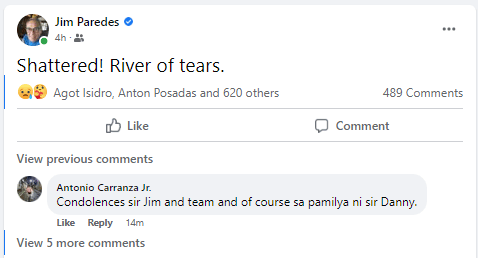 Back in 2018, the songs of APO got turned into a musical, Eto Na! Musikal nAPO!