On October 15, musician and composers Ebe Dancel, Ryan Cayabyab, and Noel Cabangon shared their thoughts on The First AmiananPop Songwriting Festival and its value to Pinoy Music.
During the media conference, Dancel said that they wanted to give a platform to young songwriters.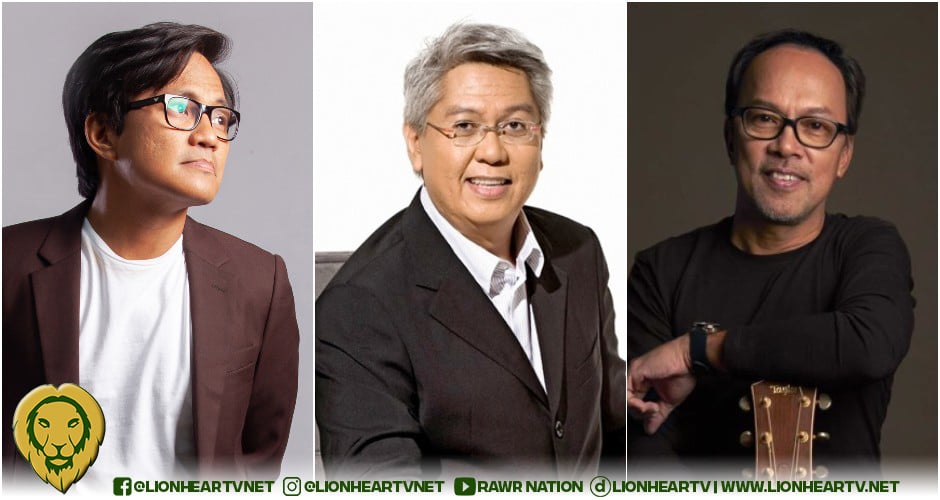 "We really wanted to take this opportunity to present songs from Northern Luzon. Myself, I was born in Ilagan, Isabela, and I was born to Ilocano and Ibanag speaking parents, and they still speak hanggang ngayon. 
"We want a platform for our young songwriters from the North to encourage them to write in their own languages. 'Yun marinig sila ng buong mundo."
Cayabyab noted that they're a part of a much larger Filipino movement that aims to improve the song literature of the Philippines.
"The composers that you see here na members ng board ng Amianan Pop, they all belong to a larger umbrella group of mentors, composers who espouse "hyper-local."
"All of these members of this big umbrella group, who are all Filipino composers from the Visayas, Mindanao, Bicol, everywhere, who have been probably together for, some us, maybe together as a group more than ten years. And some, may bagong lumalabas na groups who are already part of this /big Filipino movement for music. 
"To all of us na nauna, I think puntahan muna natin 'yung, tahakin muna natin 'yung local and really improve and learn everything that we can do. Everything that we can teach them that we know about song writing but using their local languages, so mas maraming mako-contribute sa song literature ng buong Pilipinas."
As for Cabangon, he also thought of the AmiananPop Songwriting competition as a platform to encourage songwriters.
"Songwriting competition is the best way to bring out all of these talents from composers. And maybe encourage– since we have this first Amianan Pop Songwriting Festival, this might encourage na nandiyan lang, na walang platform. This is also a good platform for songwriters to have their music, have their songs heard, and encourage them to write more."