Julia Barretto refused to back down from Matteo Guidicelli's attempts of mocking her past relationships involving different men.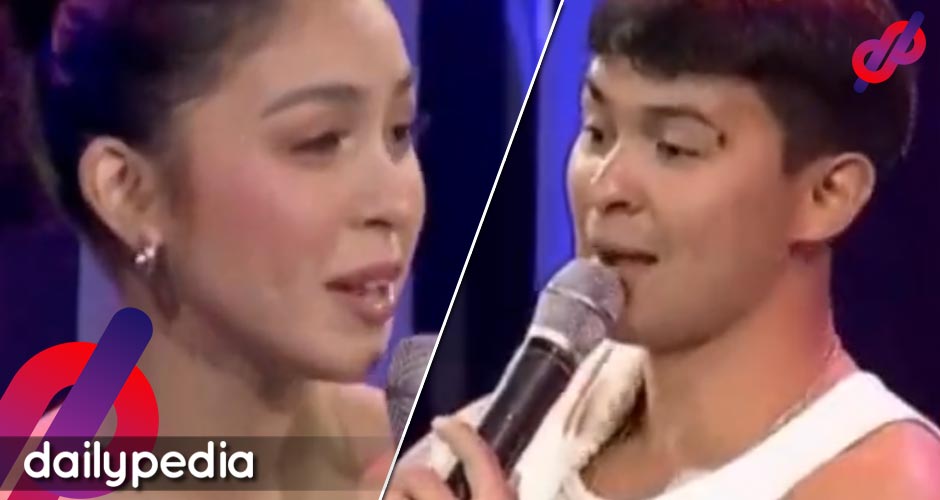 During an appearance on the morning variety show Tropang LOL, Guidicelli brought up Barretto's ex-boyfriend Joshua Garcia and current partner Gerald Anderson.
Guidicelli asked a question regarding an actor that is currently being linked to vlogger Bella Racelis and then dropped Garcia's name.
"Di ba 'yung pangalang Joshua Garcia medyo malagkit. Sensitive na," Matteo said.
Barretto wasn't fazed by Guidicelli's question, however.
"Huy hindi. Hindi ako sensitive, Matty. Ku-correct ko lang." she said in a response.
Guidicelli then proceeded to ask about Barretto's past with Garcia which the actress dismissed easily.
"Eh kasi siyempre kapag past ni-lelet go mo 'yan with grace at gratefulness. So dapat 'pag binabalikan mo 'yan, walang bitterness. Tsaka diba dapat magkakaibigan lang," she said.
"Kumbaga, bahala na siya sa buhay niya," Guidicelli answered back.
Kalat, tapos pag binalikan mapipikon. https://t.co/qgiVnf0O6k

— Jover Laurio (@PinoyAkoBlog) September 8, 2022
"Kumbaga kung saan siya masaya, dun tayo masaya. Tsaka same with Diego, Alden, Donny. Kung saan sila lahat masaya. Happy for you guys," Julia said.
Guidicelli also asked the actress if she approves of Garcia's rumored relationship with Racelis.
"Approve ka ba sa kanila? Nahuli sila sa BGC nag-hoholding hands sila. May picture tayo. Mga paparazzi ng Tropang LOL, nahuli siya," Guidicelli said.
"Awww. That's nice. Good for both of them. Masaya tayo para sa kanila. Approved," Julia said.
Matteo, for some reason, said he found out Joshua messages Julia to seek her approval on whomever he is dating.
The conversation was nothing short of friendly until Guidicelli brought up Anderson's ghosting tactics with previous women.
"'Di ba Gerald Anderson defined the word ghosting?" Guidicelli asked.
The actress was visibly uncomfortable and decided to also bring up the host's past.
"It's not the first time I heard it ha. You know why? The first time I heard that word actually may nagkwento sa akin about Matteo Guidicelli." said Barretto.
Guidicelli was caught off guard and tried to laugh it off.
"Nakalimutan ko na. Memory gap yata tawag dun," he said.
"Actually nakalimutan ko pero binalik mo. 'Wag na natin i-mention sino ginanun mo," Barretto said.
Viewers immediately assumed that Barretto was referring to Jessy Mendiola. On September 7, Guidicelli apologized.
Netizens thought Guidicelli is the type to dish it but can't take it.
The reason why I rlly love Julia. na Back to you nia si Matteo without dragging any names!🥹💗 https://t.co/UNA2VNNF87

— ezra-j (@viceral_perez05) September 8, 2022
Matteo Guidicelli is hypocrite🤮 I'm glad that Julia Barretto is a classy woman and handled herself v well.

Tropang Lol is such a mess. Kailan ba titigil 'tong show na 'to????? https://t.co/7HgPo3b9fU

— neatzche⁷ (@ntzch_l) September 10, 2022
Diba Matteo Guidicelli called out Alex Gonzaga for talking about exes sa show na 'to and now he's doing the same? Trash. Buti nalang Julia Barretto came prepared💪🏼 https://t.co/yXI6KkNsex

— MIGO ᵕ̈ (@migosaur) September 9, 2022
matteo guidicelli called out alex gonzaga for teasing him abt his ex, then did the same to julia barretto?

— samael (@dagtumblack) September 10, 2022