First it was in New York. Next in Busan. And now in Cannes.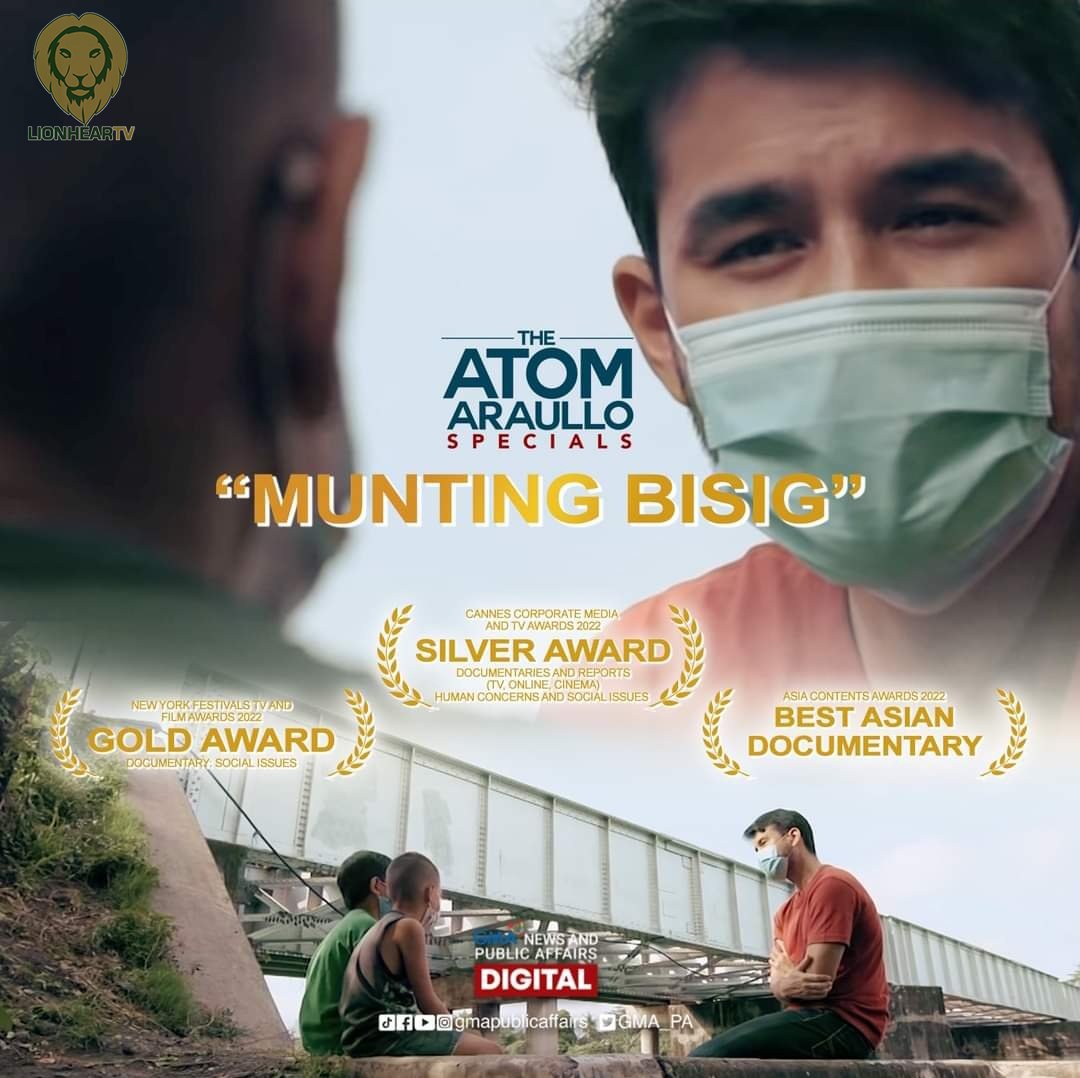 For shedding light on the plight of children from underprivileged backgrounds, "The Atom Araullo Specials: Munting Bisig" dominates the international awards – earning not just one, but three major accolades – all in less than a year.
At the prestigious Cannes Corporate Media and TV Awards, the GMA Public Affairs program won for the Philippines the Silver Award for Documentaries and Reports (TV, Online, and Cinema) in the Human Concerns and Social Issues category.
This comes on the heels of the program's landmark win at the 4th Asia Contents Awards (ACA) at the Busan International Film Festival (BIFF) Theater in Busan, South Korea where it emerged as Best Asian Documentary. The winning piece was the only Philippine entry shortlisted in the said festival, besting other Asian shows produced by Netflix, Asian Boss, and TV Asahi Production.
Last April, "The Atom Araullo Specials: Munting Bisig" took home the Gold World Medal at the 2022 New York Festivals TV & Film Award.
"We are deeply honored to receive these awards from our peers overseas. Many dedicated journalists, media workers, and contributors worked hard on this documentary —a true team effort. We hope it not only raised awareness, but also contributed to finding durable solutions to the serious issue of child labor, especially in the context of the pandemic," shares host Atom Araullo.
The documentary featured children who put their lives at stake to help their families survive even if they are exposed to the COVID-19 virus.
One of these kids is 15-year-old "Pancho," who is known as the youngest compressor diver in their barangay in Paracale, Camarines Norte. Hoping to find gold, Pancho braves diving into 40 feet of mud to collect soil.
In Cordillera, which reportedly has the lowest cases of child labor in the country, Atom has discovered why the numbers in the province are so low. Atom joins Yeseleen, one of only two child labor profilers in the entire province. In the mountains of Kalinga, they find other kids engaged in hard labor.
Atom met Joshua in Pasay. The latter is the breadwinner of his family at the age of 12. Joshua became part of the "lockdown generation" as he found himself 'stranded' in Metro Manila while his ailing father was left behind in Cavite. In Manila, he rode his bike to sell snacks to his neighbors so that he could bring home earnings to his family.
Atom further offers these awards to all the children who are left with no other option than to work in order to live one day at a time.
Considered as one of this generation's notable journalists, Atom has been getting accolades for his various shows. He currently co-anchors GTV's flagship newscast State of the Nation and is one of the hosts of long-running documentary show I-Witness. He is also a regular pinch-hitter for 24 Oras.