Presidential Spokesperson Harry Roque has contracted Covid-19 and was admitted to the Philippine Government Hospital (PGH) after his oxygen level fell to 90%.
But given that hospitals are overcrowded due to the pandemic, many were wondering how Roque managed to get a bed in PGH.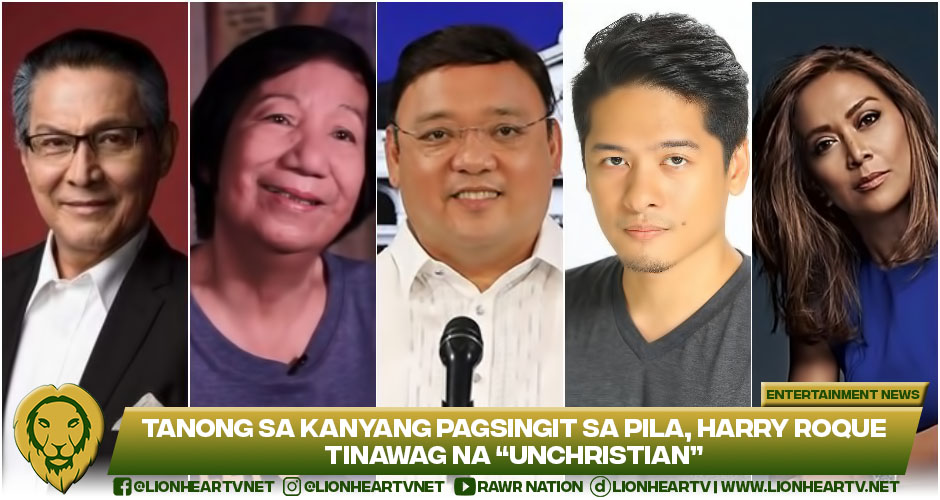 "How did you manage to get a COVID bed in PGH when many are in dire need of a slot, some even dying as they wait," asked Jam Punzalan of ABS-CBN News during Monday's briefing which was sent to Malacañang communications staff.
Roque avoided the question, "I think that's an un-Christian question.
"Ang aking assurance lang, sa administrasyon ni Presidente Duterte, lahat ng mayroong pangangailangang medikal ay mabibigyan po ng tulong at 'yun naman rin po ay dahil sa ating sinulong na universal health care [law] noong 17th Congress," he added.
This remark coming from Roque drew flak from celebrities and Netizens as many Filipinos are also suffering from COVID-19.
Award-winning writer Lualhati Bautista used the same logic as Roque. In her facebook post, Bautista, using the spokesperson's "unchristian" argument, asked if it is the Creator's will to have people with severe symptoms wait while he lies comfortably in a hospital bed without even waiting in line.
Over twitter, many celebrities and personalities also irked at the spokesperson's remark.
Actor Alex Medina ridiculed Roque for using religion in answering the question.
He wrote, "Ginamit na religion card. Guys, malapit na 'tong mga to! Basagin!"
Ginamit na religion card. Guys malapit na tong mga to!!! Basagin! https://t.co/2gbnJmDXI4

— Alex (@alexvincentm) April 12, 2021
With Roque not being transparent, actress Gab Panglinan also criticized Roque's statement. The actress reiterated that with his argument that the question was "unchristian", it only made the public more suspicious.
"unchristian" daw. ugh dont me
u just continue giving us red flags 😌

— Gab Pangilinan (@gabpangilinan) April 12, 2021
Fr. Fiel Pareja also noticed how Roque used Christianity to dodge the question. Pareja condemned the spokesperson for being selfish and incompetent, even using religion as his defense against such kind of question. Also, the priest perceived Roque's jumping the line as an insult to the infected ordinary Filipinos who have to wait in line.
Kung Christian ka pero nanlalamang ka ng tao, hindi ka totoong tagasunod ni Kristo.

Don't use Christianity as argument to hide your own selfishness & incompetence.

Isang malaking insulto sa mahabang pila ng mga maysakit at naghihingalo na nagtyatyaga sa init ng araw at hamog.

— Fr. Fiel Pareja (@padrefiel)
Another Netizen took notice of how Roque skipped lines.
The netizen castigated the Roque for saying that the question was "unchristian". In the meantime, ordinary COVID patients are waiting to acquire medical assistance while Roque was admitted without any delay.
You know what's unchristian @attyharryroque? When you skipped the line for other COVID patients who were in greater need of that hospital bed. Who have been waiting for weeks, days, just to be attended to. Who died while waiting because they were deemed less important than you.

— Pinoymom𐤀ARMY 🐯💜🐰 (@pinoymommy) April 12, 2021
Twitter personality Francis Baraan IV also scorned Roque for cutting the line. Baraan then used the logic of Roque by asking whether it is Christian for him to jump the line over others.
Roque says it's an un-Christian question to ask why he got a bed at PGH for treatment of COVID19.

Does he think it is Christian for him to jump the line over many others, who need beds/rooms more than he does?

Does he think it is Christian to work for the Devil himself?

ULOL!

— Francis Baraan IV (@MrFrankBaraan) April 12, 2021
Journalist Barnaby Lo also asked the same question as Roque called the query an "unchristian" one. Lo also pointed out that the Secretary's urgent admittance to PGH is obviously un-Christian. This is a fact since he jumped the line while many far more critical are waiting to receive medical assistance.
President Duterte's spokesperson described as "unchristian" a reporter's question about how he was able to jump the line and get admitted to PGH. But it was Christian to jump the line while the more critical wait?

— Barnaby Lo (@barnabychuck) April 12, 2021
Journalist Kevin Manalo condemned Roque as he used his privilege card to acquire a bed in PGH. Meanwhile, most ordinary citizens have to follow normal procedures despite being critically ill.
I don't know but isn't it unChristian to use your privilege card when everyone else who has less options still follows the normal procedures?

— Kevin Manalo (@kevinmanalo_) April 12, 2021
ABS-CBN journalist Karen Davila castigated the assurance made by Roque in his recent statement.
According to Roque, the Duterte administration will provide all medical support to the Filipinos. Davila then sought if the promise of the spokesperson will be true given that thousands are infected by the deadly virus. If the Government stays true to Roque's statement, then everyone who needs a ventilator will get one.
However, given that hospitals are overcrowded and in need of more hospital beds, this will be far from being possible.
ROQUE: "Ang aking assurance lang sa administrasyon ni Presidente, lahat ng may pangangailangang medical ay mabibigyan ng tulong"

Is that a promise? No one will be turned away from hospitals? Everyone who needs a ventilator will get one? I pray 🙏🏻 https://t.co/ZXtevlJKJZ

— Karen Davila (@iamkarendavila) April 12, 2021
While Roque is in a hospital bed getting treated for COVID-19, Pasig City Mayor Vico Sotto released a statement implying every resident of Pasig will receive cash assistance. This act of Sotto was lauded by comedienne Pokwang over Twitter.
With Sotto showing his brilliance, actor Tirso Cruz III threw some shade as he replied "yan ang very 'Christian'" in Pokwang's tweet. His tweet pertained to Roque's "unchristian" remark on the question of how he got admitted to PGH.
Yan ang very "Christian".

— Tirso Cruz III (@tirsocruziii) April 12, 2021
Also, the Monday briefing was tweaked for the Spokesperson to recover. Roque is set to push through with his press briefing on Tuesday, April 13.