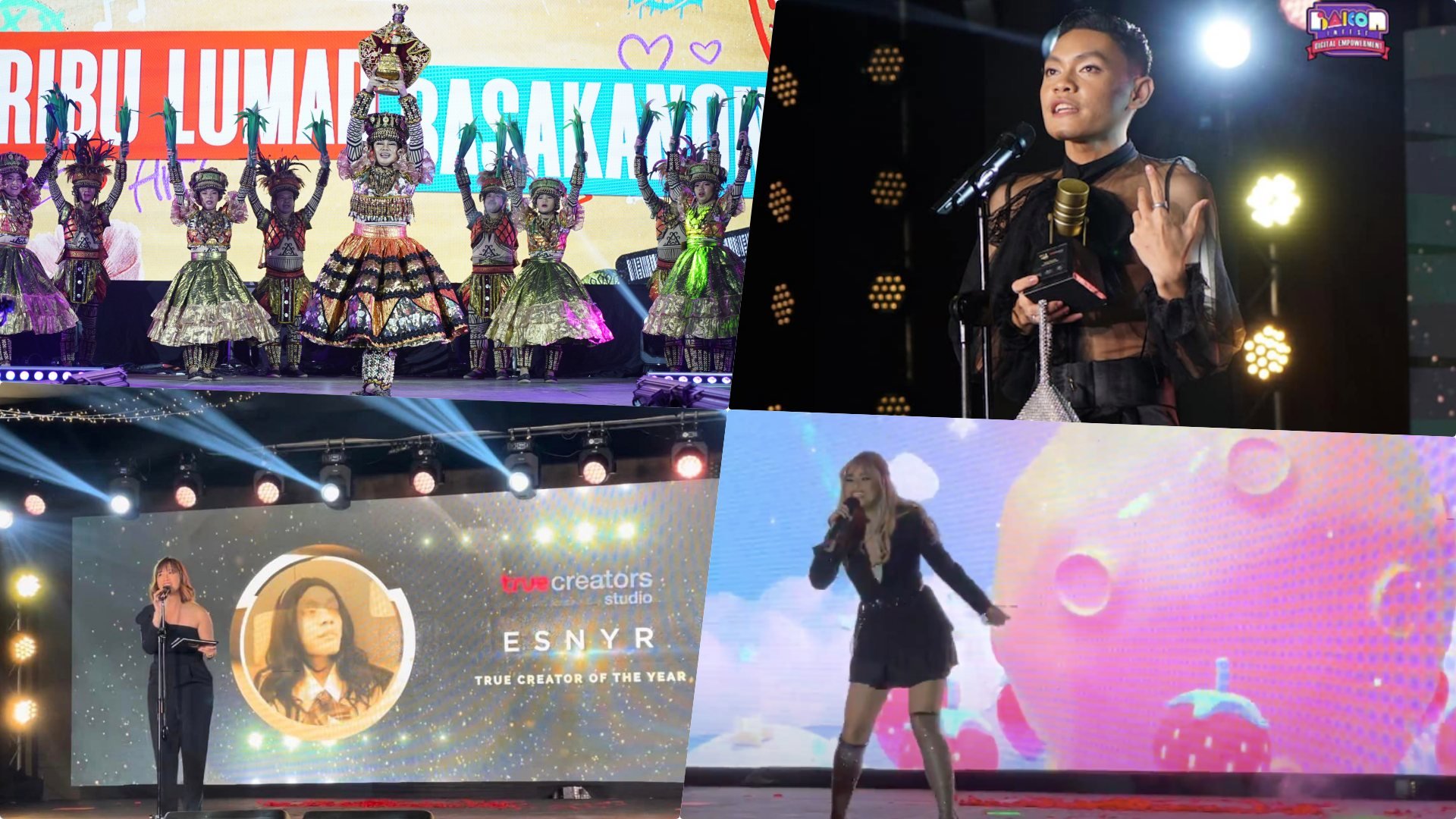 In November 2022, BaiCon, the only VisMin content creator convention around, hosted a grand face-to-face gathering.
True Creators Studio (TCS) was also part of the event and partied it up with the rest of the attendees and guests. In case you missed it, TCS is True Digital's latest service launched last September, catering to production and influencer management and showcasing many creative talents.
READ: True Digital and CICP celebrate the launch of True Creators Studio
After the event, the Creator and Influencer Council of the Philippines (CICP) held the Spotlight Awards, which gave props to the top creators for the past year. During the intermission, True Creator Hazel Faith hyped up the crowd with some of her hit songs including, "Kinikilig" and "Reyna Ng Sablay" as she made her way towards the audience and encouraged them to vibe with the beat.
True Digital also gave a very special award presented by True Creators Studio head, Joy Mesina. The True Creator of the Year award is given to an individual who has mastered the art of creating content and recently gained followers because of the quality and relevance of their craft. The winner was also awarded a guaranteed project with True Digital worth P100,000. (That is some serious cash!)
So who was the lucky winner? The True Creator of the Year award was given to—drumroll, please—Esnyr Ranollo! Esnyr is known for creating hilarious skits and relatable school-based situations featuring familiar classmate archetypes who get into all sorts of kalokohan. (Remember that classmate who always covered their face with a hanky?)
The crowd erupted into cheers as the online comedian sashayed his way up the stage. "Mic test. Ay," he squealed and then went into his teacher persona from the skits and said, "Boys at the back, listen!"
He continued, "Who would've thought that one single video could change my whole life? I'm super glad that I decided to make content last year and ngayon, nandito na ako sa harapan n'yo nag-sespeech kahit pa-kalog-kalog lang po ako."
"Grabe! Being a content creator is not that easy, ha? Hindi lang tayo nag-poprovide ng entertainment but [we] also provide good influence to others."
Esnyr went back into comedy mode and jokingly name-dropped a few brands and a certain actor during his acceptance speech. "Also, I would like to thank my boyfriend who is not here… Joshua Garcia," which was met with much laughter.
But you can see the sincerity through all the jokes as he said, "Above all, I want to thank everyone na na-budol ko lalo na sa True Digital. I promise you po na hindi ninyo ito pagsisisihan. This is not just for me but to all the content creators and to all of the people here. We share one passion and one goal and that is to entertain and make other people happy kaya congrats to us!"
Only a few months have passed since launch and True Digital's True Creators Studio has already collaborated with some big players. If you're curious about other influencers and personalities under TCS, you can visit the website at www.truecreators.studio.
You can also expect Esnyr to appear on the digital lifestyle platform TrueID soon. Meanwhile, you can read up on articles, play games, and check out shows for free by downloading the TrueID mobile app via Apple Store and Google PlayStore.