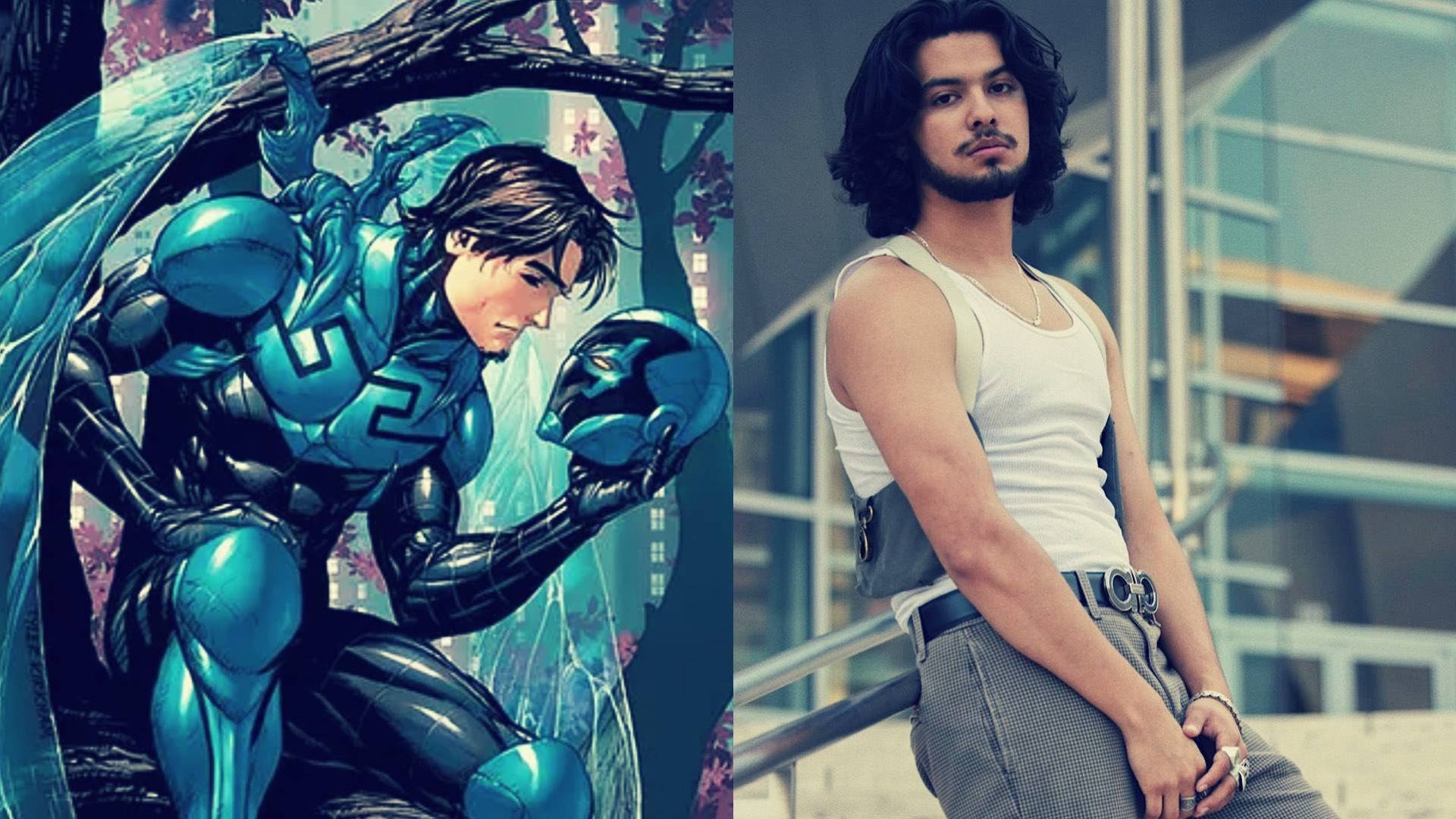 Photo credit: Xolo Maridueňa/Instagram, Scott Kolins
By Ica Hontiveros-Cheng
Cobra Kai star Xolo Maridueña is playing DC Comics' superhero character Blue Beetle in HBO Max's upcoming movie adaptation. After much online buzz, the 20-year-old actor confirmed this at the red carpet premiere of The Suicide Squad in Los Angeles, California recently. He shared the news along with his event companion, film director Angel Manuel Soto.
Blue Beetle will be Maridueña's biggest break yet, after his role as Johnny Lawrence's student Miguel Diaz in Netflix's Cobra Kai. He previously had a recurring role in the comedy-drama series Parenthood.
The upcoming Blue Beetle film will focus on the third incarnation of the character, Jamie Reyes. In the DC Comics universe, Jamie, a teenager, follows in the footsteps of Ted Kord who previously assumed the superhero role. Jamie obtains his powers from a sacred scarab beetle that then fuses into his spine to arm him with an extraterrestrial suit among other abilities. This narrative follows the original version that Fox Comics published in 1939.
Keith Giffen and John Rogers initially wrote the DC Comics version, which launched in 2006. Cully Hamner did the art.
READ: Review: How Marvel helmer James Gunn fixed DC's 'The Suicide Squad'
Photo credit: Netflix
Talking about representation, DC and Warner Bros.' choice for both the lead actor and director comes off as a big deal in Hollywood. Blue Beetle, after all, is DC's first movie venture starring a Latino superhero character. The inclusion of Maridueña, of Mexican, Cuban, and Ecuadorian heritage, and Soto, of Puerto Rican descent, has since excited (woke) fans.
"The only thing that is on my mind right now is just the fact that he's Latino. I have so much pride in getting to be part of this project with Angel, someone like him," Soto told Variety about Maridueño.
"Since I got the invitation from DC to work on this project, I couldn't stop seeing him as the character."
Coming from Cobra Kai, Maridueña has his martial arts experience as his edge in portraying Blue Beetle. In past interviews, the young actor has also shared his interests in shotokan karate and grappling/jiu-jitsu.
Maridueña's MMA skills perfectly fit the third Blue Beetle version, who's arguably more agile and adventure-ready than its predecessor. Ted Kord, as fans know, didn't have any superpowers despite possessing genius-level intellect.
READ: Is DC Comics' Robin III a 'bi' wonder?
It will surely take a while before Maridueña gets to don the signature cobalt blue costume. For now, the actor's laser-focused on bulking up for the titular role.
"Luckily I have a background in martial arts and training, in that kind of realm but this is a whole different game, this is like the big boys, so I'm ready to pack on a couple of pounds and hit the gym," he said in the same Variety interview.
"It's such a great opportunity, and I'm not going to take it lightly, and we're about to make a kick-ass movie."
While waiting, fans can still catch him in Cobra Kai's fourth season dropping this December on Netflix.