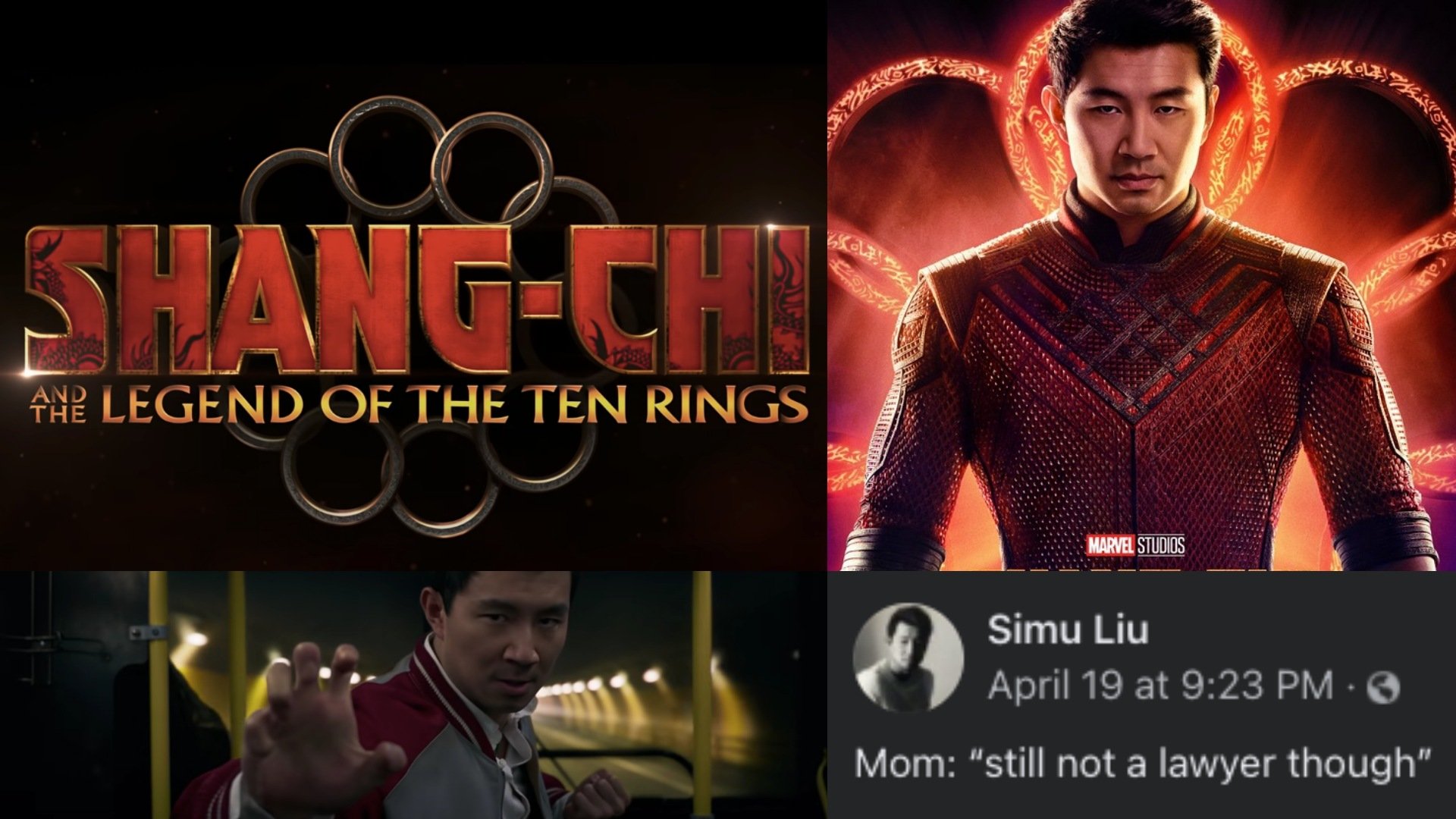 Photo credit: Marvel Entertainment/YouTube
There's already a lot of martial arts action in the Marvel Cinematic universe so it was time to introduce an Asian superhero! Thankfully, Marvel finally gave us the teaser trailer for Shang-Chi and the Legend of the Ten Rings and there's enough high-flying martial arts action to go around. In the Marvel comics, Shang-Chi, played on the big screen by Kim's Convenience star Simu Liu, is considered one of the greatest martial artists on earth.
In the teaser trailer, we see Shang-Chi from flashbacks to when he was a child and undergoing some really intense combat training. As an adult, Shang-Chi faces off against the mysterious Ten Rings organization and its true leader The Mandarin. ICYDK: the Marvel villain The Mandarin already made an "appearance" in Iron Man 3 back in 2013. Of course, we eventually find out that the Ben Kingsley version was a fraud and it turns out that he's an actor named Trevor Slattery, who was hired to play a villain.
This time, we see the real deal. Tony Leung, known for his many collaborations with Wong-Kar Wai, plays an entirely new character written for the film named Wenwu. He is Shang-Chi's father and a member of the Ten Rings organization, the very same one from the Iron Man films, Wenwu has had many names over the years including The Mandarin. (Insert thinking emoji here.)
The upcoming film also seems to take some inspiration from the recent Shang-Chi series of comics, which portrays Shang-Chi as "trying" to have a normal life in San Francisco, you know, away from all the mystical problems and family drama that come with becoming a martial arts master. However, all this drama comes back to haunt him.
Fortunately, there's also comic relief in the form of Awkwafina's (Raya the Last Dragon) character Katy, who seems to be taking on the BFF role.
Mandarins, fake or real aside, the most important thing about the film is that it gives fellow Asians a heroic figure in the MCU. There are already videos of little cute Asian kids showing off their amazed reactions to the trailer that have been circulating online.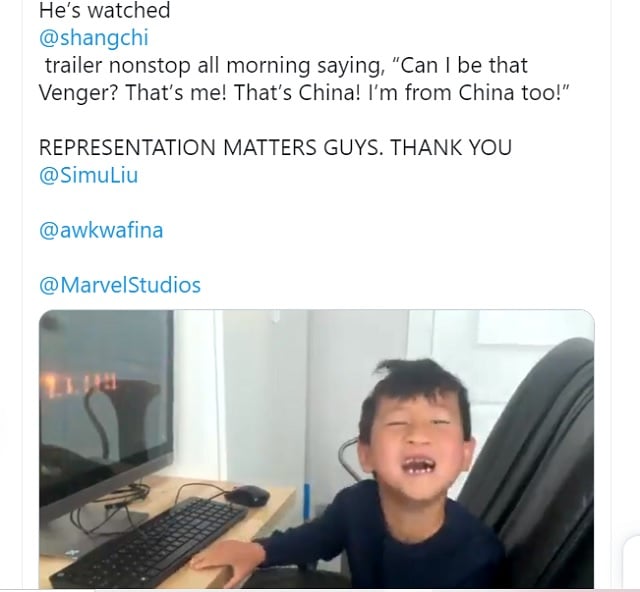 Photo credit: DameMegnificent/Twitter
Check out this cutie who has been watching the trailer on repeat. Representation truly matters!
If anyone is going to wave our Asian pride then it definitely should be Simu Liu. Just looking at his Facebook page alone will give you flashbacks of your Asian upbringing with the so-called "tiger" parents.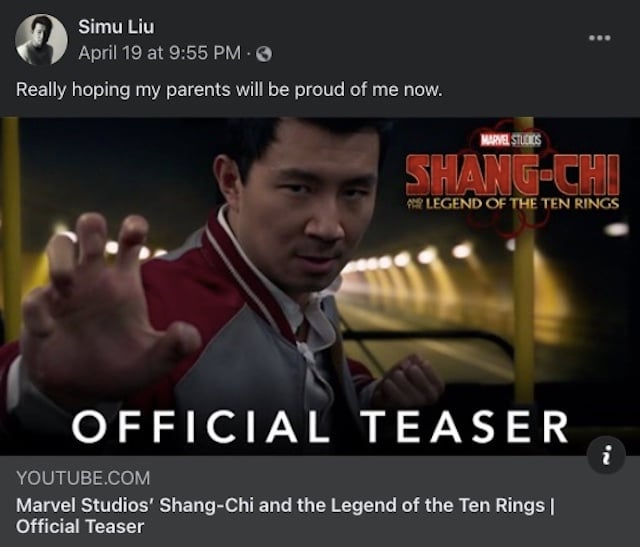 Photo credit: Simu Liu/Facebook
We're sure that the actor is joking about all his parental hugot but the disapproving Asian parents, who want you to become a doctor or lawyer, is definitely a universal experience.
Scrolling through Liu's page is its own form of entertainment because he's one of us—a fellow fanboy!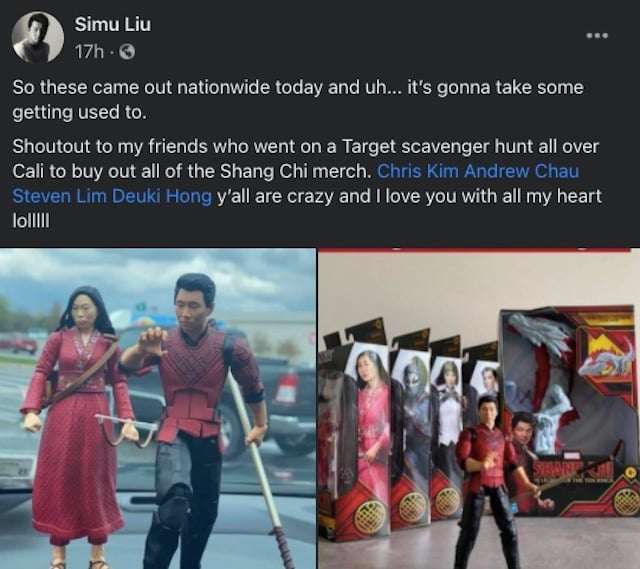 Photo credit: Simu Liu/Facebook
He even expressed much excitement upon learning the action figures have been officially released. Liu's recent post also made us chuckle as he pondered upon the possibility of Shang-Chi getting the adult film adaptation treatment. (If you know what we mean.)
With a likeable actor like Simu Liu leading the film with a whole cast of Asians such as Tony Leung, Awkwafina, Michelle Yeoh, Jiang Nan, Meng'er Zhang, Ronny Cheng, Fala Chen and Jiang Len, it's going to be worth the hype. Shang-Chi and the Legend of the Ten Rings is directed by Destin Daniel Cretton and written by Daniel Callaham with a September release in theaters.