The former rival noontime shows started airing in their back-to-back time slots on Saturday, July 16.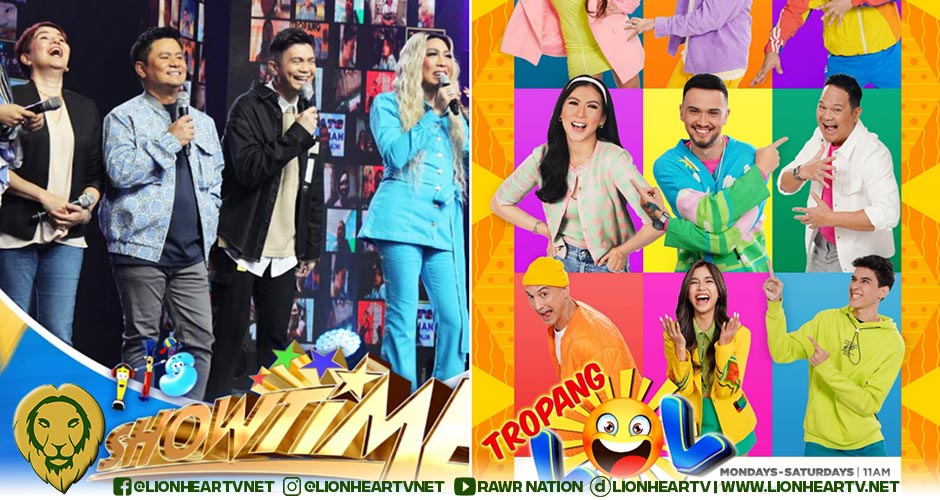 It looks like Brightlight Productions' variety program, Tropang LOL, is adapting more quickly to its new time slot than It's Showtime.
It can be recalled, that the two former rival shows, adjusted from their old to their new time slots, when both shows started airing on both A2Z and TV5, last July 16. Both shows massively improved viewership, as reflected by the data released by media research firm, AGB Nielsen.
Tropang LOL, however, is proving to benefit more, as it did not only post its highest people ratings to date, but it also overtook It's Showtime on the leader board. According to AGB Nielsen's National Urban TV Measurement (NUTAM) people data, Tropang LOL rated higher, on Tuesday, July 19, on Wednesday, July 20, and on Thursday, July 21, posting a 3.4℅, 3.6%, and 3.4% people ratings, respectively. It's Showtime, meanwhile, posted a 3.2%, 3.3%, and 3.3%, during the same days.
Despite the massive gains in their ratings, both Tropang LOL and It's Showtime seems to be no match to Eat Bulaga, which remains the most-watched daily noontime variety show. The four-decade Tape Inc-produced program was virtually unmoved on the leaderboard and unperturbed with its stable ratings, posting 5.2% on both Tuesday, July 19 and Wednesday, July 20, and 5.3% on Thursday, July 21.
It is worth noting that Eat Bulaga's lead over It's Showtime has shrunk from 2.3% to 2.0%, and over Tropang LOL, from 2.3% to 1.9%.
On Monday, July 25, Tropang LOL takes on the new Kapuso variety show, TickToClock, which airs from 11:15 am to 12:00 pm. Hosted by former It's Showtime host, Kim Atienza, former Kapamilya comedienne Pokwang, and Miss Universe Philippines 2020, Rabiya Matteo, TickToClock is poised to challenge Tropang LOL, which previously confronted a much weaker rival.
It's Showtime, meanwhile, debuted the new season of its highly-successful drag contest segment, Miss Q and A, which is expected to boost the noontime show's viewership.