The first half of the regular season saw the return of Blacklist International on the pedestal after the epic three-game battle against S9 titleholder RSG PH. The Tier One-backed quintet seized the top spot with 14 points off a 5-2 win-loss slate, followed by rookie-laden squad ONIC who fell one rank lower than last week. RSG PH fell in the 4th spot, with ECHO garnering 12 points each.

RSG PH is far from done with its quest to defend its title. This week, they are bound to once again duke it out against Smart Omega in what seems to be a repeat of the MPL PH Season 9 grand finals. With Smart Omega mixing their line-ups to cater to the opponent's playstyle, will the Kingslayers win this time? See below relevant match data: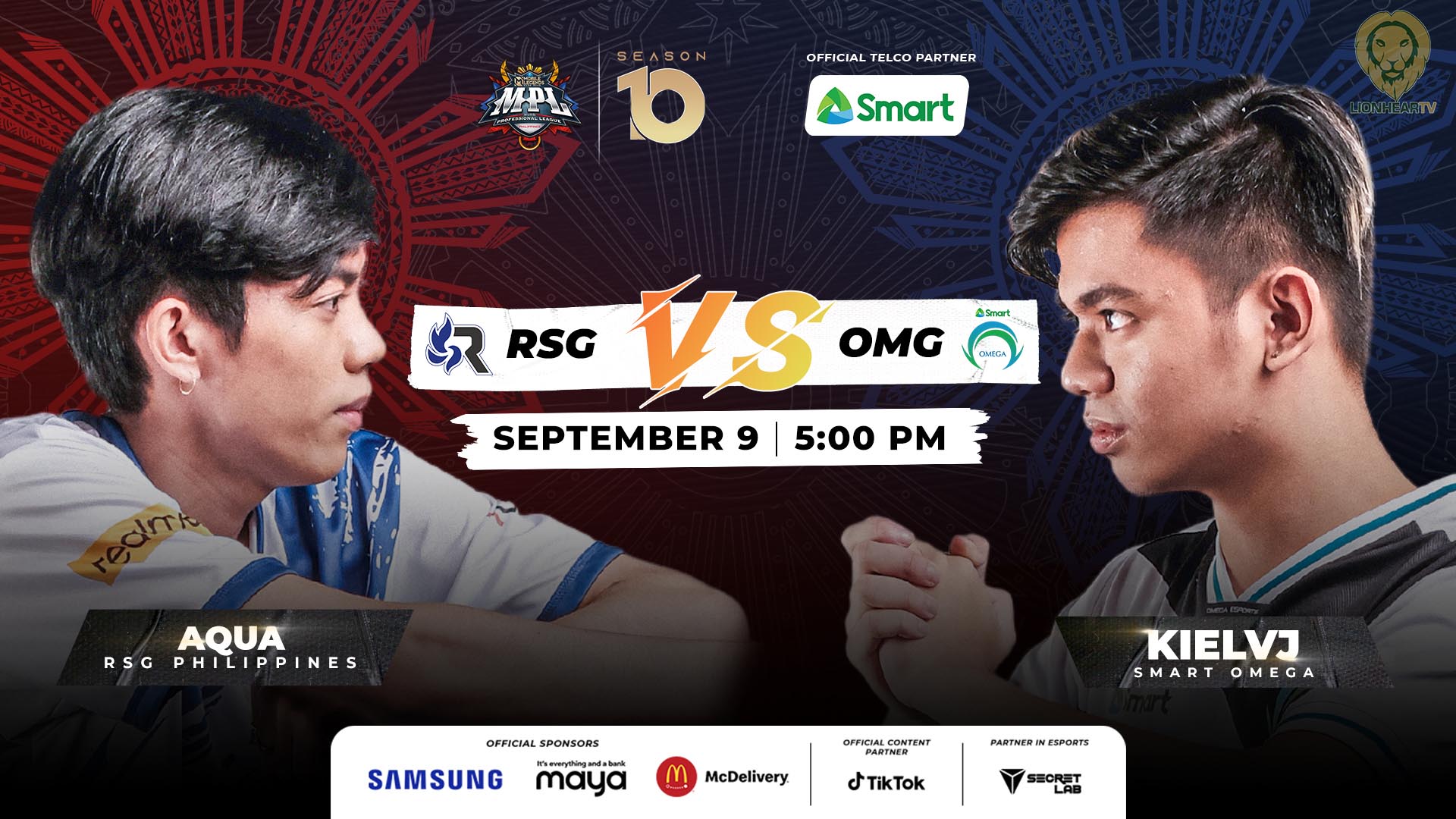 S10 Win Rate(Game)
RSG:56.25%  OMG:58.82%
History win/lose with each other (Since S8) (Games won by each team)
RSG 10:6 OMG
Team A
RSG
OMG
First Blood Count
10
7
Team Damage/Min
11,671
8,885
KDA Average
4.20
2.9
Ave. Kills/Game
13.13
10.88
Lords Slain/Game
1.19
1.29
Turles Slain/Game
1.75
1.35
Name
Aqua
KIELVJ
KDA
8.42
4.21
Hero DMG/Gold
432.00%
329.00%
Teamfight Participation
76.19%
55.66%
Hero Pool
8
3
Player feature data
3rd in Most Assists in a Single Game (19); 2nd in KDA Ratio (8.42)
Team feature data
RSG: 2nd shortest in Average Game Time (17:04); 1st in Average Kills (13.13); 2nd in Average Assists (30.50); 2nd in KDA Ratio (4.20); 2nd in Turtle Control Ratio (58.33%);
OMG: Longest in Average Game Time (19:27)
WATCH & WIN SPECIAL GIVEAWAYS!
Catch the 5th week of the Mobile Legends: Bang Bang Professional League – Philippines through our official channels and win special giveaways!
MPL-PH Website: www.ph-mpl.com
Facebook: https://www.facebook.com/mplph.official
Youtube: https://www.youtube.com/MPLPhilippines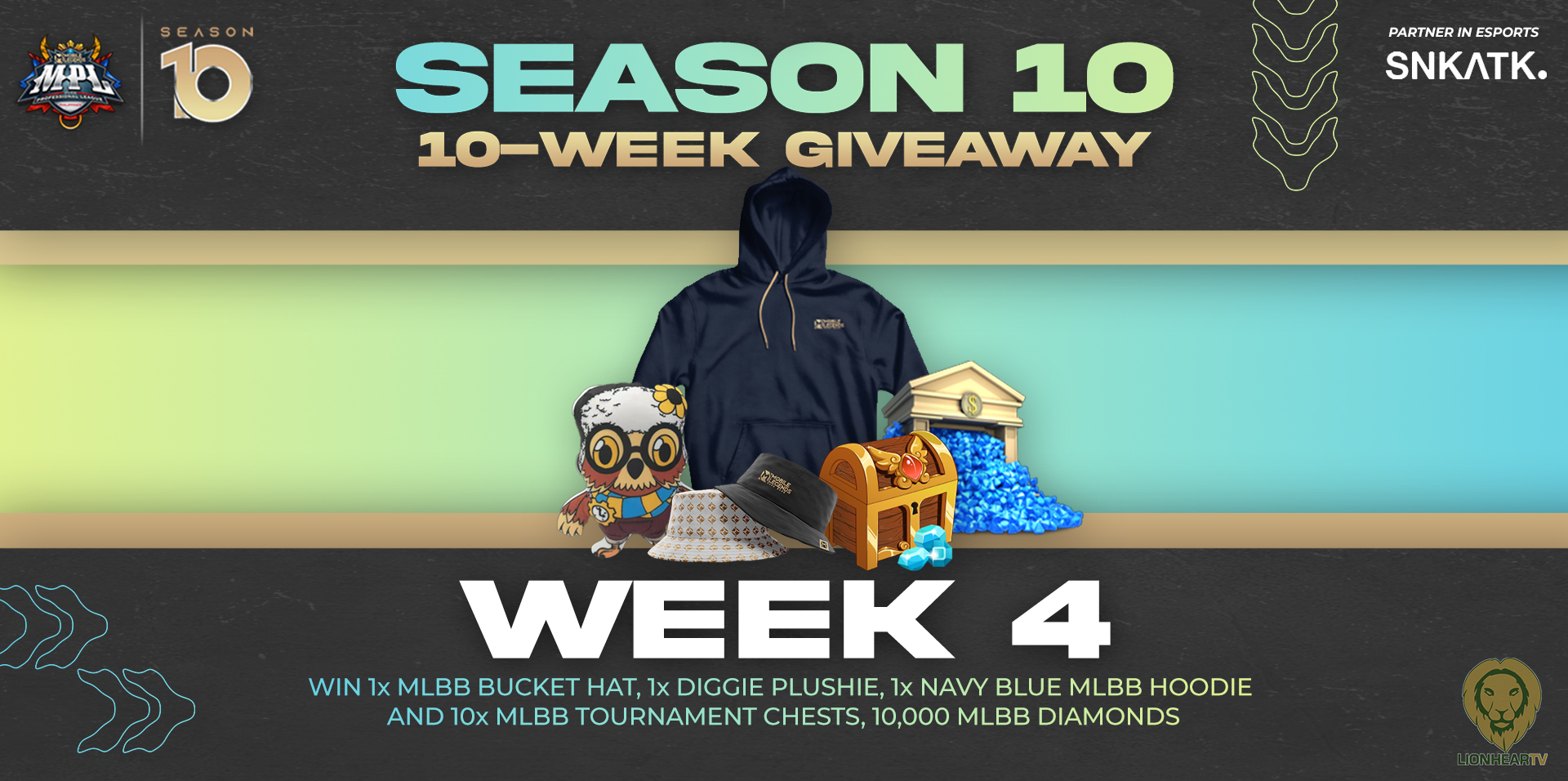 MPL Philippines has launched the "10-week giveaway" program to show appreciation to fans who have been supporting the league. Stand a chance to win an exclusive MLBB plushie, hoodie, and other prizes!
NEW MATCH SCHEDULES STARTING WEEK 5!
The league has adjusted the match schedules to give our community a better viewing experience, online or on-ground. See below Week 5 schedule: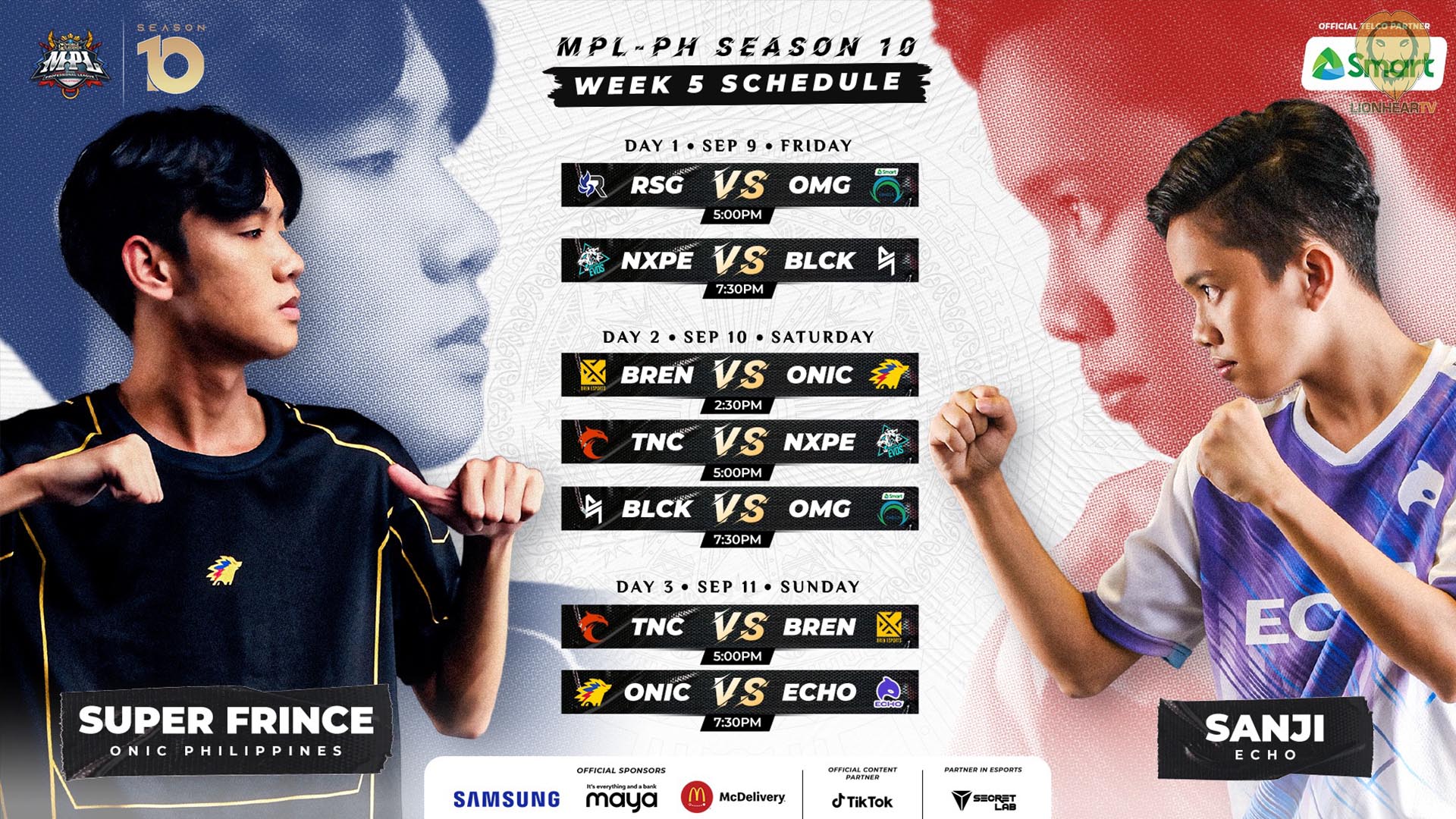 Day 1, September 9, 2022
17:00-19:30 – RSG PH vs Smart Omega (STAR MATCH)
19:30-22:00 – Nexplay EVOS vs Blacklist International
Day 2, September 10, 2022
14:30-17:00 – Bren Esports vs ONIC PH
17:00-19:30 – TNC Pro Team vs Nexplay EVOS
19:30-22:00 -Blacklist International vs Smart Omega
Day 3, August 14, 2022
17:00-19:30 – TNC Pro Team vs Bren Esports
19:30-22:00 – ONIC PH vs ECHO
Don't miss the games! Stream the battles through MPL-PH's official Facebook, YouTube, and TikTok platforms.