Local audiences followed their favorite shows from beginning to end, with some shows even pulling off more impressive finale ratings than their debuts.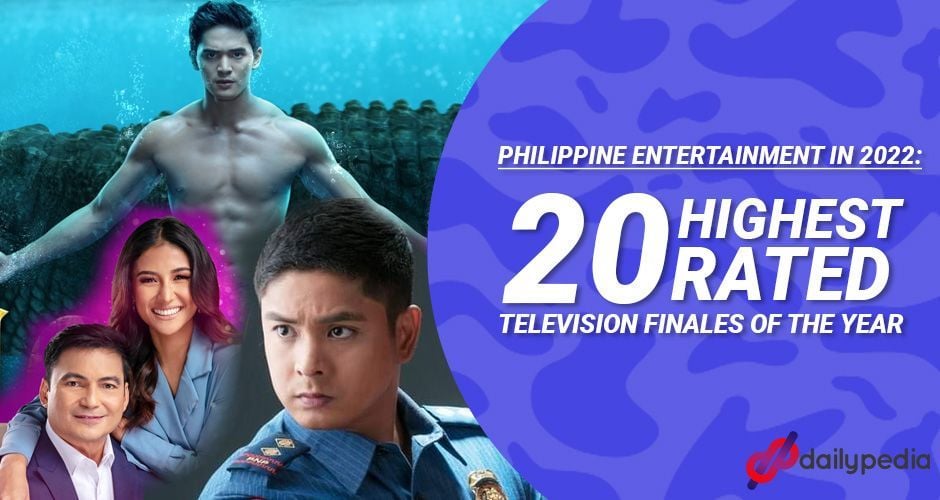 Not all TV shows that started strong end with the same level of popularity, as some suffer steep declines in viewership. That's true for many shows that debuted within the year, but it is interesting to note that the top-rated finales are practically the same as top debuts.
Strong shows that debuted in the previous years and only completed its run in 2022, are of course present on the list.
According to the data presented by Nielsen Philippines, the following are the Top 20 highest-rated finale episodes in 2022. Note that two Kapuso shows, What We Could Be and Start-Up PH, are very likely to place on the chart if data are available.
Dubbed GMA Network's 'dambuhalaserye', Ruru Madrid-starrer, Lolong, occupies the top of our list, with its pilot episode hitting 19.3% on September 30, according to the data presented by Nielsen Philippines. The series pretty much kept the dominance of its timeslot, only getting dislodged a few times by ABS-CBN's FPJ's Ang Probinsyano. It was also on the year's top television debuts list. Sanya Lopez's First Lady, is a close second, with a 17.1% final rating.
Ending its phenomenal 7-year run, the Coco Martin-starrer. FPJ's Ang Probinsyano is the sole Kapamilya-produced title on the list. Despite ABS-CBN's drastically reduced free TV presence, following its 2020 shutdown, the series still managed to win its time slot during its finale, pulling off an impressive 16.6%. Alden Richards' The World Between Us, was among those Kapuso programs outlasted on the air, by the Coco Martin action-drama. That said, the show's final rating of 14.3% on January 7, placed it fifth on the list.
In fourth place, Kylie Padilla's primetime comeback, Bolera, kept its place in the Top 5 from beginning to end. Its finale generated a high public rating of 16.3%. Heart Evangelista's most recent primetime project, I Left My Heart in Sorsogon, said farewell in February of the year. Its final episode posted a rating of 13.6%. The show ranks 6th on this year's list of highest-rated finales.
Former ABS-CBN talent, John Lloyd Cruz, successfully made his acting comeback late last year. His weekend sitcom, Happy ToGetHer, had its season finale last October 30. It posted a final rating of 13.1%, making it the 7th highest of the year.
The weekend sitcom, Jose and Maria's Bonggang Villa, which starred real-life couple and Kapuso primetime royalties, Dingdong Dantes and Marian Rivera, posted a 12.2% final people rating on August 27. The series shares the 8th and 9th spot on our list, alongside the mystery thriller, Widow's Web, which ended its run on April 29.
Xian Lim's first Kapuso primetime series, False Positive, lasted for only 3 weeks on the air, but both the pilot and final episodes posted high ratings. Its finale on May 27 generated a 12.1% people rating, according to Nielsen Philippines.
The second season of Senator Ramon Revilla Jr's Agimat Ng Agila aired its finale on May 7. The episode posted an impressive 11.5 rating, placing the show 11th on the chart. In seventh place, Pepito Manaloto's sequel, Tuloy Ang Kwento, managed 10.6% on June 11.
Two installments of the Mano Po Legacy made it to the Top 20, with Barbie Forteza's Family Fortune, and Bianca Umali's Her Big Boss, placing 13th and 20th. They posted final ratings of 11% and 7.6%, respectively.
Kapuso Primetime King, Dingdong Dantes, had very limited acting projects throughout the year, but they sure left a very positive impression. His mini series, I Can See You: AlterNate, for example, ended its stellar run with a finale rating of 10%, which is the 14th highest on the chart. But even more impressive, is the afternoon drama, Apoy Sa Langit-an undisputed breakout winner from GMA.
GMA Network's long-running weekend sitcom, Pepito Manaloto, reverted to its original story this year, but the network notably aired a spinoff series featuring a younger cast and a prequel story. 'Ang Unang Kwento' ended on a high note last June 4, with a 9.8% people rating. Beauty Gonzales's third Kapuso drama since she moved to GMA Network, The Fake Life, similarly impressed with its finale rating of 9.1%. The series ranks 17th on the list.