After the termination of its investment deal with the broadcasting player TV5–the embattled media giant ABS-CBN's outlook remains murky.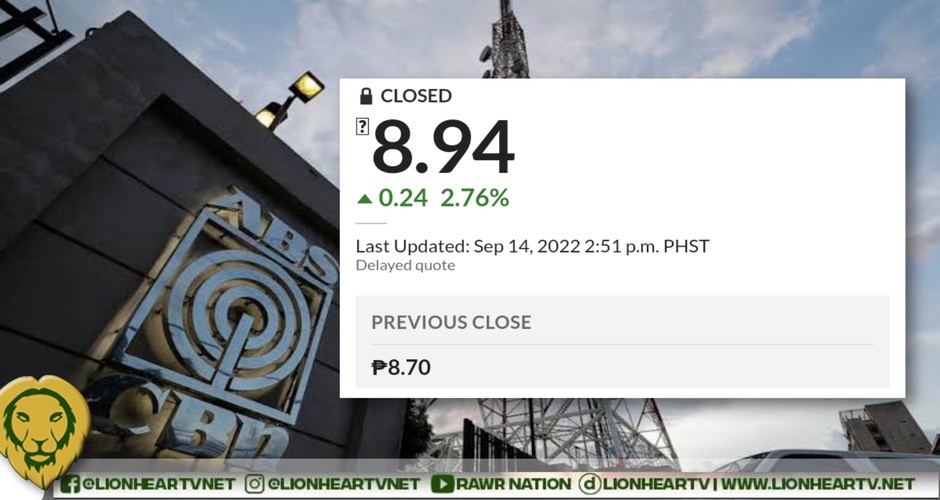 ABS-CBN Corporation already showed slight progress in the stock market, with a positive share growth in the past two trading days. It may take a while before its stocks reach the surprising high they had last month when both media entities announced their plan to pull off a massive joint venture. 
ABS-CBN Corporation had its shares hit a 6-month high of more than Php13 a piece. It also posted notably a historic volume of stocks traded in a single trading day.
Following its announcement of the deal's termination, however, the share prices of ABS-CBN Corporation plunged deep below Php10.00 and sunk further to Php8. The sudden swelling of the volume of stocks traded under ABS-CBN Corporation also suggested many shareholders sold shares in anticipation of a further slide in its stock prices.
The company's stock price has begun improving, however, yesterday, September 14, ABS-CBN Corp closed at Php8.94 per share, which is 2.76% higher than the previous trading day. Be that as it may, it is still nearly 30% lower than the figure posted a month earlier.
ABS-CBN's terminated deal with Manny V. Pangilinan's MediaQuest Holdings and TV5 pre-positioned ABS-CBN to own 35% of TV5's stake, allowing the now franchise-less media giant to institute several programming changes on the free TV network. It would have also entitled Pangilinan's Cignal Corporation to a 38% stake in ABS-CBN's Sky Cable Corp. Both deals had a multi-billion price tag.
Despite the cancellation of the investment deal, ABS-CBN's block time agreement with TV5 remains in tack. The now-content provider also has similar deal with Zoe Broadcasting Network Inc's A2Z Channel 11.