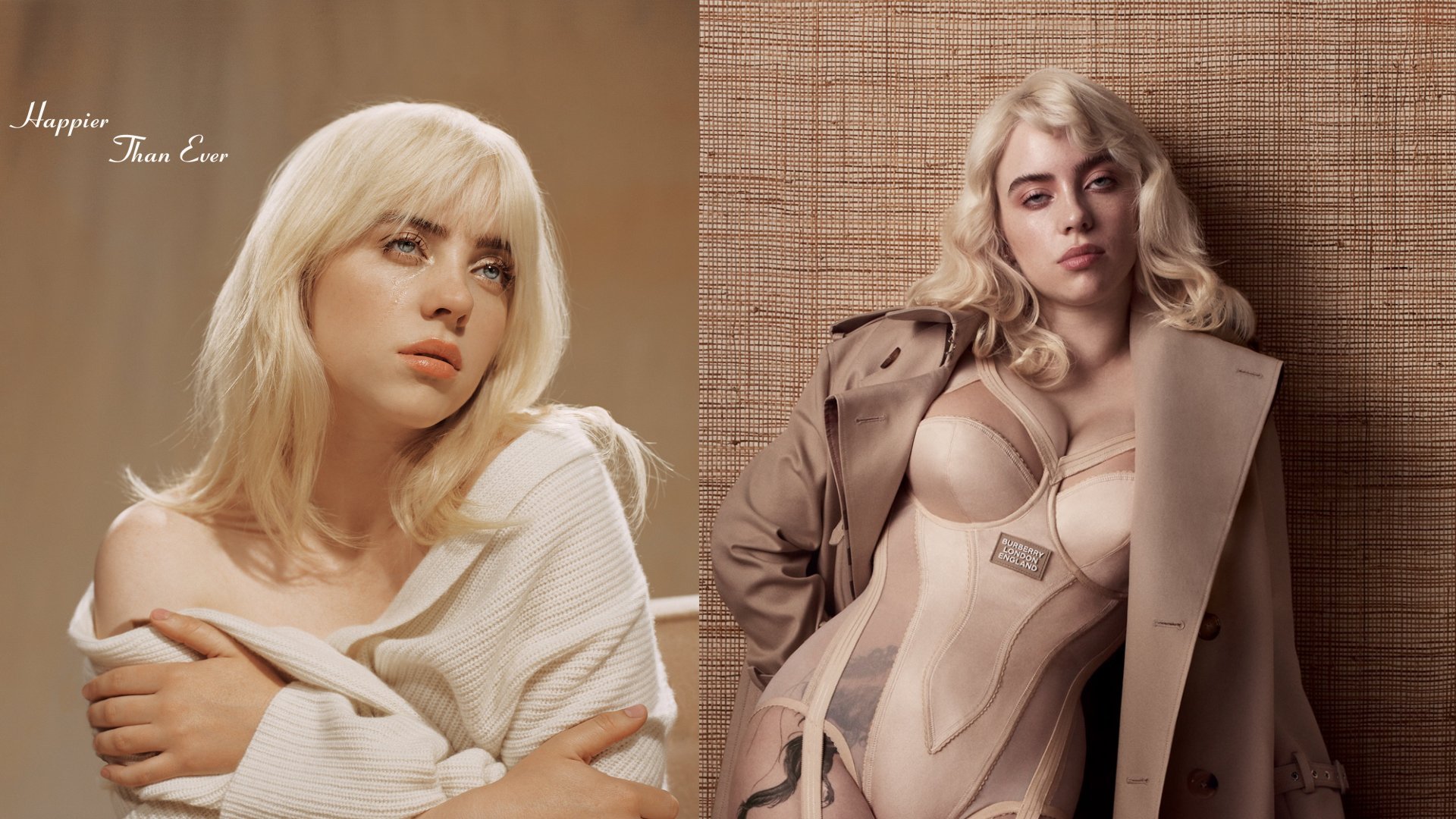 Photo credit: Billie Eilish/Twitter, British Vogue/Twitter
Fresh off her Grammy win, Billie Eilish is once again making the news rounds! Previously, we talked about her hair transformation and how it broke the Internet. Now, she continues to stun with both her look and outlook on life in the latest British Vogue cover!
Photo credit: British Vogue/Twitter
In her interview with British Vogue, Eilish reveals that her body image issue was the initial cause of her depression when she was younger.
From the way Eilish carries herself these days on social media, we're hoping that she's feeling better about herself. The singer shares her current view of fashion in the same interview saying, "It's all about what makes you feel good. If you want to get surgery, go get surgery. If you want to wear a dress that somebody thinks that you look too big wearin, f**k it—if you feel like you look good, you look good."
That said, this shouldn't mean that the singer's softer look is better than her grungier aesthetic in the past. They both make up part of her identity and if she felt better wearing a certain type of clothing during that time then the public shouldn't hold it against her.
Her brighter vibe has also extended to her music with Eilish making her fans happier by giving them a tease of her upcoming project, "Happier Than Ever."
The Grammy winner posted a video on her Instagram account, which shows her sitting on a shell-shaped chair, looking at the camera while she sings, "When I'm away from you, I'm happier than ever" accompanied by tender guitar chords.
Eilish first teased the song in her documentary, Billie Eilish: The World's A Little Blurry, which is available to stream on Apple TV+. In the scene where the song was teased, Eilish and her older brother and songwriting partner, Finneas Baird O'Connell, harmonize the eponymous line.
While some thought that this would be her next single, Eilish surprised fans with a different song and released the folk ballad "Your Power." The rustic self-directed music video is a breath of fresh air.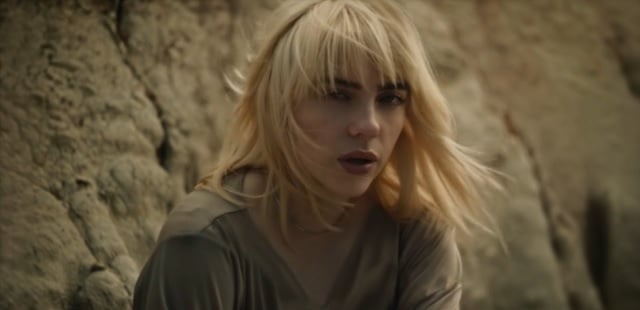 Photo credit: Billie Eilish/YouTube
Trigger warning for mentions of abuse: In some pretty honest songwriting, Eilish calls out people who exploit their power, particularly men who take advantage of younger women in the entertainment industry. The metaphor in the MV is a snake slithering around Billie.
She says of the song in the British Vogue interview, "It's about taking that power back, showing it off and not taking advantage with it. I'm not letting myself be owned anymore."
You can watch the music video for "Your Power" below.
In an Instagram post, Billie further talks about the song she says: "This is one of my favorite songs [that] I've ever written. I feel very vulnerable putting this one out because I hold it so close to my heart."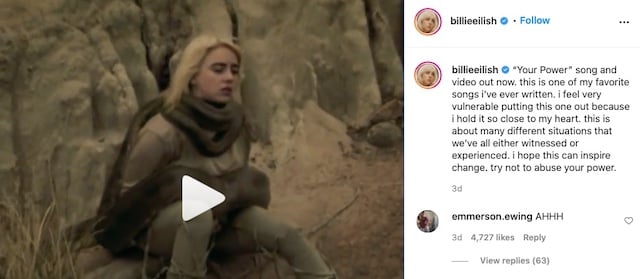 Photo credit: Billie Eilish/Instagram
For better appreciation of Eilish's message, here's an excerpt of the lyrics: "Try not to abuse your power. I know we didn't choose to change. You might not want to lose your power
but power isn't pain."
Kudos to the Grammy-winning singer for speaking up about this and empowering women through her new song. We can't wait to see what else her upcoming album "Happier Than Ever" has in store for us when it drops on July 30.
What do you think of Billie's new look? Are you looking forward to her new album?