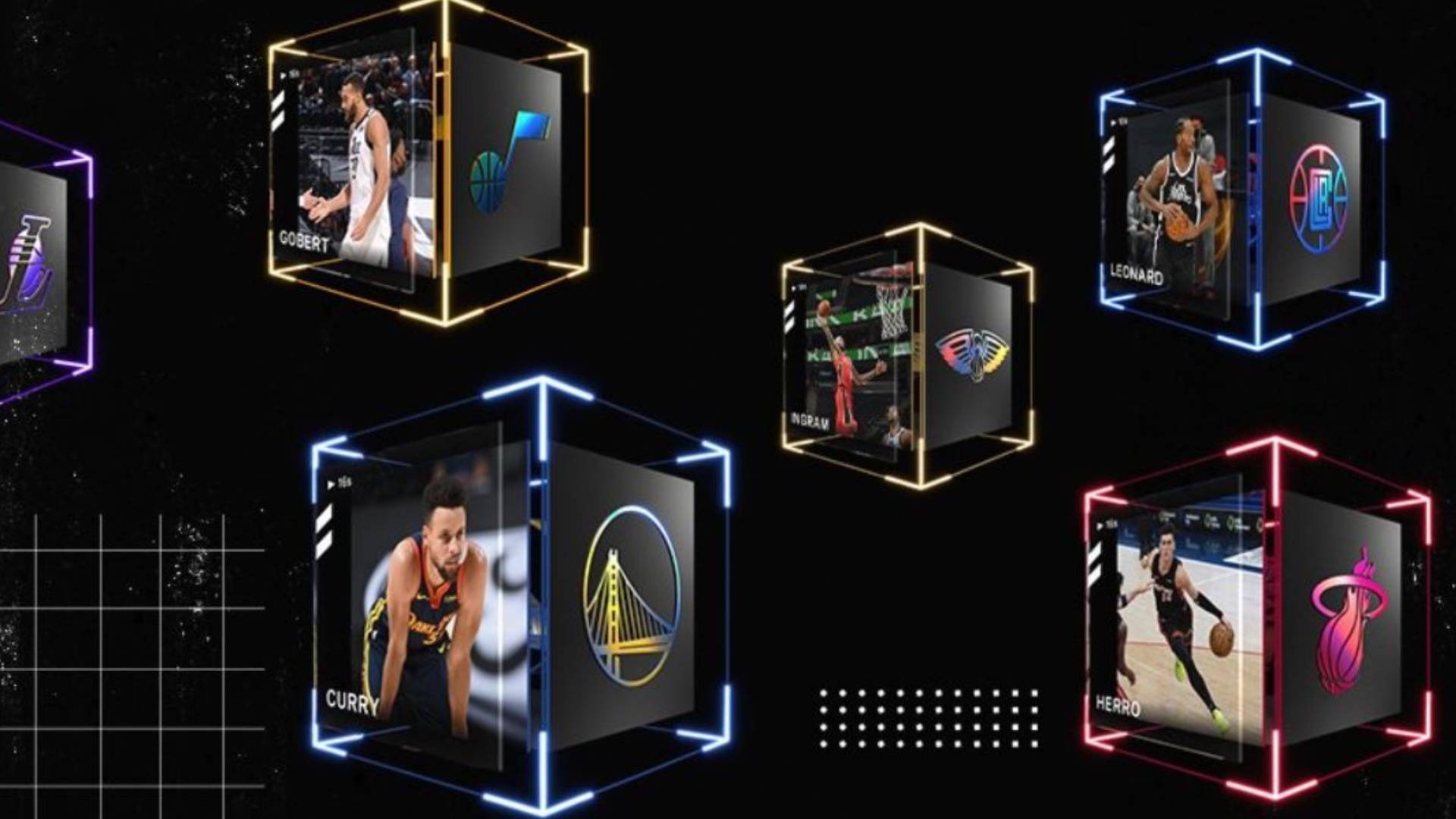 Photo credit: @nbatopshot/Twitter
By Kriel Ibarrola
It's no secret that everything has gone digital nowadays. Even the NBA card collecting scene has kept up with the times and has also evolved. Sure, trading cards will always have a market and will never go out of style, but there's a new craze sweeping basketball aficionados around the world, especially in the Philippines.
Enter NBA Top Shot, a blockchain-based platform that has disrupted the playing card market. It basically keeps the concept of traditional trading and collecting of cards. However, the new platform uses cryptocurrency through NFTs or non-fungible tokens to assess each card's worth.
NFTs allow buyers to own original digital assets and items, which initially started as a bonus feature among online games. Now, it has become quite a hit in the most recent souvenir sector boom, allowing NBA fans to own a real-time play in virtual space.
Since everything is virtual, each card offers a video highlight of a certain player, which Top Shot describes as "moments."
READ: Injuries are spoiling the 2021 NBA championship!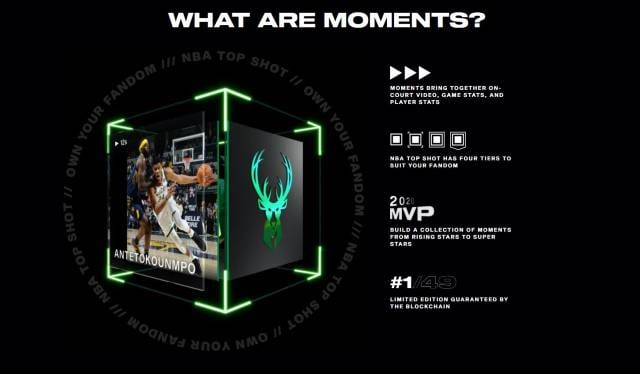 Photo credit: Screen grab from NBA Top Shot Website
Top Shot, in its simplest form, is like buying sports cards but in a video form. Here's what one NBA Top Shot moment looks like.
This is its biggest allure over traditional card trading, which usually just features a photo and signature of a certain superstar. Top Shop users can buy, sell, and trade their virtual assets to everyone online.
The league, itself, has given a strong push to Top Shot and partnered with its creators from Dapper Labs to boost its popularity.
In hindsight, Top Shot sounds awfully complicated over simple card collecting. However, it does have its advantages over its predecessor.
The idea of traditional card collecting is pretty much straightforward. You buy or trade for a certain card, keep it in pristine condition, and hope its value skyrockets in the coming years before selling it for a ridiculous amount of money.
For some collectors, the fact that they own such rare pieces is rewarding enough on itself. The same concept pretty much goes for Top Shot. But since you don't really have a hard copy of your assets on your hands, you won't have to worry about it getting damaged or even losing it. Since everything is online, an unlikely glitch or possibly hackers are just your worst enemies.
Top Shot is relatively new—it started in 2019 and blew up just this year. So, it's not as lucrative just yet as some of the most expensive trading cards ever sold.
But make no mistake about it, it's getting there. No doubt Top Shot is the future of card collecting.
Even NBA players have gotten aboard the hype, with notable guys like Spencer Dinwiddie of the Brooklyn Nets, Denver Nuggets players JaVale McGee and Aaron Gordon, Garrett Temple of the Chicago Bulls, and Miami Heat teammates Andre Iguodala and Tyler Herro making sound investments with Dapper Labs.
Not convinced yet? Let's answer the most frequently asked questions about NBA Top Shot.
READ: How can we attract more customers using digital technology?
How does Top Shot classify each "moment"?
NBA cards are graded diligently, carefully checking factors like Centering, Corners, Edges, and Surface before getting a grade from 1 to 10.
Obviously, this does not exist in Top Shot. Instead, each fan gets to own a limited-edition version of one highlight in the form of a virtual card or video.
Each asset is classified depending on its rarity, uniqueness of the movement, and stock of the NBA player at the moment.
While card collectors always look for mint-condition pieces, Top Shot owners should look for Legendary Ones. The collectibles are valued at Common, Rare, or Legendary.
How do you buy a Top Shot moment?
Like trading cards, moments are also sold in packs. These highlights are randomly available on the Top Shot Website and usually range from $9 (P435) to $230 (over P11,000).
The allure of it all, of course, is opening the contents of each pack which contain multiple sets of highlights. If Lady Luck is your side, you can even obtain a six- figure value highlight. That's where the fun starts!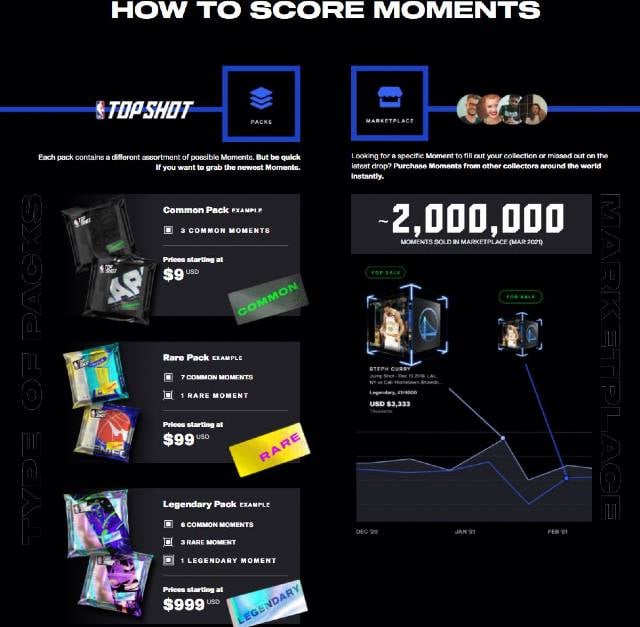 Photo credit: Screen grab from NBA Top Shot Website
However, these packs are not available every time. NBA Top Shot releases limited packs at a time and only one purchase per user is allowed (sucks for hoarders).
The schedule of pack drops is also usually announced close to its release dates, so collectors must be on their heels or they'll miss out.
Upon receiving, you can keep it for yourself and flex your virtual collection for others to see. But if you're looking to make some cash, you can also put it on sale in the platform's official market place.
Users can also participate in auctions, where each moment is sold to the highest bidder.
READ: Cybersecurity firm amplifies calls for improved security on technology amid continuous reliance this pandemic
What exactly is Top Shot's block chain technology?
Perhaps the biggest question mark surrounding Top Shot is its supposed block chain technology. For instance, aren't highlight videos of NBA players just available online for free?
Top Shot, however, offers these short clips in a different, not to mention more personalized packaging.
Technically, the NBA still owns the license of the actual player-made highlights in-game. However, the Top Shot platform allows users to own a version of the said clip and use it as a tradeable asset in their platform.
Hence, the Top Shots' message of allowing fans to "Witness the history and own the plays." Neat, huh?
Each clip is protected by block chain technology, making it difficult or impossible to change, hack, or cheat the system. A blockchain is like a digital ledger of transactions that is duplicated across a vast network of computer systems on the blockchain. This newfound technology has given birth to a lot of interesting opportunities, including blockchain art, among others.
Blockchain, however, rose to prominence by powering cryptocurrencies like Bitcoin. For those wondering how secure these videos are once it becomes your sole possession, blockchain is completely encrypted and impossible to duplicate.
An investment in a Top Shot card is completely yours as a collectible and an asset you can own forever.
Time to climb aboard the NBA Top Shot hype train, yes? Let us know if it'll impress you, too!
ALSO READ: These NBA trading cards are some of the most expensive ones ever sold