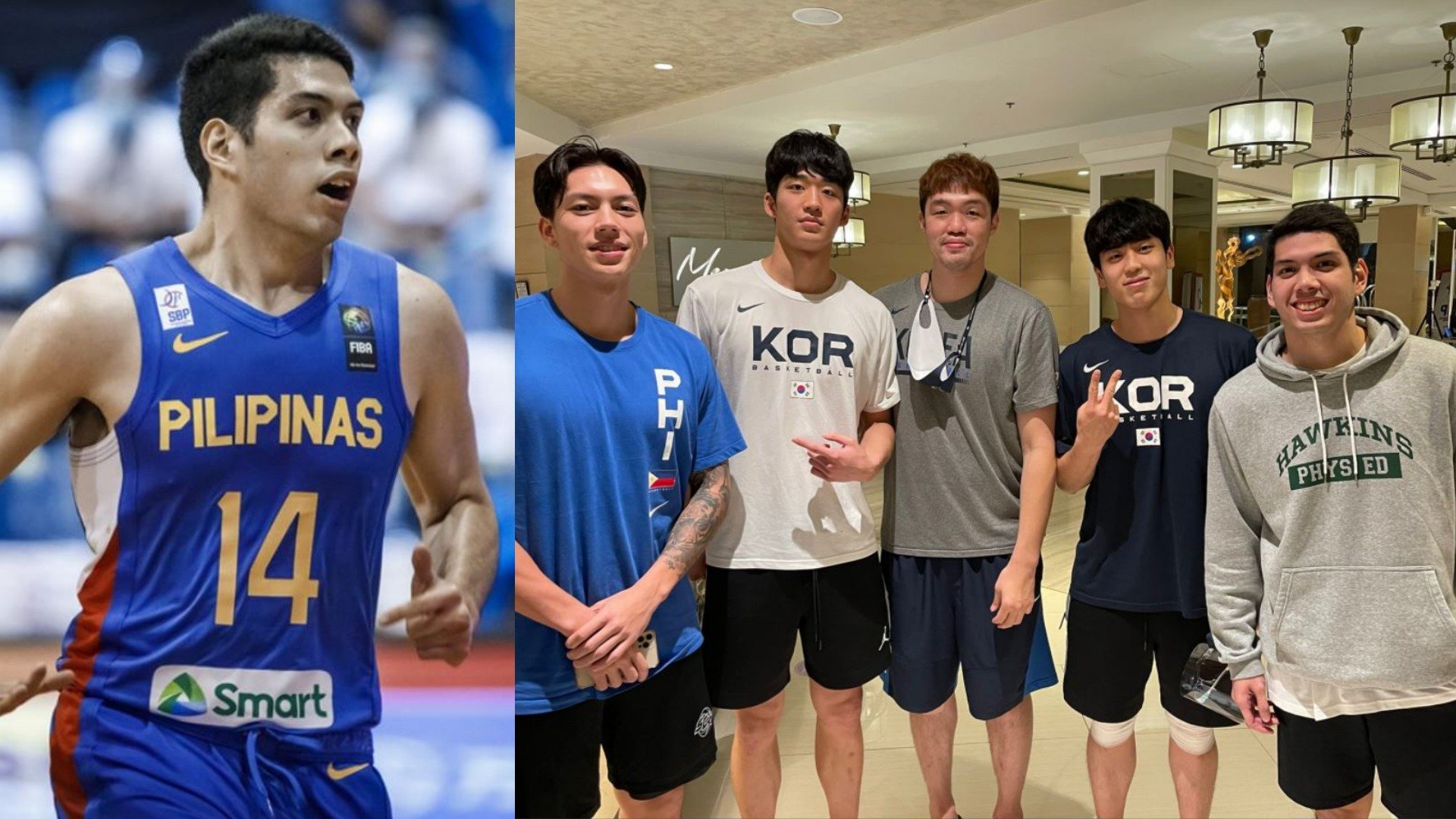 Photo credit: Fiba Asia/website, Mike Nieto/Twitter
In case you missed it: Gilas Pilipinas proved that their previous win over South Korea in the Fiba Asia World Cup Qualifiers was no fluke.
READ: In coach Tab, we trust! Baldwin back as Gilas bench boss
Remember that lucky shot remark uttered by the Korean head coach after their first encounter? Well, Gilas came out and made a statement with an 82-77 victory—their second in a row against SoKor in the final window of the tournament.
Chamba pala, ha?
Anyway, our Gilas boys turned the other cheek and were still gracious with their opponents after such an intense and heated battle.
Fans, of course, can't help but make BTS references the whole time. But as it turns out, even Gilas' own player is a certified ARMY member.
That's right! Mike Nieto made it clear that he was a loyal BTS supporter in an online message where he reminded overzealous fans to keep it respectful. While trash talking might be par for the course in these types of games, Nieto urged Pinoy fans to play nice with South Korea.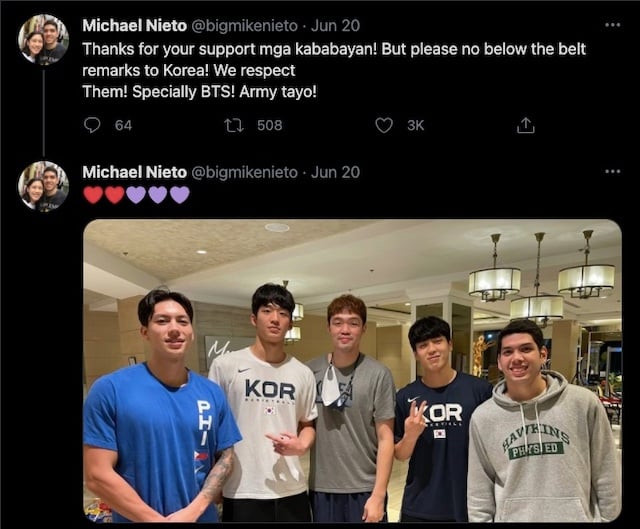 Photo credit: Mike Nieto/Twitter
In a Twitter post he said, "Thanks for your support, mga kababayan! But please, no below the belt remarks to Korea! We respect them! Especially BTS ARMY tayo!"
Nice one, Big Mike! Plus pogi points yan!
Big Mike, along with his Gilas teammate Dwight Ramos, even posed for photos with some players of the Korean national team after the match. Ramos and Nieto even showed these friendly rivals their biglaang song-and-dance cover of "Dynamite."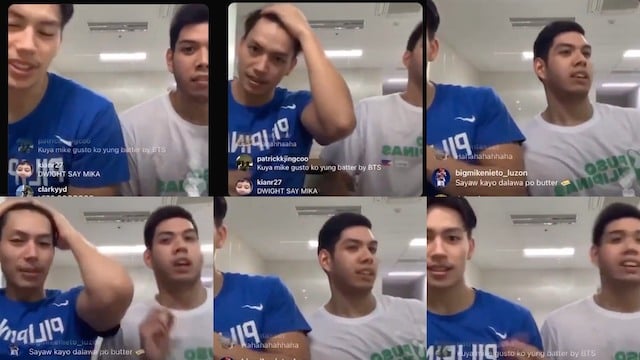 Photo credit: Mike Nieto/Instagram
Sobrang laughtrip na pinagalitan ni Mike Nieto si Dwight Ramos when the dude forgot the moves. Nieto said in true dude-pare-chong Atenista fashion, "You've forgotten na!"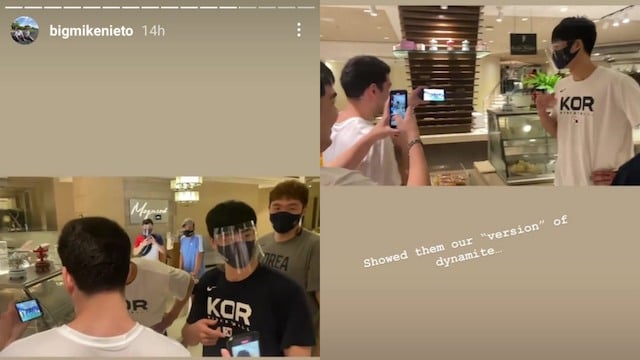 Photo credit: Mike Nieto/Instagram
Naks, laka maka-Borahae!
Now that's what good sportsmanship is all about! The new generation of Gilas players are truly winning on and off the court!
Nieto pitched in three points, three rebounds, two assists, and one steal in 13 minutes against SoKor. He brought a lot of positives for head coach Tab Baldwin that did not show up in the box score.
Ramos was definitely Gilas' best player this tourney, leading the team with 19 points (5-of-9 from a three-point field goal), along with 5 assists, and 3 boards.
There we have it! As Mike Nieto has proven, it's possible to be competitive and respectful at the same time. Plus, there's nothing wrong with flexing your K-POP fandom regardless of your chosen career! (Kung basketbolista nga di nahihiya, ikaw pa ba?)
Sino kaya ang bias ni Big Mike sa BTS? Nasubukan na ba niya ang BTS meal ng McDo?
READ: Borahae! McDO BTS meal breaks the Internet, PH ARMY love the sauces
Ikaw ba, are you a secret ARMY?