Photo credit: Atlanta Hawks/Instagram
Respect is earned not given. If there's one team in the league who has done their due diligence, it's definitely the Atlanta Hawks. The Trae Young-led team has now become the dark horse to win it all this season, following yet another Game 1 victory on the road.
That's right, it's three straight wins for the Hawks away from State Farm Arena, as they set the tone in the Eastern Conference Finals with a 116-113 win over the Milwaukee Bucks at Fiserv Forum.
The Hawks might as well call themselves Road Warriors, now. (Parang NLEX lang sa PBA!) Jokes aside, what the Hawks have done in this playoff are no laughing matter. If you're still not taking them seriously, you better do so now. This team has what it takes to go all the way.
READ: Show some respect for Trae Young and the Atlanta Hawks
To be fair to the Bucks, they managed 34 points, 12 rebounds, and nine assists from Giannis Antetokounmpo and 33 points and 10 dimes from Jrue Holiday.
Too bad the stats didn't measure up against the likes of Trae Young. He just dropped a career playoff high 48 points, along with 11 assists and seven rebounds.
Are we sure this guy is a playoff newbie? He and Devin Booker are absolutely killing it in their first playoff foray. Can you imagine a possible NBA Finals match-up between these two?
READ: Analyzing the last 4 teams left in the NBA playoffs
Young broke a lot of records in Game 1 and pulled off the most impressive feat of all: Tying LeBron James' record for most playoff points in a conference Finals at age 22 or younger.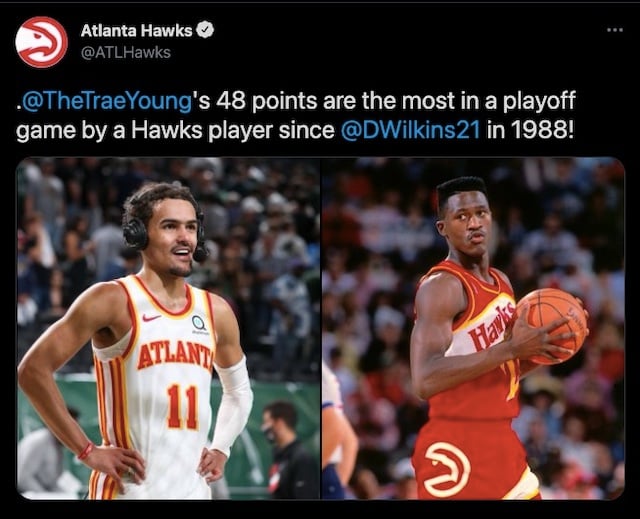 Photo credit: Atlanta Hawks/Twitter
His 48 points is also the second-highest scored by a Hawks player in playoff history since Dominique Wilkins in 1988! This dude can really ball!
The Hawks are now three wins away from their first Finals appearance in forever.
However, it's still not over for the Bucks. There are still plenty of games to be played and more opportunities to bounce back. But if they still fail to slow down Trae Young, they might as well wave the white flag right now.
What do you think about Trae Young and the Hawks' amazing playoff performance so far? Are you sold on the idea of them winning the title this year?