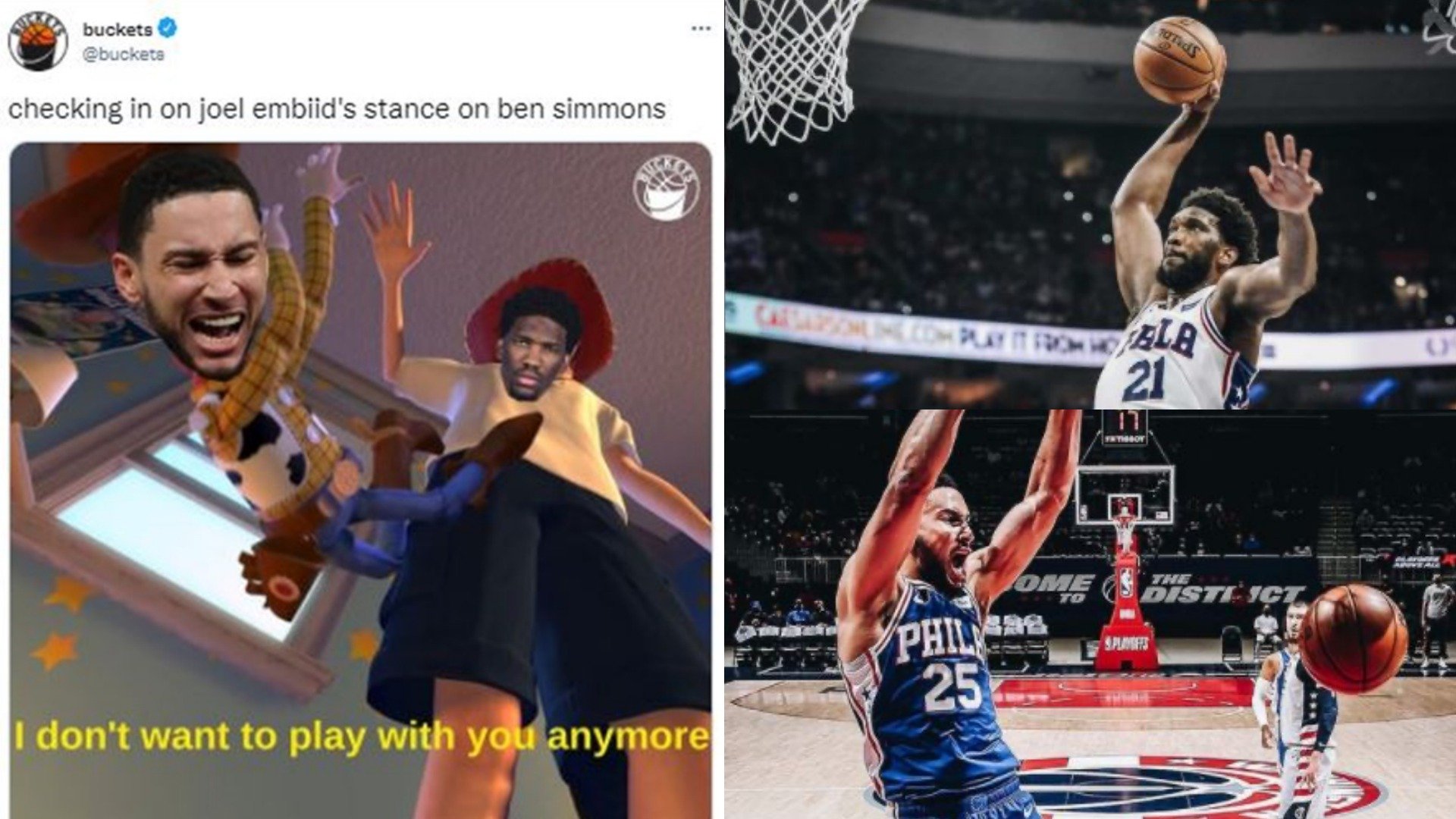 Photo credit: Philadelphia 76ers/Instagram, Buckets/Twitter
How the mighty have fallen! The Philadelphia 76ers joined the Utah Jazz in Cancun as the top two seeds of both conferences eliminated from playoff contention. Let that sink in first.
The last time both no.1 seeds failed to make it to the conference Finals dates back to 1994. Oof!
Anyway, trouble was brewing in the City of Brotherly Love the moment the Atlanta Hawks defeated the Sixers in Game 7, 104-99.
Post-match, a clearly disgruntled Joel Embiid vented his ire and pointed out the exact play that led to that stinging defeat.
To sum it up, he basically threw his fellow All-Star Ben Simmons under the bus!
JoJo told reporters, "I thought the turning point was when we—I don't know how to say it—but I thought the turning point was just we had an open shot and we made one free throw and we missed the other and then they came down and scored."
Dang, that's harsh! To jog your memory, here's the brain fart Simmons committed in the crucial juncture of the match. With under four minutes left in regulation, the Australian playmaker looked like he had a wide-open dunk or lay-up after getting past Danilo Gallinari.
But for some unthinkable reason, Simmons was gun-shy and opted to pass the ball instead. Anyare, Ben?! We know about your troubles from long range but passing up an easy point-blank look like that is just unthinkable.
To say that Ben Simmons was underwhelming throughout this entire series would be a HUGE understatement. He was just bad, man! It looked like his confidence was shot. He still collected rebounds and assists at a high rate but he failed to score more than 10 points in the final three games.
READ: How to cope when you're feeling salty about your NBA team's losing streak
That's not going to cut it at this stage, pal! That's absurd, especially coming for your supposed second-best player.
So, the burning question: Is Ben Simmons worth keeping around anymore?
Sure, having a 6'10" point guard opens up a lot of mismatches, but in this day and age, having a guy who can't shoot is just a major liability. We can forgive his lack of a 3-point shot. But that putrid free throw percentage? That's just inexcusable.
Simmons only made 34.2% of his free throws in the playoffs – the worst by a player in a minimum of 70 tries.
To be fair, the Sixers did think about trading Simmons back in January when James Harden was available. They decided not to pull the trigger, and Ben actually played great since then. He made it to his third All-Star team and was a runner-up for DPOY.
But with the way he played in this postseason, it's clear that the Sixers will be better off moving on from him. For sure, there will still be a lot of takers for the 24-year-old this summer.
So, do you think the Sixers should trade Ben Simmons this offseason? Or do you still believe that the Embiid-Simmons tandem can still work?