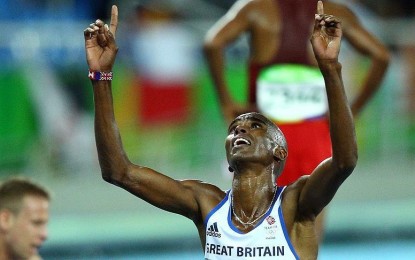 ANKARA – Britain's Olympic long-distance runner Sir Mo Farah has revealed that he was trafficked to the United Kingdom from Djibouti as a child.
In a new documentary, the winner of four gold medals said on Tuesday that he was flown over from the East African country when he was eight or nine years old and his real name is Hussein Abdi Kahin.
He claimed the Mohamed Farah name was given in the fake travel documents by the woman who was trafficking him.
Farah also said his mother and two brothers live in Somaliland, despite previously saying that he came to the UK from Somalia with his parents as a refugee.
"For years I just kept blocking it out," the 39-year-old said. "But you can only block it out for so long."
Farah won two gold medals in men's 10,000 meters and 5,000 meters at the 2012 London Olympics, two more in men's 10,000 meters and 5,000 meters at the 2016 Rio de Janeiro Olympics, representing Great Britain in both games. (Anadolu)