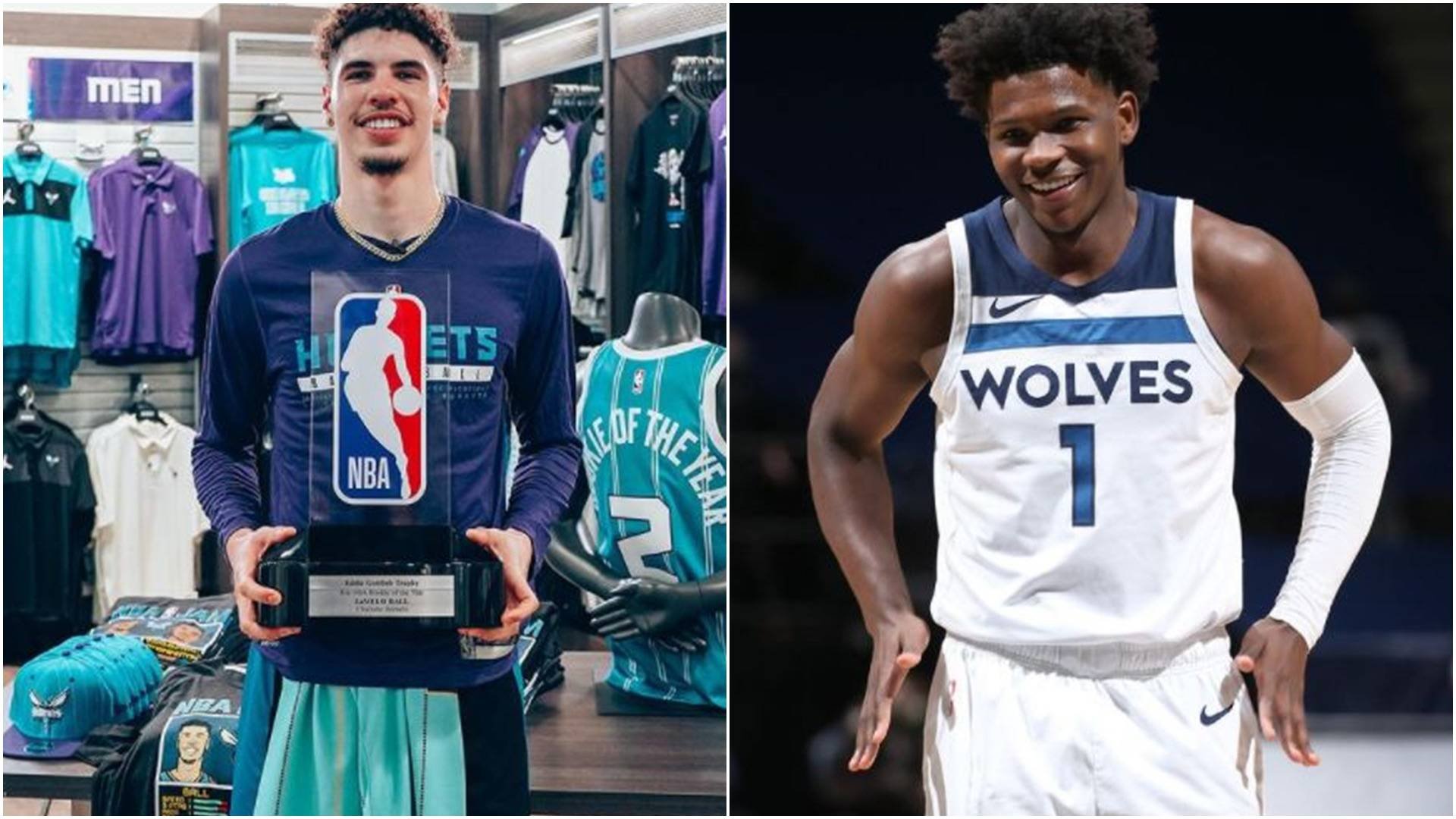 Photo credit: Hornets, Anthony Edwards/Instagram
By Krielf Ibarrola
The NBA saved the best for last, as it finally announced the winner of its final major individual award for the 2020-21 NBA season. Sure, the MVP is the biggest prize of them all, but no doubt the Rookie of The Year trophy this season might just be the most debated and contested one.
It all came down to equally impressive freshmen LaMelo Ball of the Charlotte Hornets and last year's no.1 overall selection Anthony Edwards of the Minnesota Timberwolves. They both deserve it, right? Why can't they just share the award like Elton Brand and Steve Francis last did in the 1999-2000 season?
Nope. There was only one winner this season: LaMelo. Fair enough. He did have an amazing rookie season, averaging 15.7 points, 5.9 rebounds, 6.1 assists, and 1.6 steals, while shooting 43.6% from the field and 35.2% from long distance in 51 regular season games. He was the clear-cut favorite from the get-go, as he separated himself from the pack early on.
However, Edwards eventually caught up to him and finished his first year as a pro with a bang. The 20-year-old swingman averaged 19.3 points on 41.7 percent shooting from the field and 32.9 from deep, along with 4.7 rebounds, 2.9 assists, and 1.1 steals in 72 games.
That's pretty good as well. Some might say those numbers are even better than Melo's!
Let's stoke the fire even more. Check out this side-by-side ROTY stat between the two frontrunners for the award.
READ: Hornets rookie LaMelo Ball has broken wrist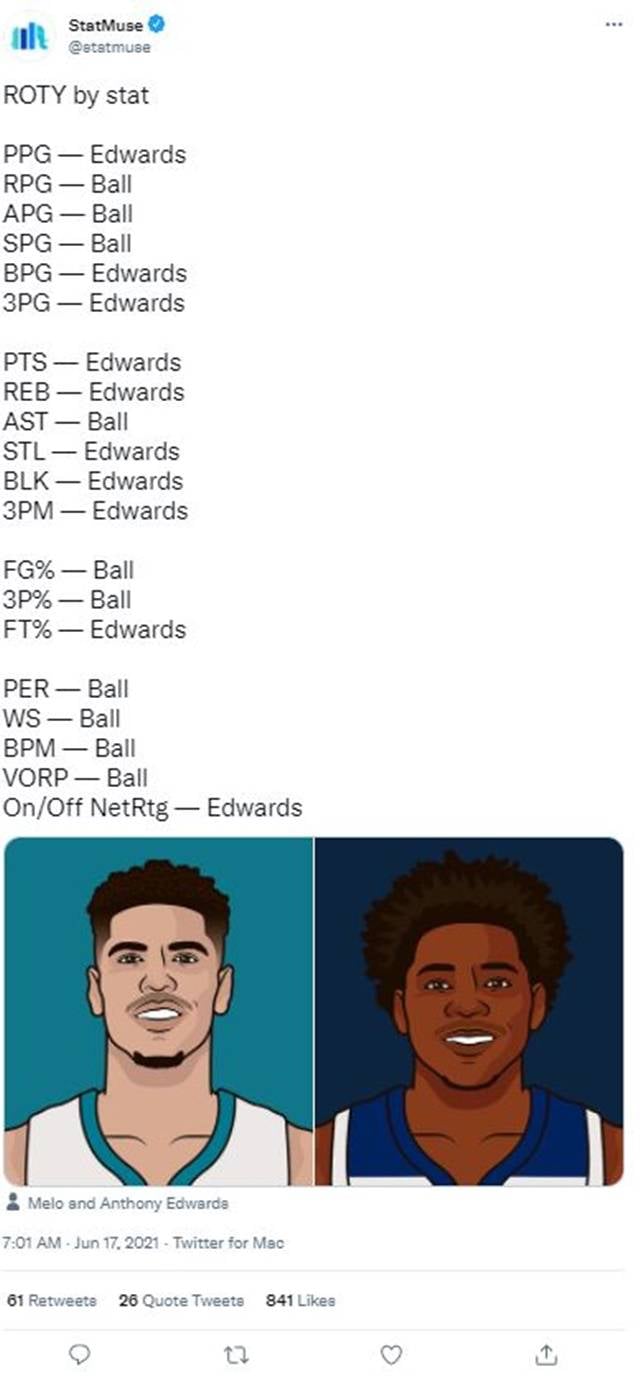 Photo credit: StatMuse/Twitter
Sheesh. That's really freaking close.
Some Edwards supporters even pointed out that the Wolves guard did play more games for his team than Melo did. Ball suffered a fractured wrist early on that sidelined him for several weeks.
As it turns out, Ball played in just 70.8% of the Hornets' total games this season, making him the ROY winner with the third-lowest figure in NBA history.
Edwards, on the other hand, actually kept Minny afloat when they dealt injuries of their own with All-Stars Karl Anthony-Towns and D'Angelo Russell.
So, did Melo really deserve winning the award over Edwards? It's close, but the short answer is still YES.
Ball impacted winning more. Sure, Charlotte and Minnesota both missed the playoffs, but it was the former who actually had a better chance and even qualified for the playoff play-in. Winning factors into the MVP voting, and no doubt it should also be considered for Rookie of the Year.
Let's not forget that Ball basically made the Hornets somehow "watchable" again this season. His talent and flair made for some must-see basketball and no doubt brought the buzz back inside The Hive.
Some pundits even claim that drafting Ball is the best front office decision made by Michael Jordan. As we all know, he hasn't really been as good an executive as he was a player. (Sorry, MJ.)
NBA fans, go ahead and explain to us your ROY pick!
ALSO READ: NBA's most sensational sets of siblings playing right now!