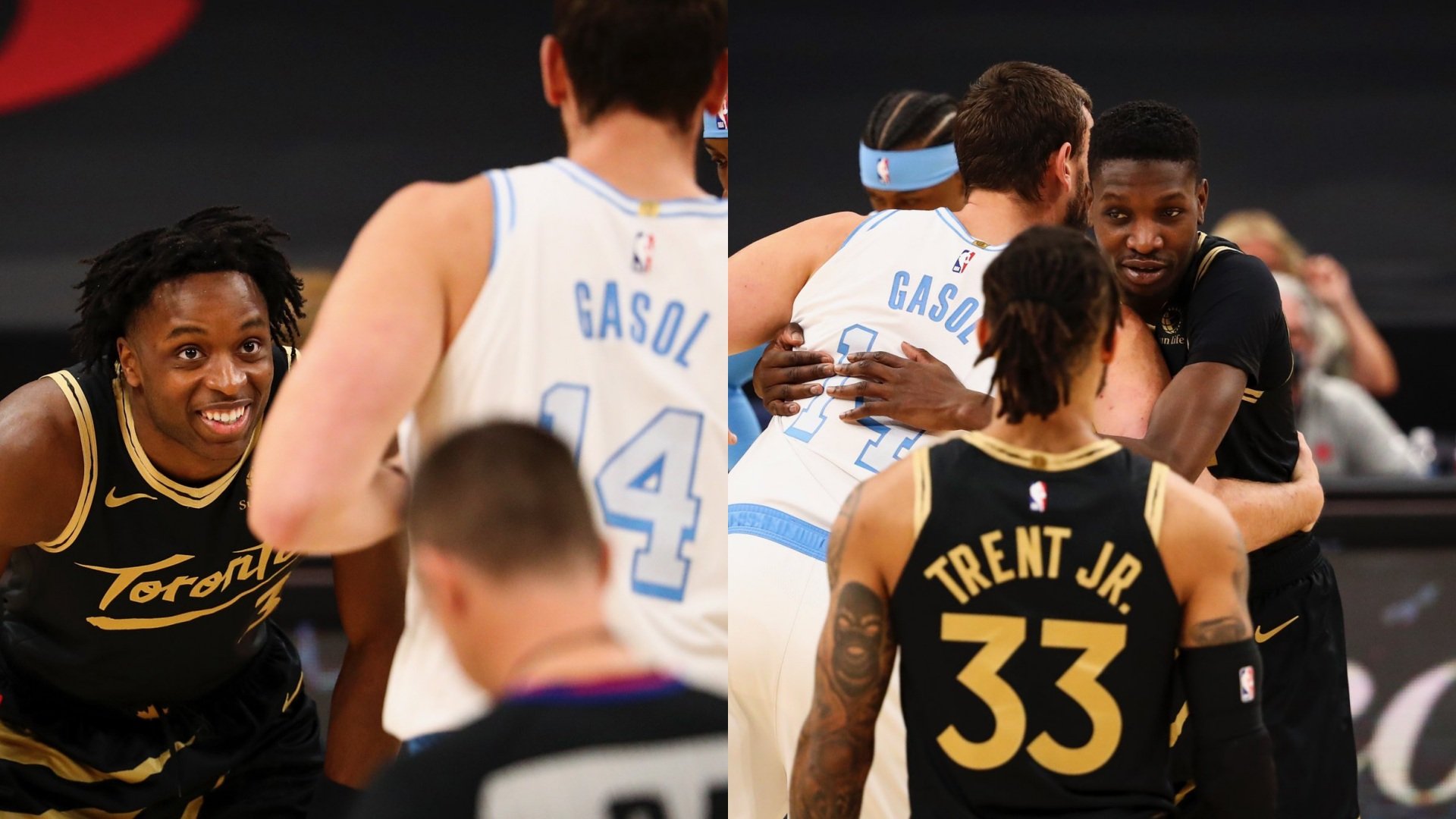 Photo credit: Raptors/Twitter
The Los Angeles Lakers carved out a 110-101 win over the Toronto Raptors at Amalie Arena in Tampa, Florida on April 6 (April 7, Philippine time) and here are some of the highlights from the game.
First off, former Raptors player Marc Gasol had an epic reunion with his old teammates and based on the photos, looks like they're still tight with each other.
Unfortunately, all the good bro vibes they were sending out for this match hit a snag when a brawl broke out on the court.
Photo credit: LakersReporter/Twitter
Lakers forward Montrezl Harrell and OG Anunoby of the Raptors hit the showers early after getting ejected in the first quarter of their match. Oof!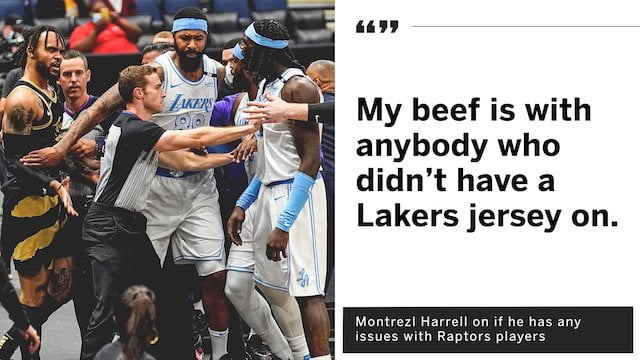 Photo credit: NBA on ESPN/Twitter
Play stopped at the 2:24 mark of the opening period when Lakers guard Dennis Schroder hit Anunoby with a hard foul on the fast break. Replays reveal that the German-born speedster held on to the Raptors swingman after the foul, to prevent him from falling over. Anunoby, however, did not take that gesture too kindly and retaliated by tossing him to the ground.
Tempers quickly flared as both players had to be separated by their teammates. Things got dicey when Raptors guard Gary Trent Jr. came over and engaged in a shoving match with the Lakers playmaker. Then Harrell ran over and had some choice words for several Raptors players. (Hassle!) Check out how it all went down in this video.
Anunoby and Harrell were both disqualified from the match while Schroder and Trent were assessed with technical fouls but remained in the game.
Despite losing the reigning Sixth Man of The Year, the Lakers still outplayed the home team for 48 minutes and escaped with the road win. Seven Laker players finished in double-figures, led by Talen Horton-Tucker who had 17 points, six assists, and four rebounds in 26 minutes of action. Phew! What a ride!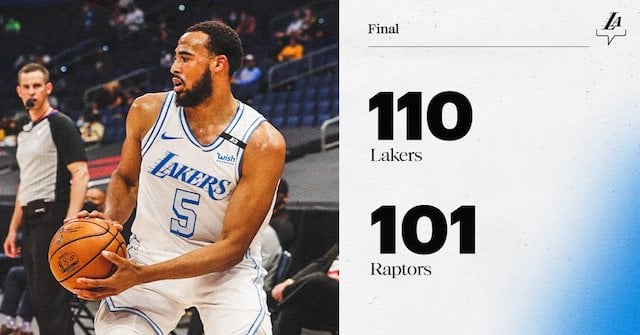 Photo credit: Lakers/Twitter
The Lakers vs. Raptors match was supposed to be an uneventful one given that both teams were missing a significant number of key players due to injuries. Both squads also hit a rough patch as of late with the Lakers dropping six of their last 10 games while the Raps are 3-7. Despite everything, it was still an entertaining watch.
The league will likely review the incident so this could be a wake-up call for both teams to square up and level up their game.
What did you think about the match? Which team were you rooting for?