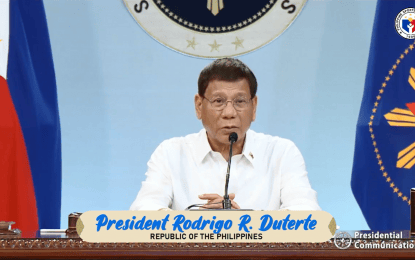 MANILA – President Rodrigo Duterte on Thursday wished the Philippines' six Paralympians good luck ahead of the Tokyo Paralympics slated from Aug. 24 to Sept. 5.
"My warmest greetings to our Philippine Paralympian Team. I am one with you as you present the best of our country at the Paralympic Games in Tokyo," Duterte said in a prerecorded message during the virtual send-off event.
Duterte said their participation showed the world that "anything is possible through hard work, determination, and solidarity."
"Rest assured the entire nation is behind you as you compete and show your capabilities…you really make our country proud. Mabuhay ang Philippine Paralympian Team!" he added.
Enjoy the moment
Philippine Sports Commission (PSC) Chairman William "Butch" Ramirez, for his part, reminded the Paralympian athletes that they were already "the best of the best", regardless of snagging any medals.
"Never forget that you are the best of the best. Out of many, the six of you get to represent the Philippines at the greatest athletic stage for Para athletes. The fact that you get there is a feat in itself. This is proof of how special you and your skills are," he said.
Ramirez also urged the Paralympians to "enjoy the moment" while competing against other nations.
"While carrying the flag and fighting for the honor of our country is indeed a great mission, please do not forget to enjoy the moment, experience the gains fully, have confidence that when you step on the arena, you are perfectly equipped, you are where God intended you to be," he added.
Ramirez said winning a gold medal is not "impossible" and that believing that they could win is already "half the battle won."
"When you get there, you know with every fiber of your being that you are all winners because you are. I have no doubt that you will make our country proud. We at the Philippine Sports Commission have believed this from the beginning that is why we have given you our support from the get-go," he said.
He also promised that he will join the entire nation in praying for the six Paralympians' success
"On behalf of the Philippine Sports Commission board, we wish you a great Paralympics campaign. The whole country will be praying for you and wishing for your success. Good luck and do not forget to have fun. We are proud of you at mahal namin kayo (and we love you)," he added.
Besides Duterte and Ramirez, former Philippine Paralympians and Olympic medalists Hidilyn Diaz (women's weightlifting), Carlo Paalam and Nesthy Petecio, and Eumir Marcial (boxing) also wished them good luck.
"Kaya kong manalo ng gold medal sa Olympics, alam ko pong kaya niyo rin. At alam ko pong pinaghirapan niyo po ang training niyo. Tiwalang-tiwala po kami magiging maganda ang laban niyo po at alam ko pong gagawin niyo yung best niyo sa competition kasi alam ko pong mahal niyo po ang ginagawa niyo at mahal niyo po ang Pilipinas (If I can win a gold medal in the Olympics, I know you can do it too. And I know you worked hard during training. We are confident that you will have a good competition and I know you will do your best because you love what you're doing and you love the Philippines)," Diaz said.
The Philippine Paralympic Team is composed of Ernie Gawilan and Gary Bejino (para swimming), Allain Ganapin (para taekwondo), Jeanette Aceveda, and Jerrold Mangliwan (para athletics), and Achelle Guion (para powerlifting).
This year's Paralympics will feature 540 events in 22 sports with the Philippines competing in only four disciplines. (PNA)