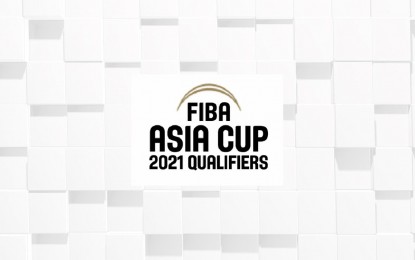 MANILA – The third window for Group A of the FIBA Asia Cup Qualifiers (ACQ) will be played in June, Samahang Basketbol ng Pilipinas (SBP) president Al Panlilio confirmed Tuesday.
"The FIBA Asia window that's supposed to happen this month has been moved to June," Panlilio, also the Meralco Bolts' team governor, said in an online press conference with fellow members of the Philippine Basketball Association (PBA) board and Commissioner Willie Marcial following their meeting at the league's office in Quezon City.
Originally scheduled for February, the games for Group A, where Gilas is a part of, have been heavily affected by the pandemic.
Following the implementation of travel restrictions on places that have been affected by the new United Kingdom variant, including South Korea, which is also in Group A, the SBP was prompted to let go of its supposed ACQ hosting, with Qatar stepping in.
However, Qatar had to beg off too as the number of its coronavirus cases has been rising, and the SBP eventually got its hosting rights back.
Panlilio added that the SBP is still finalizing the dates, although Executive Director Sonny Barrios said in the sports show Power and Play on Saturday that the plan is for the Group A window to take place from June 14-20 in Angeles City.
If the plan pushes through, the ACQ window will happen two weeks before Gilas heads to Belgrade for the Olympic Qualifying Tournament (OQT).
However, according to Panlilio, the SBP wants to begin the national team buildup as soon as possible.
"The intention of the program is to start the buildup quite early, maybe starting by this month, and we might go out internationally for some competitions," he said.
No PBA players for now
The tournaments that Gilas will join coincide with the PBA Philippine Cup.
PBA board chairman Ricky Vargas essentially ruled out the possibility of veteran pros making up the national team lineup for the June games.
"They would complete an all-Gilas (Cadets) team, and the PBA will not be asked to contribute any players other than those we have contributed already during the draft this year and in the previous draft," Vargas said, referring to 2019 draftees Isaac Go, Rey Suerte, Allyn Bulanadi, and twin brothers Matt and Mike Nieto, as well as this year's Gilas call-ups Tzaddy Rangel, Jordan Heading, Will Navarro, and Jaydee Tungcab.
Panlilio noted that bringing in pros could disrupt the PBA schedule.
"If you take a look at it if we really want to start training even as early as this month and the PBA would start its season in April, and this will go all the way to July 4, which is the last day of the OQT, it could completely descale the calendar of the PBA," he said.
Panlilio then said having a non-PBA Gilas team could be in for the long run.
"We're trying to put up a plan – and that's being thought of now – of an entirely non-PBA team using the five that we already drafted last (season) and the four that we would draft this year – so that's nine – and if you put the name of Ange Kouame there, potentially also Kai Sotto, and some of the college players, which we're working on with the schools so that we would get clearances from them, I think we can come up with a 20, if not a list of 25 names that can enter the bubble as early as the end of the month to start the training," he said. (PNA)