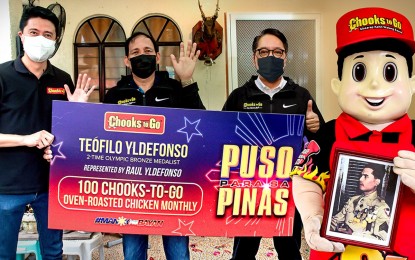 MANILA – Chooks-to-Go has honored another Filipino Olympic legend, no less than the Philippines' first Olympic medalist Teofilo Yldefonso.
In a posthumous manner, Yldefonso has been feted by Chooks-to-Go president Ronald Mascariñas who rewarded his family with a monthly supply of 100 oven-roasted chickens.
Raul Yldefonso, Teofilo's great-great-grandson, received the reward on behalf of the clan, which is residing in Piddig, Ilocos Norte.
Teofilo put the Philippines in the all-time medal tally after winning a bronze medal in the 200-meter breaststroke swimming event in the 1928 Amsterdam Olympics.
Yldefonso would repeat in 1932 in Los Angeles, winning another bronze to become the first Filipino to capture multiple medals, a feat that was only repeated 89 years later when weightlifter Hidilyn followed up on her 2016 Rio Olympics silver with the Philippines' first-ever Olympic gold in Tokyo last July.
Yldefonso is not just a sports hero but also a war hero.
He was a member of the Philippine Scouts when World War II broke out during the early 1940s.
Following his arrest, Yldefonso was among those who survived the grueling "Bataan Death March", but it was after they arrived at the Capas Concentration Camp that he passed away at the age of 38.
"Teófilo is not just a sports hero but also a war hero during World War II," Mascariñas in a news release on Wednesday. "He was at the battlefront during World War II where he met his untimely demise."
Fast forward to the present, his descendants are looking to immortalize his legacy, even considering a plea for a statue to be built in his honor.
"As a great-grandson of Teófilo Yldefonso, I try to gather all memories of him, news articles, photographs, and see as well if we need to request again for a statue of him in Ilocos Norte because our clan takes pride in his being an Olympian and winning medals twice for the Republic of the Philippines is something that cannot be downplayed," Raul said. "As of now, I want a statue built on the marker for him in the very plaza of Piddig so that the youth will see and remember how Teófilo Yldefonso looks like."