Photo credit: James Wiseman/Instagram
The injury bug just won't leave the Golden State Warriors alone this season! In another unfortunate development for Dub Nation, Warriors' prized rookie James Wiseman is expected to miss the rest of the 2020-2021 NBA campaign due to a torn meniscus on his right knee.
It didn't look good for Wiseman and the Warriors the moment that he landed awkwardly in their match against the Houston Rockets.
The center player had a look of agony on his face, as he went down hard after this failed dunk attempt.
Losing Wiseman will be a huge blow for Golden State, a team that is already struggling a bit at the moment. Despite superstar Stephen Curry's virtuoso performances as of late, the Warriors are still the 10th in the loaded Western Conference with a 25-28 slate.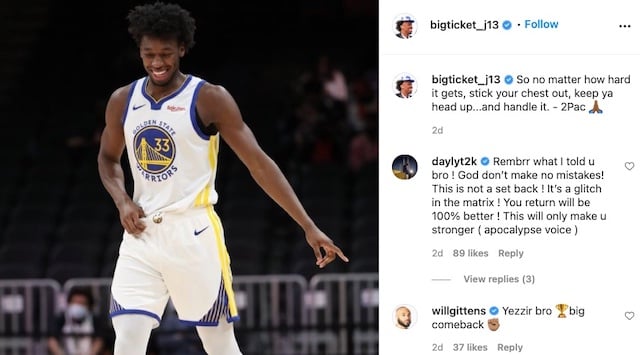 Photo credit: James Wiseman/Instagram
While Wiseman has yet to live up to his billing as the second overall pick in last year's draft, we've seen flashes of brilliance from him from time to time.
In the 39 games he's played in Oakland, Wiseman notched 11.5 points and 5.8 boards on 51.9 % shooting from the field.
Wiseman, meanwhile, is not the only high-profile rookie dealing with injury woes this season. Rookie of The Year frontrunner LaMelo Ball of the Charlotte Hornets broke his wrist last month.
But unlike Wiseman who is expected to be done for the year, Melo could still possibly join his team if they make the playoffs.
Despite the circumstances, Wiseman has kept a positive attitude regarding his recovery even quoting the iconic Tupac in his recent post saying, "'So no matter how hard it gets, stick your chest out, keep ya head up...and handle it.' - 2Pac"
Can the Warriors still make the playoffs without Wiseman anchoring the middle?