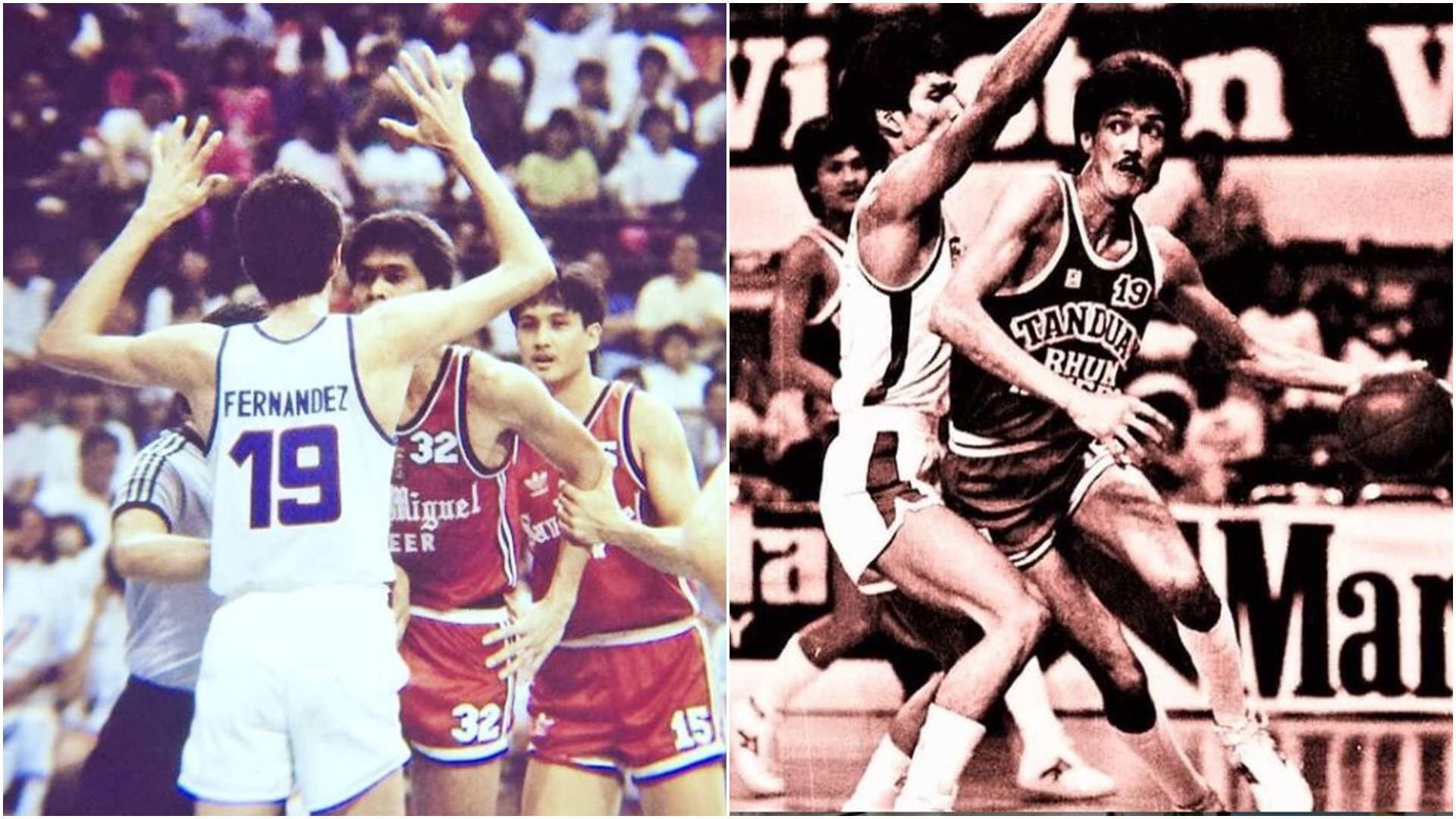 Photo credit: PH Sports Bureau/Instagram
By Kriel Ibarrola
The Philippine Basketball Association (PBA) finally returned for its 46th season last July 17.
The fandom is likewise back. Of course, nowadays, Pinoy basketball fans look up to June Mar Fajardo, Paul Lee, and Stanley Pringle, just to name a few. But before these superstars became the face of Pinoy basketball, there were a lot of great homegrown talents that paved the way for them.
So, to the younger millennials and Gen Zs, here's some history lesson ahead as we put the spotlight on the best PBA legends… ever. Meet the real OG's of Philippine basketball! For Baby Boomers naman, come and take a trip down memory lane with us!
Have you ever seen that TikTok trend of building your own NBA super team? We'll be doing that in this piece, as we select the best Filipino All-Time Starting five from the Mt. Rushmore of PBA greats!
READ: TNT's Chot Reyes still adjusting to PBA coaching return
Center: Ramon Fernandez
As if there was any doubt who would be the man in the middle for our best PBA team of all time. Ramon Fernandez was a player well ahead of his time. For Filipinos in the 70s and the 80s, he was the local Kareem Abdul-Jabbar and Wilt Chamberlain.
Yes, he's that good! Itanong mo pa sa erpats mo!
Like Kareem who still holds the NBA's scoring record, the man dubbed as "El Presidente" is also recognized as the PBA's best scorer. Fernadez totalled 18, 996 points lang naman during his storied professional career. That's not all, he is also the all-time leader in rebounds (8,652), and blocks (1,853). All in all, Fernandez is a 19-time PBA champion.
This man can do it all. Granted he was nowhere as big as the two NBA legends (Fernandez was only 6-foot-4), he really played much bigger than his size. Way before imports came into the league, it was El Presidente who showcased what dominance is all about.
Aside from his unstoppable array of moves down low, Fernandez has terrific handles for a big man and was also a creative passer. What more could you ask for?
Honorable mentions: June Mar Fajardo, Benjie Paras, Philip Cesar, Asi Taulava
Power Forward: Abet Guidaben
The Crispa Redmanizers was pretty much the Philippines' own Boston Celtics team in the early goings of the PBA. They were just simply indestructible, as they ruled the 70s. They even had their own Bill Russell too, in the form of Abet Guidaben.
The 16-time PBA champion wasn't actually the team's top guy at first, taking a backseat to his star-studded teammates like Philip Cezar, Bogz Adornado, and Atoy Co. However, he went on to have one of the best careers in history that even rivalled Fernandez'.
Guidaben is the PBA's second-leading scorer and one of the league's earliest in-game dunkers. Nowadays, it's a shame that Guidaben's name doesn't ring a bell for fans of this generation.
He was as low-key as they come and just let his no-nonsense game do the talking for him. But make no mistake about it, he is one of the GOATS of Philippine basketball.
Can you imagine a frontline tandem of Guidaben and his former rival Fernandez?
Honorable mentions: Noli Locsin, Nelson Asaytono, Chito Loyzaga, Jerry Codiñera
READ: TrueID launches free live TV streaming with PBA Rush
Small forward: Alvin Patrimonio
The Captain. Lionheart. All these monikers best describe what Alvin Patrimonio is all about. Blessed not just with movie star good looks, Patrimonio was pretty much the league's LeBron James at the height of his dominance in the late 80s and 90s.
Patrimonio was a walking mismatch for opposing defenders. He overpowered forwards and even centers, all the while being more agile and having more finesse than some of the league's best guards.
Moreover, the man was clutch. You could always depend on him to make the big shot or the right play when the game was on the line. On top of it all, he was extremely durable. Patrimonio once held the record for most consecutive games played at 596—which was eventually edged by LA Tenorio.
Honorable mentions Bogs Adornado, Samboy Lim, Vergel Meneses, Jojo Lastimosa
Shooting guard: Atoy Co
Before he became a politician and even had some comedic roles on TV, there was a time when Atoy Co was practically the best shooting guard in the country.
Your tatays or even lolos probably remember the times when they tried to mimic the 6"2' guard's trademark turnaround fadeaway jump shot after watching him play.
If there's one word to describe Co's game, it was SMOOTH. He was a walking bucket, capable of generating points at will at times. While his deadly jumper was his best asset, Co was also extremely crafty and could easily get himself inside for easy points.
The Fortune Cookie was a consummate winner and was even the first Filipino to score 5,000 and 10,000 points in the PBA.
Honorable mentions: Allan Caidic, Ato Agustin, Francis Arnaiz , Freddie Hubalde, Kenneth Duremdes
Point guard: Robert Jaworski
A big reason behind Ginebra's popularity is because the Filipino fans can appreciate the Never Say Die attitude. If NSD was a person, it would no doubt be Robert Jaworski.
For the younger audience, you probably recognize Jawo as that instrumental figure who sometimes appears in Ginebra games and gives the team inspirational speeches.
But back in the day, he gave those on the court, in a fiery and explicit manner. Skills wise, there's actually a lot of more talented floor generals than Jaworski in PBA history.
His game is not flashy by any means, but practically embodied what winning basketball was all about. Jawo was a lockdown defender who could cover multiple positions. He had great size at the PG position and even directed Ginebra's offense a la Magic Johnson.
His basketball IQ and feel for the game was extraordinary, and no one could defeat Jawo when it came to mental warfare on the court. Heck, the man even assumed the role of playing coach at one point.
Even Chris Paul hasn't done that. Jawo is truly the Philippines' point god and would no doubt be the perfect guy to lead this amazing All-time Starting Five.
Honorable mentions: Johnny Abarrientos, Ricardo Brown, Jimmy Alapag, Ronnie Magsanoc
Do you agree with our picks? Tell us yours! While at it, you can follow the newest batch of Filipino basketball stars on PBA Rush—now streaming live on True ID!
ALSO READ: Pinoy Sakuragi, The Kraken, & other fascinating nicknames of PBA players today