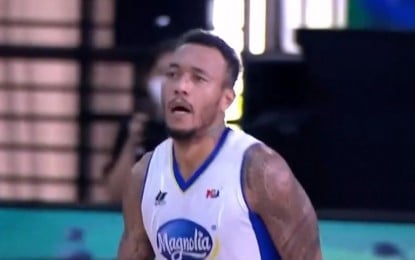 MANILA – Calvin Abueva has been named the 2021 PBA Philippine Cup Best Player of the Conference.
The announcement was made prior to Game 4 of the championship series between Magnolia and TNT.
Abueva tallied a total of 934 points after all the votes from the media, the players, and the PBA Commissioner's Office have been collected and tabulated together with the statistical points, beating Mikey Williams, Ian Sangalang, Robert Bolick, and June Mar Fajardo.
Abueva led the pack in the stat sheet up to the semifinals, getting 415 statistical points or 34.2 per game on average.
Abueva, who helped the Hotshots make a return to the Philippine Cup Finals, averaged 15.2 points, 10 rebounds, 2.8 assists, 1.0 steal, and 1.1 blocks per game up to the semis.
He also won the media votes after getting 33 first-place votes and eventually getting a total of 440 points from the said votes, which were enough to beat Williams, who despite being fourth in the stats race got the nod from the players and the league's front office.
Williams won a tight contest against Abueva in the player votes with 14 first-place votes against Abueva's 12 for an eventual total of 59 points against the 54 of Abueva,
Williams got the full 150 points from the commissioner's office, while Abueva was given the third-place vote for 25 points.
However, Williams only got 245 points from the media after getting only three first-place votes against 32 second-place votes, giving him a grand total of 843 points.
Sangalang finished in third with 591 points on 35 third-place votes from the media, 12 second-place votes from the players and the second-place vote from the PBA.
Bolick, who came in second in the stats race, fell to the fourth spot with 447 points after only getting one second-place vote from the media and 14 second-place votes from the players.
Fajardo came in fifth with 403.
This is Abueva's second BPC award, having won the 2016 Commissioner's Cup plum. (PNA)