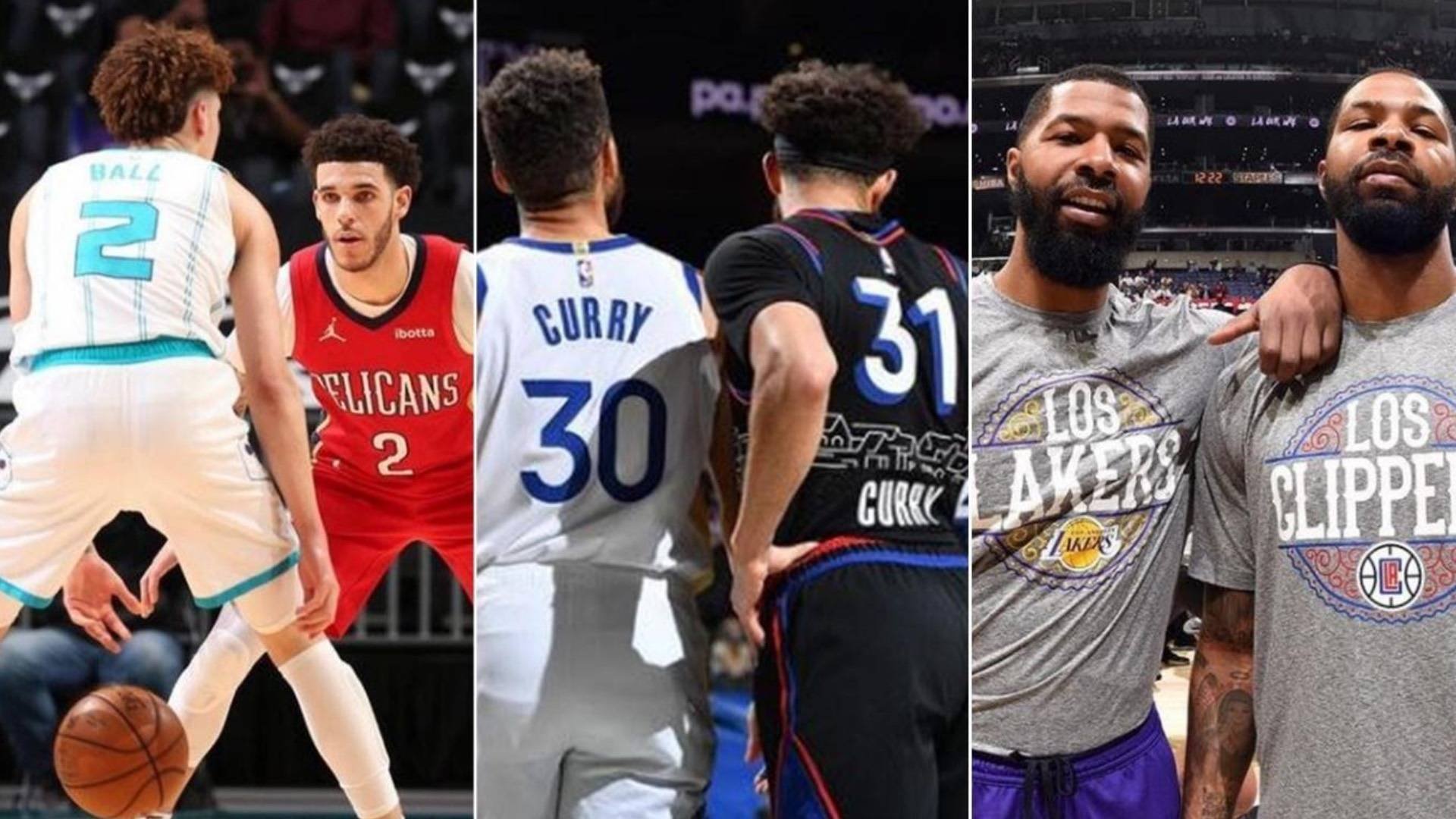 Photo credit: LaMelo Ball, Seth Curry, Marcus Morris/Instagram
By Kriel Ibarrola
We all have our definition of #SiblingGoals, special mention to our bros and sisters with whom we may not often get along but who almost always have our backs. For professional athletes, perhaps there's nothing that exudes more pride than literally having a sibling playing alongside them in the highest level of their sport.
The NBA is no stranger to employing closely related players over the years.
Remember those intense backyard 1-on-1's we had with our kuyas and younger brothers? The NBA gave a lot of special players the platform to take sibling rivalry to new heights.
While we still have yet to see the first father and son duo to play league (LeBron wants to be the first one when Bronny comes of age), we've seen plenty of brothers playing against each other or sometimes even play in the same team.
Currently there are 10 sets of siblings active in the NBA. Get to know more about these tandems and trios personifying #siblinggoals in the big league!
READ: Why the Bucks are so much more than just #TeamGiannis
The AntetokounmBros (Giannis, Thanasis, and Kostas)
Two's company but three's a crowd, right? Well, not exactly for the Antetokounmpo household. After all, the five male siblings are all professional athletes, with three of them currently in the NBA right now.
Giannis, of course, needs no introduction—he's currently playing with his kuya Thanasis with the Milwaukee Bucks. Their young utol Kostas is currently in his second year with reigning NBA champions Los Angeles Lakers.
Imagine what an Antetokounmpo family gathering must be like!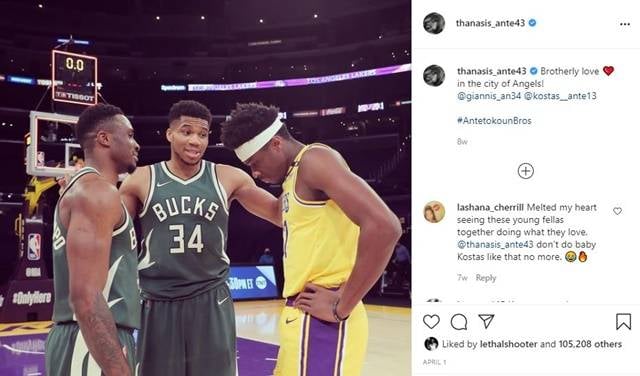 Photo credit: Thanasis Antetokounmpo/Instagram
Before earning millions of bucks (pun intended) as ball players, the Antetokounmpos basically came from nothing. Thanasis and Giannis even resorted to selling products like DVDs, watches, and sunglasses in the streets of Athens, Greece just to get by.
There were even stories about how the brothers had to share a pair of basketball shoes when they were young. Look how far they've come! Heck, Giannis even has his own signature shoes with Nike right now.
While Giannis and Thanasis have more star power, it's actually Kostas who first won an NBA championship in the fam. He probably flexes his championship ring to his kuyas every chance he could.
The Antetokounmbros have an older sibling named Francis who used to play soccer professionally, while the youngest Alex is currently playing basketball in Spanish Liga ACB.
The Holidays (Jrue, Justin, Aaron)
The Antetokounmpos are not the only trio of brothers in the NBA right now. As a matter of fact, the Holidays can give them a run for their money. Would you like to see a 3x3 game between these brothers?

Photo credit: Justin Holiday/Instagram
Justin and Aaron are teammates with the Indiana Pacers. A reunion with their older brother Jrue has actually become more frequent this season, since he also moved to the Eastern Conference after signing with the Bucks over the summer.
Sayang, we won't see them battle in the playoffs since the Pacers were eliminated in the play-in tournament. Jrue, meanwhile, was a big reason why the Bucks managed to sweep the Miami Heat in the first round.
Morris twins (Markieff and Marcus)
As far as notorious reputations go, the Morris twins do have that distinction as tough guys in the NBA. Aside from their similarities in play style as capable stretch forwards, Markieff and Marcus are so much alike.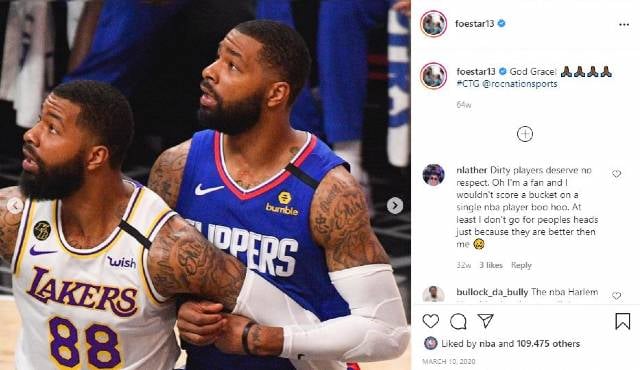 Photo credit: Marcus Morris/Instagram
It wasn't enough that it's hard to distinguish the two since they are identical twins. They even have the same exact tattoos on their body (and we're talking about massive ink, here). How crazy is that?
To this day, the Morris twins also revealed that they still share the same bank account. Less hassle nga naman, di ba?
There was even a time where they played together for the Phoenix Suns. However, Markieff's relationship with the team soured after they traded away Marcus without his permission. Eventually, he also demanded to be traded as well.
Nowadays, they're cool playing against each other. They even found themselves in the middle of the Battle of LA rivalry, since Kieff plays for the Lakers while Marcus is with the Clippers.
The Currys (Steph and Seth)
Ah, perhaps the most popular one in the league today.
While Steph does have a proverbial Splash Brother in Klay Thompson, they're not really blood related. The Golden State Warriors superstar's real brother is Seth Curry of the Philadelphia 76ers.
These two elite shooters were honed by their old man Del, who also just happened to be quite the sniper back in his playing days. Kanino pa ba magmamana?

Photo credit: Seth Curry/Instagram
As kids, Steph and Seth have had their fair share of basketball skirmishes in the garage. Now, they are both lighting it up in the biggest stage of basketball.
Steph could be seen as far more successful, since he's already a three-time NBA champion and two-time (possibly three-time) MVP. Seth, however, has also emerged out of the shadows of his kuya and has become a decent role player in the league. The younger Curry is a big part of the Sixers' success right now!
READ: Steph vs. Seth! Let's talk about the Curry brothers
The Ball bros (Lonzo and LaMelo)
Lonzo and LaMelo are just in their first year being together in the NBA, but are already rivaling the popularity of the Curry brothers.
Zo built quite the hype during his early years with the Lakers (his father LaVar made sure of that). Melo, on the other hand, took the league by storm this season and may very well run away with the Rookie of the Year award after his incredible year for the Charlotte Hornets.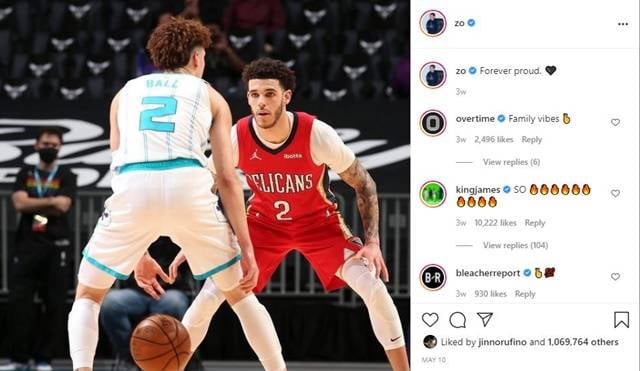 Photo credit: Lonzo Ball/Instagram
Most believe Melo is already better than his big bro right now. Although Lonzo silently had a terrific season for the New Orleans Pelicans.
But if LaVar had his way, the third Ball LiAngelo, the middle child, should also be in the NBA. The Detroit Pistons did give him a shot in the offseason as a practice player, but he did not make the cut.
Lopez twins (Brook and Robin)
The tallest brothers on this list. Brook and Robin are another set of identical twins who just both happen to be 7-foot tall.
However, we can easily identify which is which because Robin sports that massive lump of curly hair, while Brook opts for the clean look. That's by design, too. Robin has often joked that his family could only afford giving one twin a haircut when they were growing up.
An interesting dynamic between the Lopez twins: They seem to hate each other, or at least they act like it in public.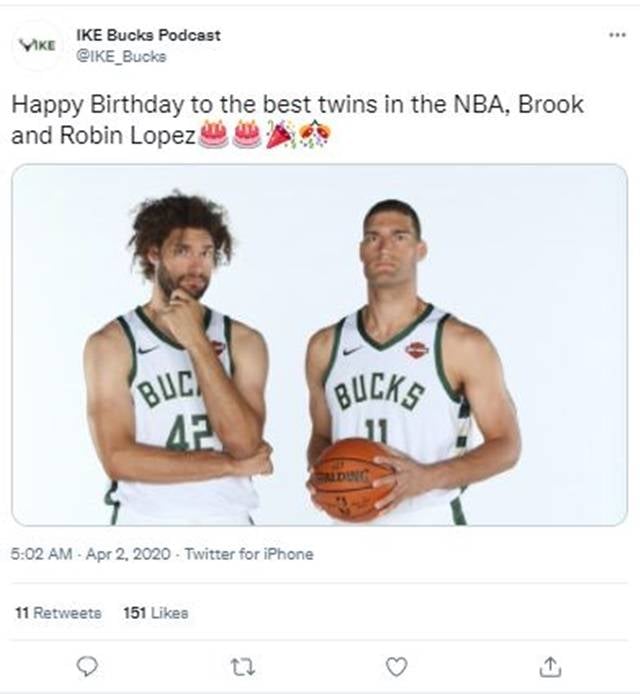 Photo credit: IKE_Bukcs/Twitter
Of course, it is a ruse but it's always amusing to see these two exchange some brotherly banter. Brook is the better of the two since he's a one-time All-Star. While Robin may not be as polished as his other half, he's become a reliable backup center throughout his career.
They were teammates with the Bucks last year. Would you like to see the Lopez brothers reunited at some point?
Caleb and Cody Martin
Yup, we have more twins for you. Caleb and Cody are the latest set of duplicates in the league. Every time we watch a Hornets game, it's like we're seeing double. That's how much they resemble one another.
Like the Morris twins, the Martins also play similar styles as good 3-and-D players. The two swingmen are the same age (duh), height, and even have the same braided hairstyle.
Photo credit: Cody Martin/Instagram
While Cody was the only one who got drafted back in 2018, Charlotte knew they were pretty much a two-in-one deal. End game: A team-up of siblings in the pros!
READ: Suns take NBA Finals opener
Tyus and Tre Jones
Tyus Jones has already been around for a few years before welcoming the bunso of the family tree, Tre, to the NBA this season. Granted that the younger Jones hasn't had much opportunity to showcase his skills for the San Antonio Spurs in his rookie year, he should learn a lot from the legendary Gregg Popovich.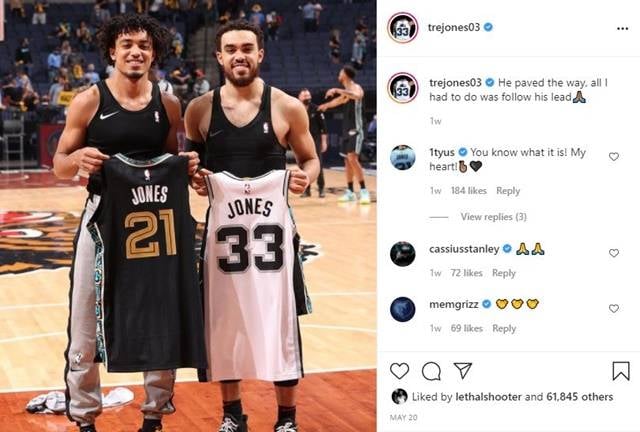 Photo credit: Tre Jones/Instagram
The Hernangomez(es) Juancho and Willy
Although the famed Gasol brothers (Marc and Pau) are no longer in the NBA together, Spain is still well represented by the Hernangomez siblings. Juancho is currently playing for the Minnesota Timberwolves, while Willy is a back-up center for the New Orleans Pelicans.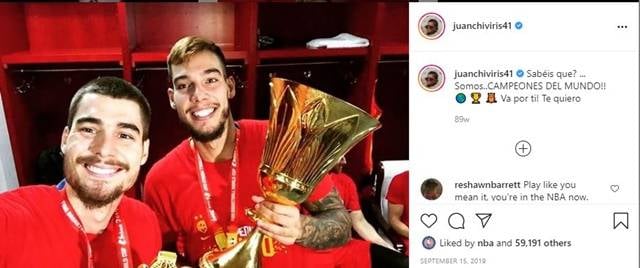 Photo credit: Juancho Hernangomez/Instagram
However, these two bros have since been back in their home country too early since both their teams did not qualify for the playoffs.
Jalen and Jaden McDaniels
Rounding up our list are Jaden and Jalen. These two lanky, athletic bigs were picked late in their respective drafts but have somehow earned some minutes in their teams' rotations.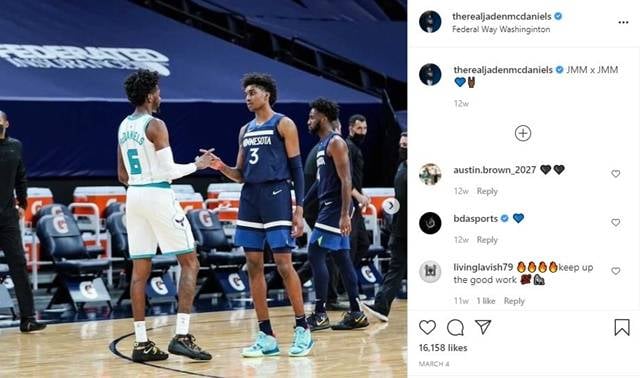 Photo credit: Jaden McDaniels/Instagram
Looks like hard work is quite big in the McDaniels household. If they continue progressing, both Jalen and Jaden can have bigger roles for their teams next season.
So, which of these brothers do you admire the most? If you're suddenly missing your own siblings after reading this one, go ahead and give 'em a call!